Tonight's races are cancelled due to rain.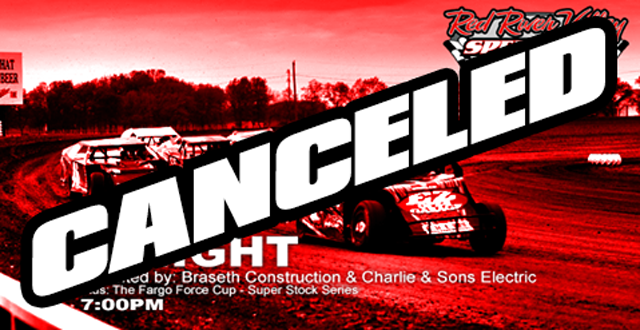 Friday, May 27th races are presented by:
Braseth Construction and Charlie & Sons Electric
Tonight is also the first leg of the
Fargo Force
Cup – Super Stock Series!
– The
Hotspring Spas Pool Tables 2
Duck Toss
– And the
Nugget Vending, Inc.
Candy Toss!
Red River Valley Fairgrounds – West Fargo, ND
Fredrikson & Byron, P.A.
IMCA Modifieds
Eide Bailly
IMCA Sport Mods
A Transmission City
IMCA Hobby Stocks/Pure Stocks
North Dakota State College of Science
INEX Legends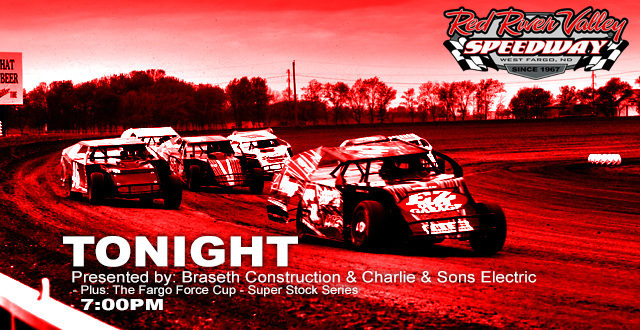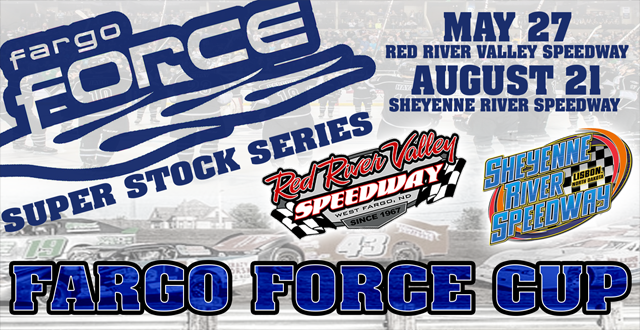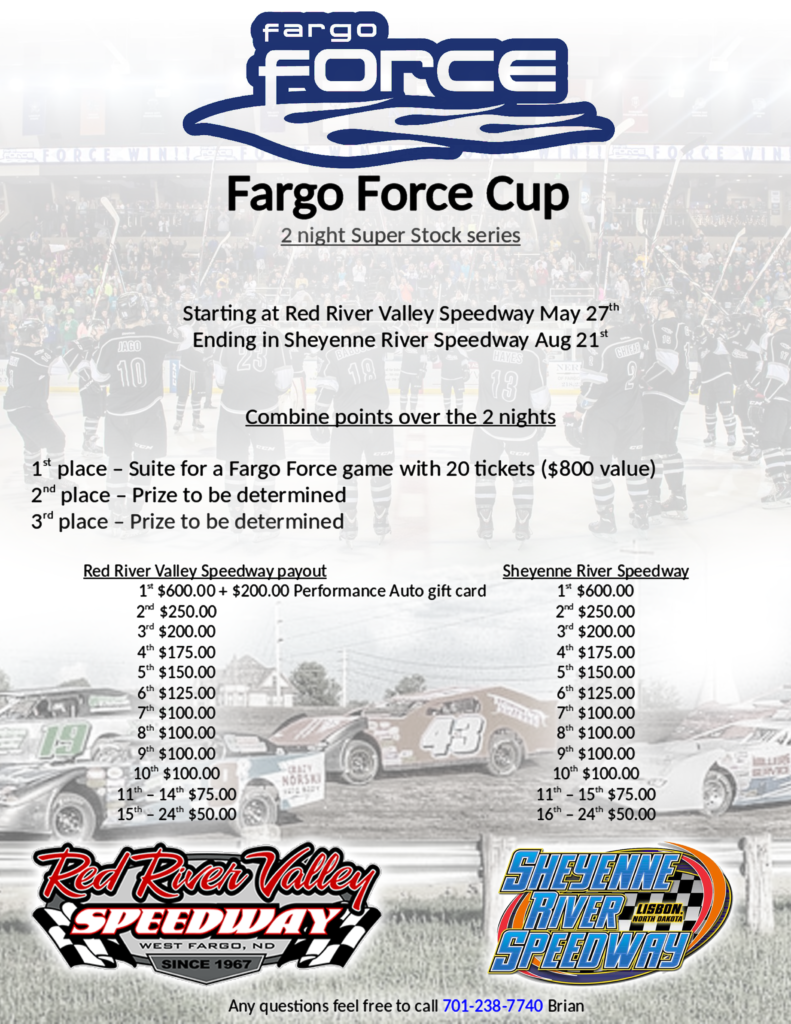 By Mike Spieker
WEST FARGO, ND (May 21) – Red River Valley Speedway's race fans were treated to temperatures that were nearly 40 degrees warmer last Friday night compared to the track's season opener the week prior. As a result a great crowd filled the grandstands and watched 71 race teams take to the racy 3/8th mile dirt oval.
Feature racing began with the IMCA Hobby Stock/Pure Stock division, which was 20 cars strong for their 15 lap event. Shawn Orvedal grabbed the early lead and held the position until veteran driver, Tim Shiek, stole the point on lap three. The man on the move however was the opening night winner, Billy Carou. The Jamestown, ND driver started eighth on the field and moved into second at the halfway point after passing two cars in one lap. From there, Carou reeled in Shiek and drove by him for the lead and ultimately the win. Kasey Ussatis made a great drive to finish second as Shiek, Brennan Urbach, and Austin Veralrud rounded out the top five.
Just as he did the previous night at Norman County Raceway, Steven Kuntz of Bismarck ran away with the INEX Legends feature. Kuntz took the lead after Josh Julsrud's machine pushed in turn one, but the race was far from over. Andrew Jochim chased down Kuntz and made the pass for the lead with 12 to go. The move prompted Kuntz to try the extreme outside of the race track. Initially Kuntz lost ground to Jochim's #21, but eventually Kuntz found his groove and began making up ground exponentially. With six to go, Kuntz had erased Jochim's advantage and flew past him at the exit of turn two to regain the lead. Kuntz then cruised to take the win and to KRJB 106.5FM Victory Lane.
The father-son duo of Scott and Kelly Jacobson held the top two positions in the early going of the IMCA Sport Mod feature. Kelly showed the way for most of the race, until RRVS' 2012 Pure Stock track champ, Jesse Skalicky, found the moisture upstairs. The pilot of the Drew's Garage #3S was the only driver in the top 10 racing up on the cushion and subsequently was the only driver moving forward. It only took Skalicky 12 laps to pass 11 cars as he took the lead and the checkered flag.
A staggering field of 31 IMCA Modifieds made the call to take the green flag for the 25-lap main event. Billy Vogel and Rusty Kollman led the field to the green flag. It was Vogel and Rich Pavlicek battling for the lead with Pavlicek taking sole possession of the position on lap three. Pavlicek had little time to enjoy his stint up front as revived Mod driver, Cale Arneson, took the lead on lap eight from his 12th starting position.
About as quick as Cale reached the front of the field, so did his brother, Austin. All the way from 18th, Austin charged through the field and took the runner-up spot with 15 to go. It took just three laps for Austin, the 2014 Sander's Mod Challenge Champion, to reel in the #99 of Cale and take the lead. Cale held tough, but Austin was just too strong and pulled out to a 10 car length lead after two circuits.
Austin continued on to claim the victory; his second on the 3/8th mile configuration. Rob VanMil came from 11th to finish second followed by Cale Arneson, John Nord who started 15th, and Rich Pavlicek.
If there were any questions regarding how racy Red River Valley would be after sitting inoperative for four years, they were answered loud and clear in the Modified feature alone. A total of 13 drivers passed at least seven cars during the 25 lapper, with seven drivers passing 10 or more cars. The two hard chargers were Austin Arneson and Bryce Borgen, who wheeled his way from 31st to 13th.
Racing, presented by Braseth Construction and Charlie & Sons Electric, continues next Friday night starting at 7pm. Plus it's the 1st leg of the Fargo Force Cup/Super Stock Series!
Results:
IMCA Mods:
1. Austin Arneson
2. Rob Vanmil
3. Cale Arneson
4. John Nord
5. Rich Pavlicek
6. Billy Vogel
7. Michael Johnson
8. Bob Banish Jr
9. Bryce Bjerken
10. Brennan Borg
11. Rusty Kollman
12. Lance Schilling
13. Bryce Borgen
14. Tailin Tommerdahl
15. Cody Peterson
16. Randy Kollman
17. Nick Curtis
18. Trent Grager
19. Karmith Christensen
20. Thomas Silver
21. Todd Carter
22. Michael Griffin
23. Tyler Hall
24. Rob Plath
25. Brady Petermann
26. Dave Shipley
27. Dev Malmlov
28. Mike Anderson
29. Eric Lundon
30. Tom Cummings
31. Jarrett Carter
32. Michael Greseth
33. Jeff Odden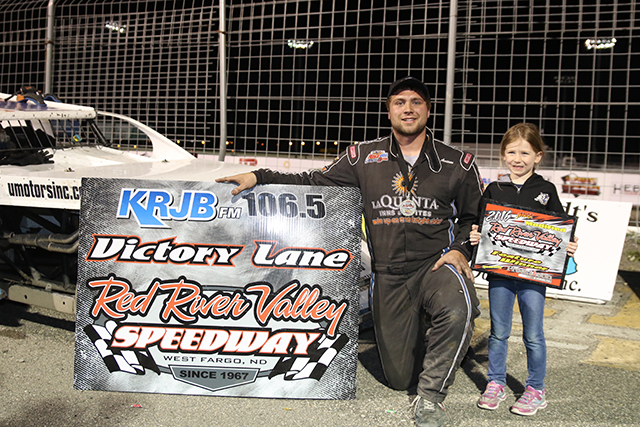 ---
IMCA Sport Mods
1. Jesse Skalicky
2. Robby Rosselli
3. Chris Vanmil
4. Kelly Jacobson
5. Scott Jacobson
6. Tyler Mcdougall
7. Luke Johnson
8. Stan Tomlinson
9. Gregory Larson
10. Cody Fuller
11. Paul Colvin
12. Matt Talley
13. Cody Meyer
14. Kraig Kasin
15. Dustin Hartwig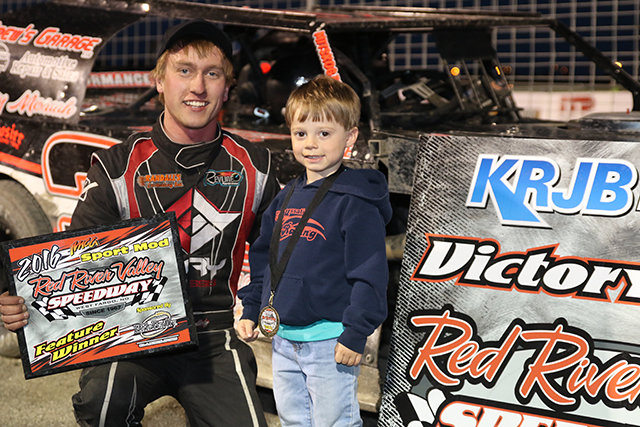 ---
Legends
1. Steven Kuntz
2. Josh Julsrud
3. Andrew Jochim
4. Casey Henriksen
5. Tim Estenson
6. Kaitlyn Skalicky
7. Tony Brockhouse
8. Marah Henricksen
9. Adam Meuchel
10. Brandon Erickson
11. Reile Sailer
12. Tye wilke
13. Jarret Julsrud
14. Shaun Erickson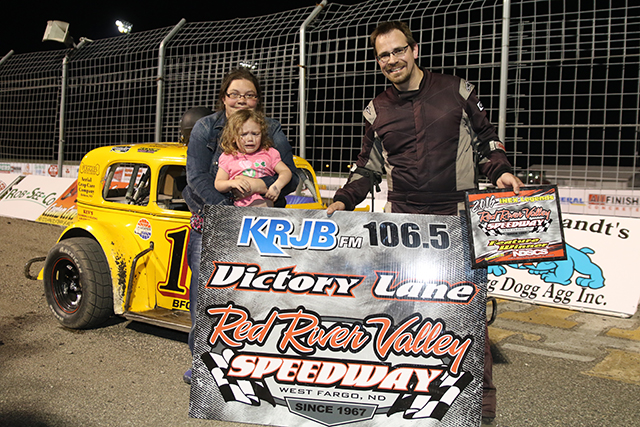 ---
Pure Stocks
1. Billy Carou
2. Kasey Ussatis
3. Tim Shiek
4. Brennan Urbach
5. Austin Veralrud
6. Dan Dowling
7. Shawn Orvedahl
8. Paul Colvin
9. Dylan Heger
10. Wade Moerke
11. Kodee Ussatis
12. Tim Church
13. Brandon Schmidt
14. Kristen Nelson
15. Maranda Borg
16. Taylor Saari
17. Brad Orvedahl
18. Isaac Drewlow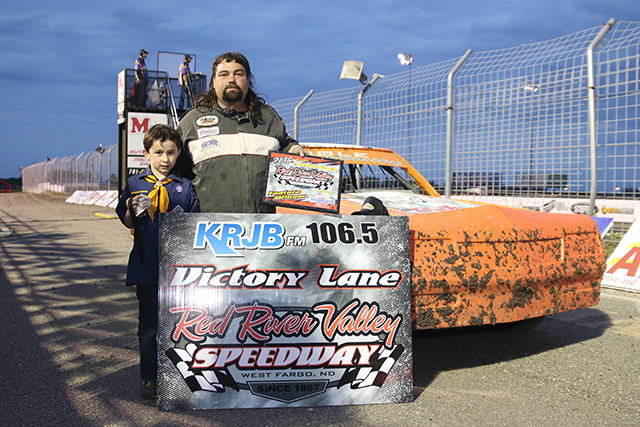 REMINDER: The 1st leg of the Fargo Force Cup/Super Stock Series is coming up this Friday night starting at 7:00pm!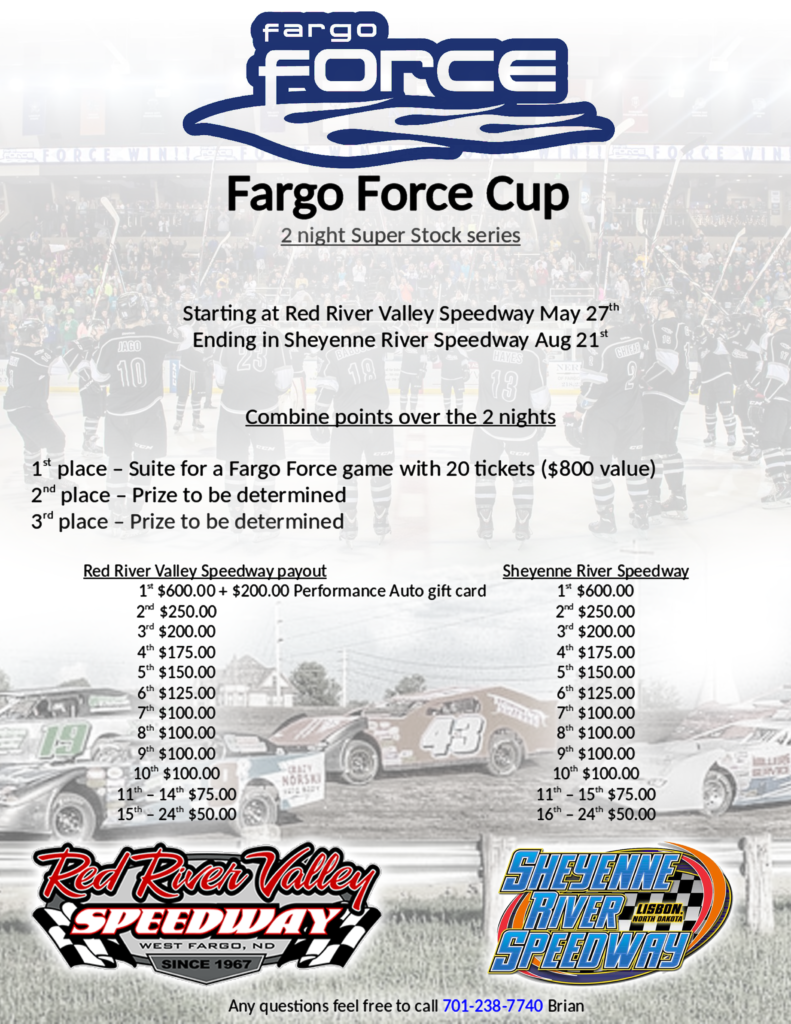 It doesn't take long for a night to go from good to bad in a split second. On the first corner of the first lap of the first INEX Legend heat race on Friday night, the #5 of Dean Julsrud found that out. Just a small tap sent his car flying through the air. Immediately after the car stopped rolling, he gave the "thumbs-up" indicating he was OK. Mike Spieker from Speedway Shots captured the events on camera. We also captured it on video. (See below)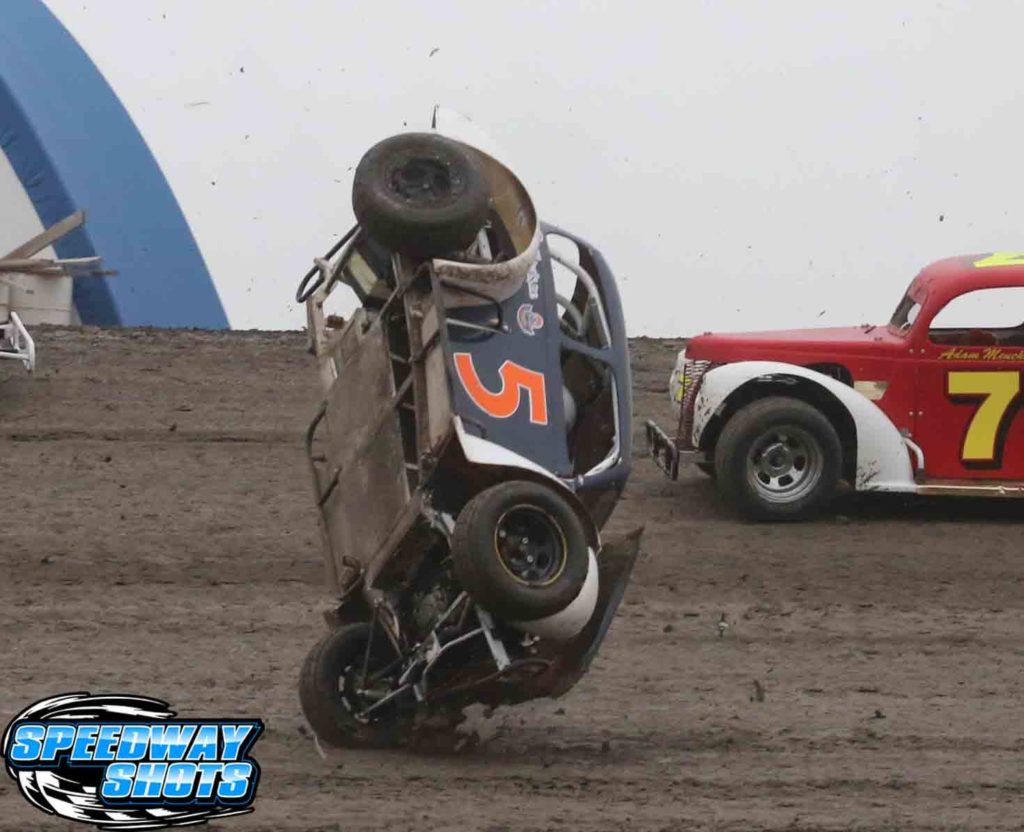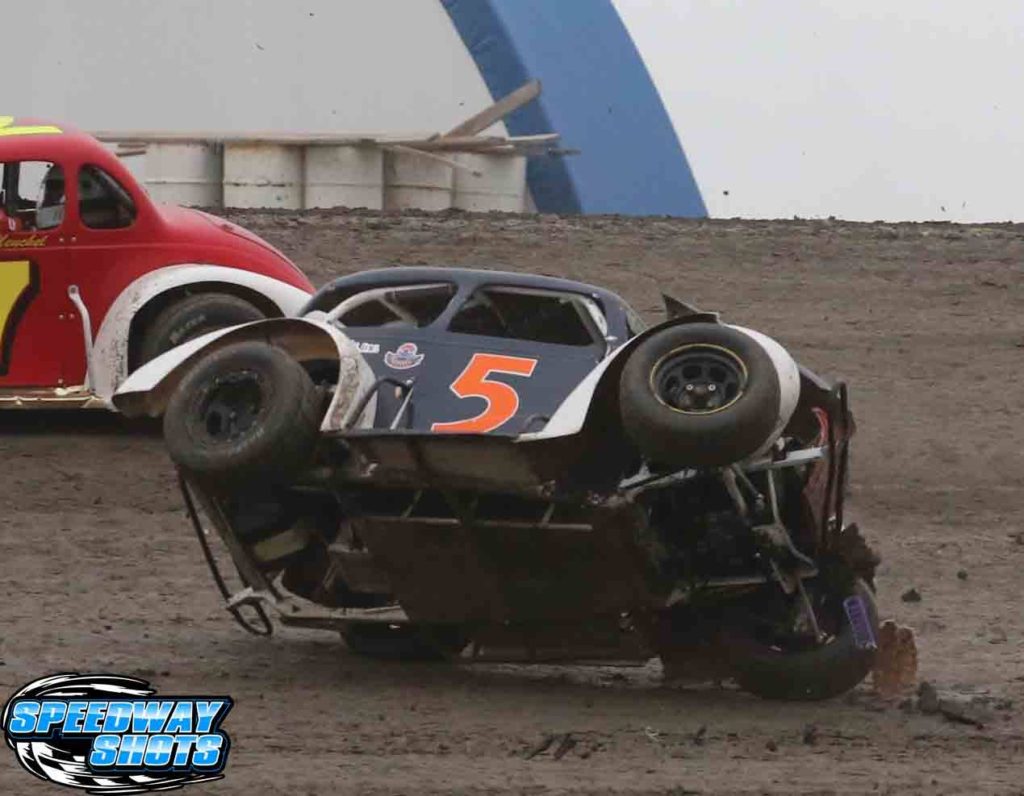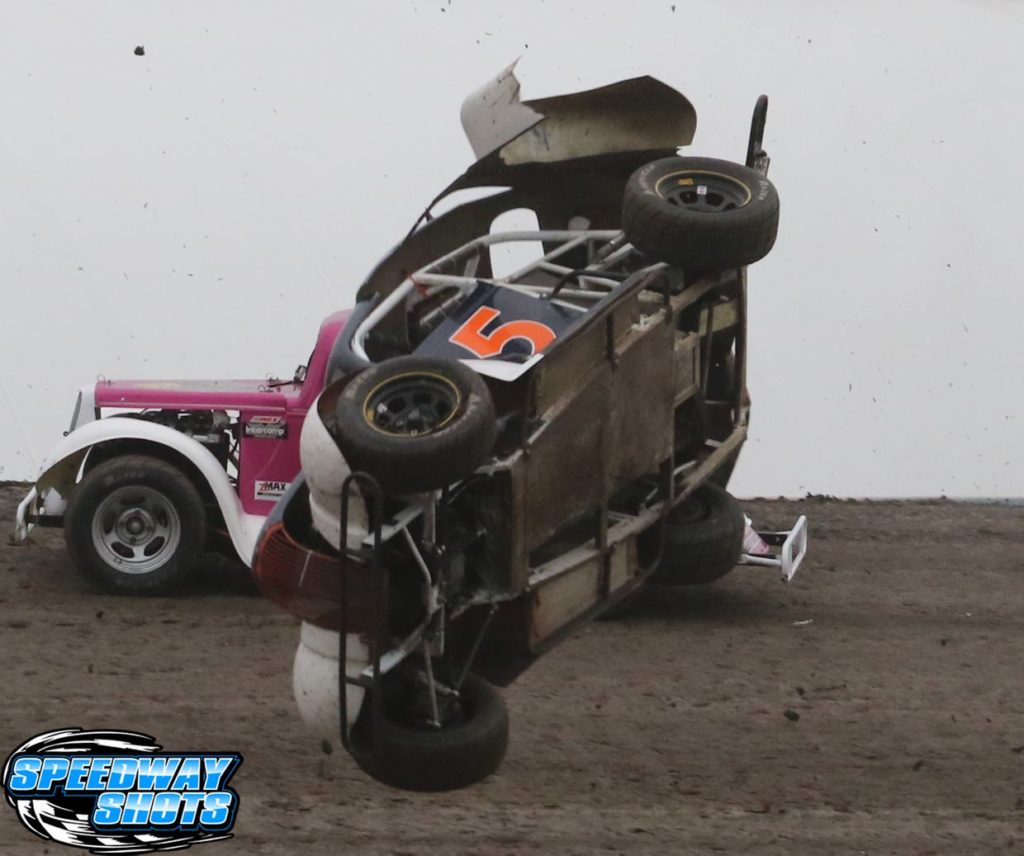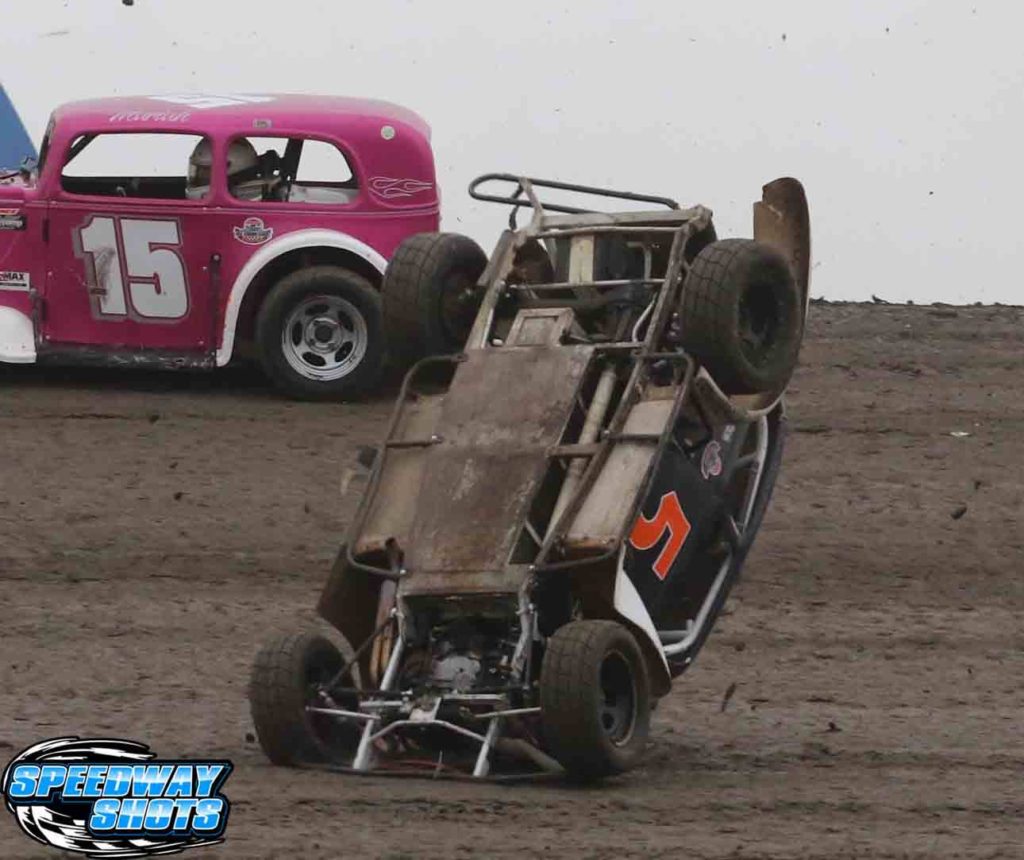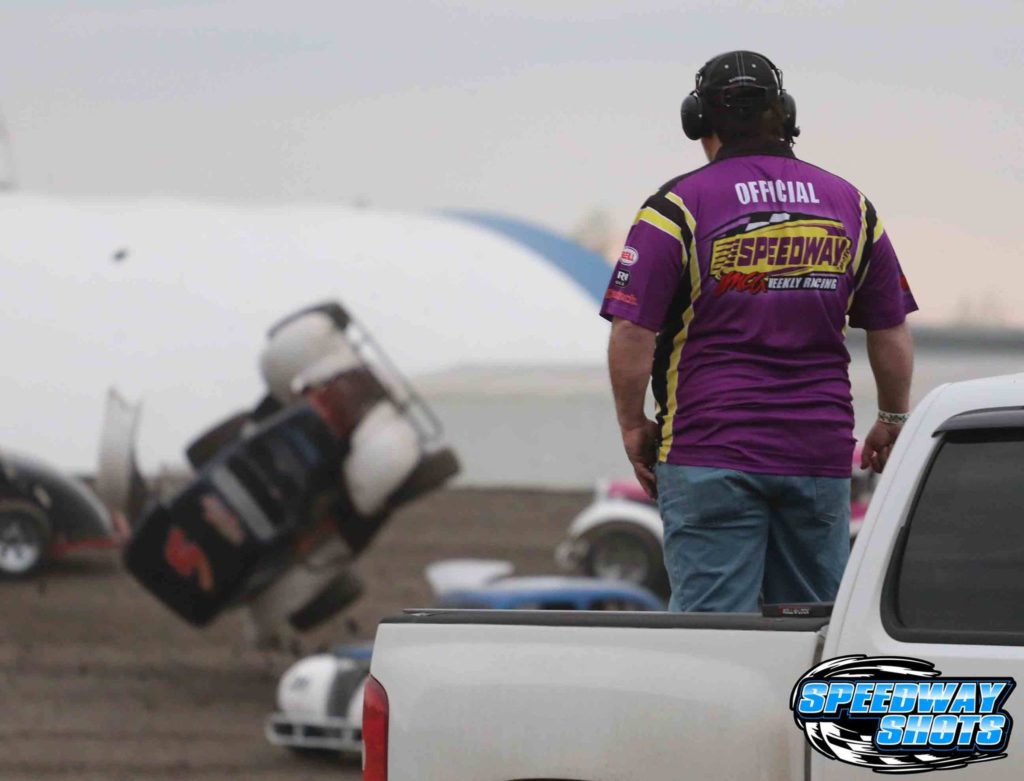 ---
Friday, May 20th races are presented by:


---
Red River Valley Fairgrounds – West Fargo, ND
Pit Gates Open: 4:30pm
Grandstands Open: 5:30pm
Draw Cutoff: 6:30pm
Racing Starts: 7:00pm
Grandstand Admission:
Adults – $13
Ages 6-12 $5
5 & Under – Free
Buy Your Tickets Online:


Racing Divisions:
IMCA Modifieds
IMCA Sport Mods
IMCA Hobby Stocks/Pure Stocks
INEX Legends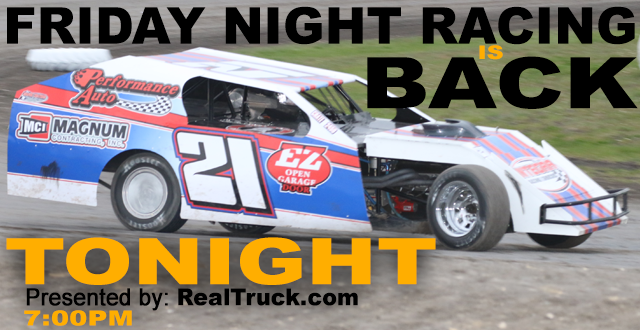 We are launching the "Spot the Truck" contest! If you spot the Dodge Ram 1500 from Corwin's somewhere around town, take a picture of it and tag Red River Valley Speedway on social media. (Facebook, Twitter or Instagram) Each week, we'll give away (2) pairs of tickets to the next race. The winners will be selected at random and notified on Friday's before Noon. The tickets can be picked up before 5pm the day of the race at Performance Auto in Fargo. *As always, never text and drive. Please have a passenger take the picture.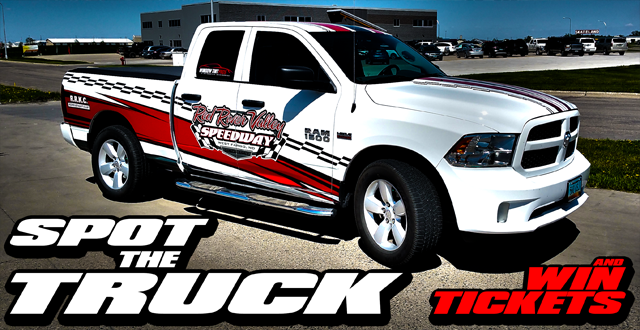 CONTEST RULES


1. Red River Valley Speedway reserves the right to modify the details of the contest at any time.
2. Only one qualifier per household. Employees of Red River Valley Speedway cannot participate and are not eligible to win.
3. There is no purchase necessary to enter or win the contest.
4. As prizewinners, contestants acknowledge that Red River Valley Speedway has the right to, without further authorization, publicize contestant's name, character likeness, photograph, voice, and the fact that contestant was a prizewinner for promotional purposes without financial remuneration.
5. There will be no substitution of prizes. Failure to collect prize before the next race date constitutes forfeiture of the prize. If forfeited, the prize remains the property of Red River Valley Speedway. Another winner will not be selected.
6. The decision of Red River Valley Speedway's management in the interpretation of these rules is final. By participating, persons agree to be bound by the decisions of the judges and the official rules. Decision of the judges is final.
7. If the winner is found in violation of these rules, he/she may be required to forfeit his/her prize.
8. Individuals participating in this contest promoted on or entered thru the Red River Valley Speedway's Facebook, Twitter or Instagram pages release Facebook, Twitter or Instagram of any liability or further claims. Participants also acknowledge that this contest is in no way sponsored, endorsed or administered by, or associated with, Facebook, Twitter or Instagram. Information collected by Red River Valley Speedway for entry into this contest is not provided to Facebook, Twitter or Instagram.
9. Red River Valley Speedway and Corwin Automotive Group are not responsible from any liabilities arising directly or indirectly from the contest or use of the prize.
By Mike Spieker
WEST FARGO, ND (May 13) – After nearly four long years, Red River Valley Speedway was resurrected Friday night to the delight of hundreds of dedicated race fans, who braved wind chills that approached 30 degrees. A stout field of 70 race teams were signed in to inaugurate a new era of racing at "the fastest track in the upper Midwest!"
The brand new racing surface was in phenomenal condition. As the night advanced the tacky conditions transitioned to dry slick and smooth, which allowed for three and four wide racing all night long.
Billy Carou of Jamestown took the speedway's first checkered flag as he held off Brandon Schmidt in the Pure Stock feature. Carou came from the fourth starting position to battle with Brennan Urbach for the race lead in the early going. Carou won that battle on lap two and looked to set sail on the field, but a couple of cautions kept the driver of the #7C at bay and the field bunched up.
Carou saw a challenge from Schmidt in the late stages, but found his groove and cruised to the victory. Schmidt, Kasey Ussatis, Urbach, and Dan Dowling rounded out the top five.
Perhaps the most exciting feature of the evening came in the INEX Legends division as Tim Brockhouse and Shane Williams fought for the win.
Brockhouse snuck by pole sitter, Troy Hoff, on lap three and brought the #28 of Casey Henriksen with him. With Hoff filed back to third now, the top three drivers ran single file as they distanced themselves from the field. As the race advanced, however, Shane Williams kept gaining speedway. The eighth-place starter was in fourth with 10 to go, but found himself in second right behind Brockhouse on the final green-white-checkered restart. As the field stormed into turns three and four for the final time, Williams put the chrome horn to Brockhouse several times, but the experienced Brockhouse eased on the brakes to keep control of his race car and to break Williams' momentum. The veteran move paid dividends as Brockhousecame around to take the victory.
Minot's Erik Laudenschlager and Fargo's Jesse Skalicky lead the field of 14 IMCA Northern Sport Mods to the green flag for their 18-lap feature. After a two lap battle for the point, Laudenschlager held the position over Skalicky as Tyler McDougall and Luke Johnson fought for third and fourth. At the halfway point, Laudenschlager had a 10 car length lead over Skalicky, who picked up the RRV Speedway's last Pure Stock track championship in 2012, but Skalicky found his groove up on the high side of the track and began closing in on the #49 machine. With four to go, Laudenschlager's lead was down to just three car lengths, but just as Skalicky was within striking distance, his machine began to fade. Laudenschlager's car was better off of turn two and that's all he needed to park it in KRJB 106.5FM Victory Lane.
Coming into the night everybody was asking, "Can anybody stop Rob VanMil?" The 2015 IMCA Modified National Rookie of the Year picked up a convincing win the previous Sunday at Buffalo River Race Park and backed it up with a win Thursday night at Norman County Raceway where he took the checkers with an advantage of 11.5 seconds.
If VanMil was going to make it three in a row, he had a long way to go as he was mired back in the tenth starting position for the 25-lap main event.
Dev Malmlov led the opening lap from outside the front row over Michael Greseth. On lap five, however, VanMil had charged through the field to make it a three wide fight for second with Greseth and Mike Johnson. After the trio held their three wide formation for two complete circuits around the 3/8th mile oval, VanMil took over the runner-up position and set his sights on Malmlov.
With 10 to go VanMil had erased Malmlov's lead and looked to make it three wide once again in turn one with Malmlov and a lapped car. Malmlov drove to the high side of the lapped car of Nick Curtis and got stuck up in the marbles. As a result Malmlov slid off the embankment and brought out the caution, bringing a frustrating end to the veteran driver's hopes of claiming RRV Speedway's first IMCA Modified win.
VanMil then inherited the lead for the ensuing restart. The driver of the Sander's Metal Products/Victory by Performance Auto #4D ran the low side of the speedway to pick up the win. Johnson came home second as Dave Shipley came from 15th to round out the podium.
Racing continues next Friday night at Red River Valley Speedway presented by RealTruck.com with IMCA Modifieds, Sport Mods, INEX Legends, and Pure Stocks/IMCA Hobby Stocks. The green flag waves at 7pm!
RESULTS
Pure Stocks – Feature
1 – 7C Billy Carou
2 – 219 Brandon Schmidt
3 – 2U Kasey Ussatis
4 – 33 Brennan Urbach
5 – 5X Dan Dowling
6 – 13C Paul Colvin
7 – 93 Taylor Saari
8 – 3XL Brad Orvedahl
9 – 73 Maranda Borg
10 – 31X Tim Shiek
11 – 68 Dan Evert
12 – 21 Tim Church
13 – 30X Shawn Orvedahl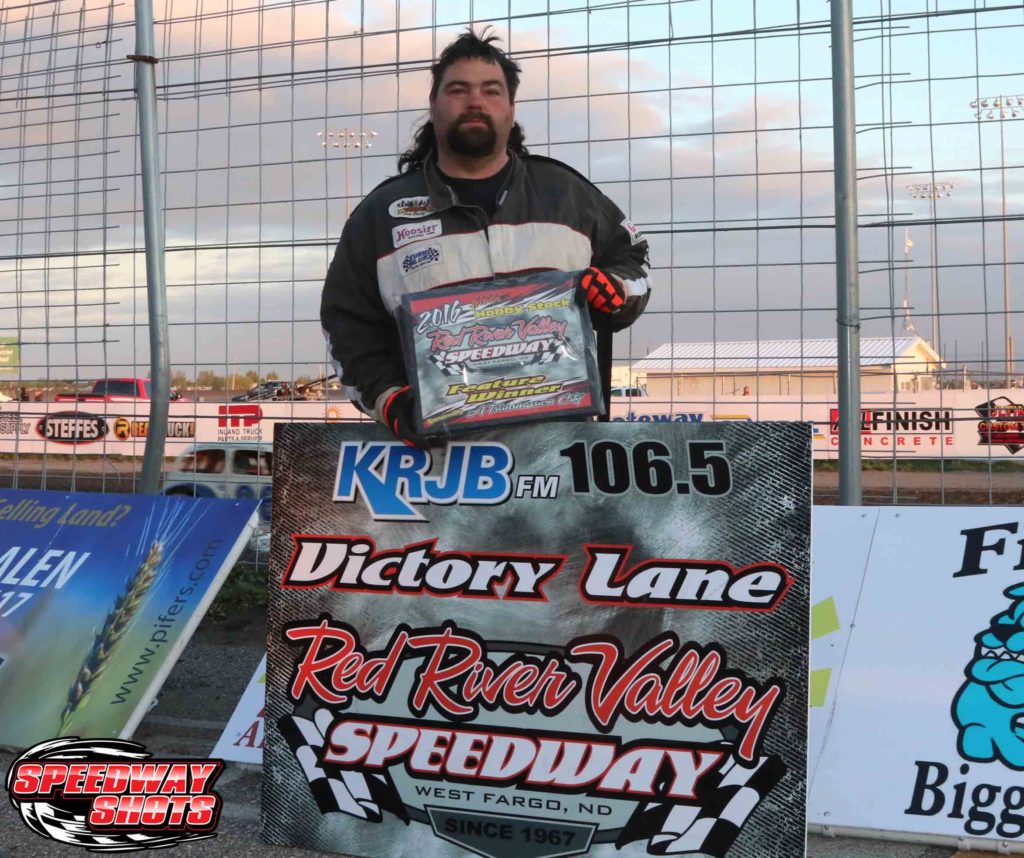 ---
Legends – Feature
1 – D1RT Tim Brockhouse
2 – 94 Shane Williams
3 – 21 Andrew Jochim
4 – 86 Troy Hoff
5 – 18 Josh Julsrud
6 – 6 Chad Sogge
7 – 69 Brian Hanson
8 – 28 Casey Henriksen
9 – 14 Tim Estenson
10 – 15 Mariah Henriksen
11 – 8JR Kaitlyn Skalicky
12 – 5 Dean Julsrud
13 – 29 Brandon Erickson
14 – 24 Shaun Erickson
15 – 7 Cade Sogge
16 – 72 Tye Wilke
17 – 76 Reile Sailer
18 – 9 Troy Jagoditsh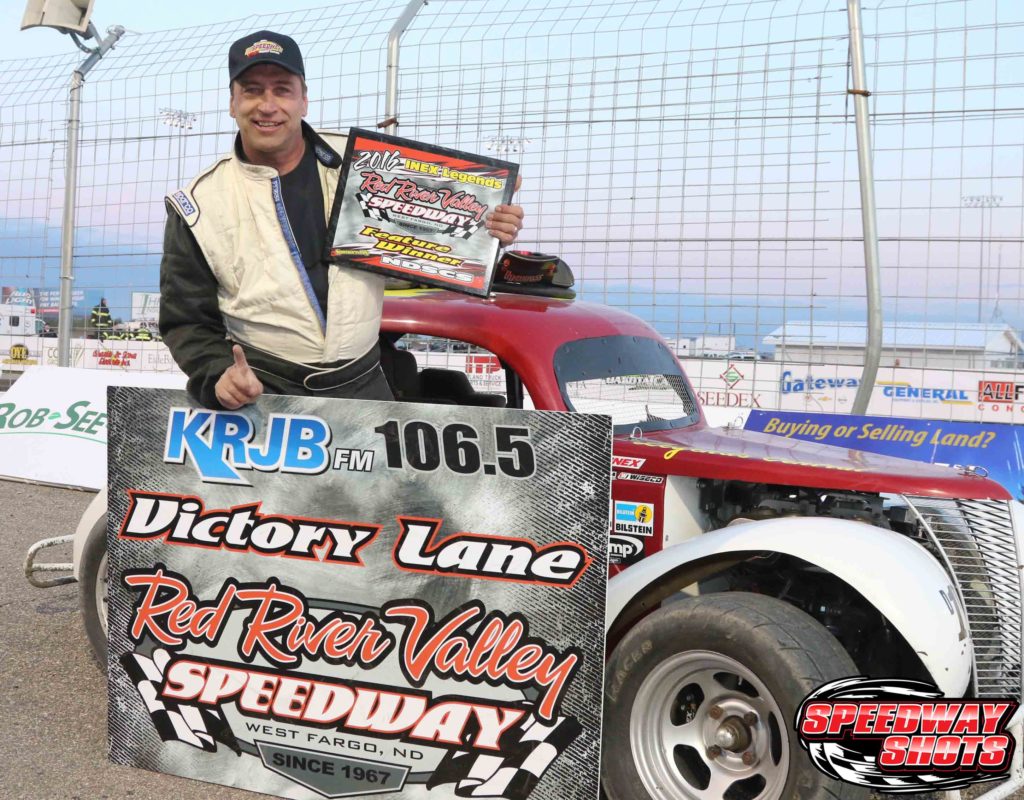 ---
IMCA Mods – Feature
1 – 4D Rob Vanmil
2 – 84 Michael Johnson
3 – 72 Dave Shipley
4 – 7 Bryce Borgen
5 – 17 Michael Greseth
6 – 60 Tyler Hall
7 – 91C Jarrett Carter
8 – 22B Josh Beaulieu
9 – 0 Jeff Odden
10 – 19 Todd Carter
11 – 4500 Cody Peterson
12 – 7B Bryce Bjerken
13 – 18 Mike Anderson
14 – 2 Rusty Kollman
15 – 65 Bob Banish Jr.
16 – 38 Tailin Tommerdahl
17 – R4 Rob Plath
18 – 12C Nick Curtis
19 – 46 Karmith Christensen
20 – 70 Josh Anderson
21 – 21 Dev Malmlov
22 – 17P Rich Pavlicek
23 – 52B Brennan Borg
24 – 4V Billy Vogel
25 – 34C Michael Griffin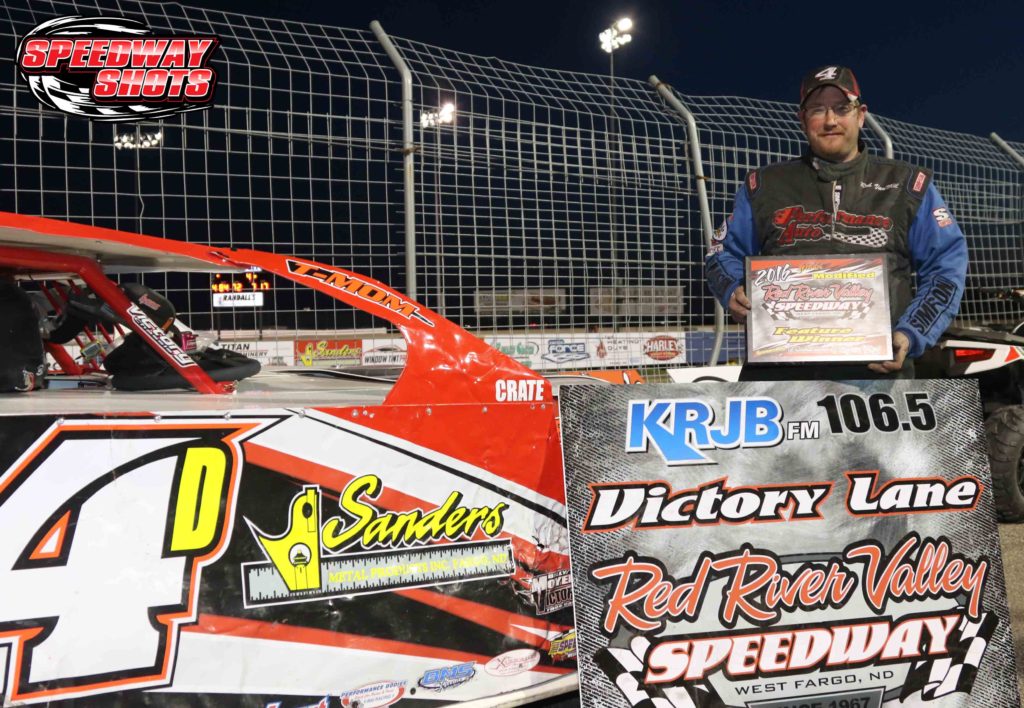 ---
IMCA Sport Mods – Feature
1 – 49 Erik Laudenschlager
2 – 3S Jesse Skalicky
3 – M4 Tyler Mcdougall
4 – 0 Robby Rosselli
5 – 8J Luke Johnson
6 – 44D Christopher Vanmil
7 – 5 Scott Jacobson
8 – 5T Matt Talley
9 – 51 Kelly Jacobson
10 – 889 Kyle Keller
11 – 9 Philip Keller
12 – 13C Paul Colvin
13 – 60X Patrick Brejcha
14 – 19C Dustin Hartwig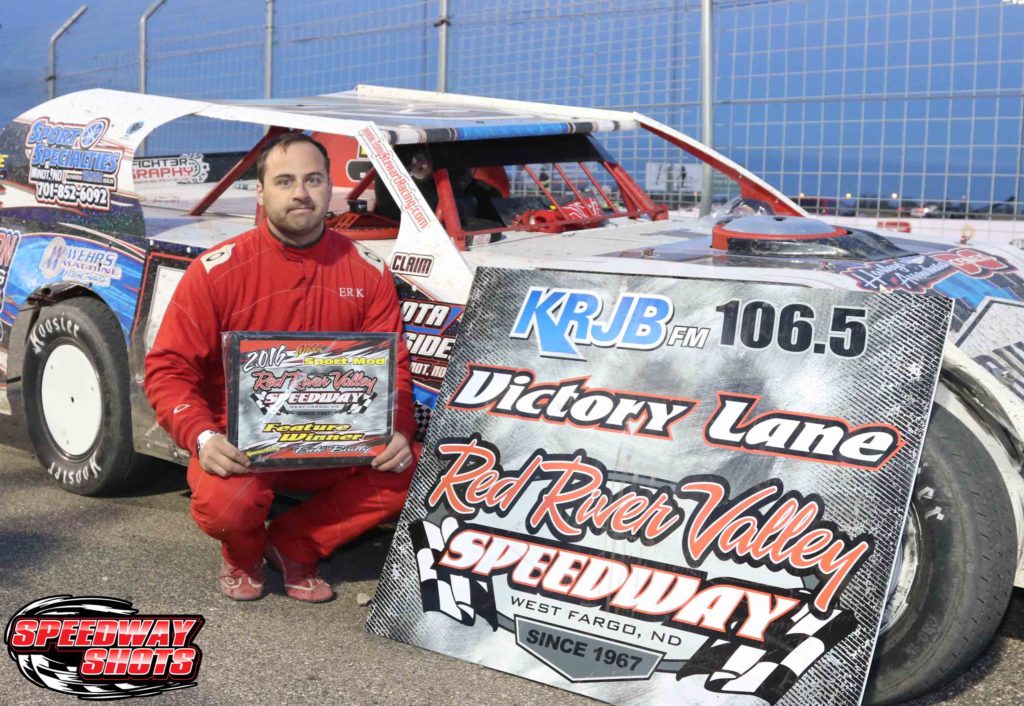 Thank you to the BEST fans in the Red River Valley. Despite the cold, the snow flurries and the wind, you were there to support racing. You deserve a standing ovation. Thank you to the race teams for battling out the bitter weather. It was great to see the travelers from other parts of the region. You are always welcome back. Thank you to the media for having us on your shows and coming out to help get the word out that we are back. And thank you to Hubert Oye & Sons for sponsoring the Opening Night. Please support the businesses that support the sport of racing.
The Fastest Track In The Upper Midwest is BACK on Friday Nights and we are just getting started.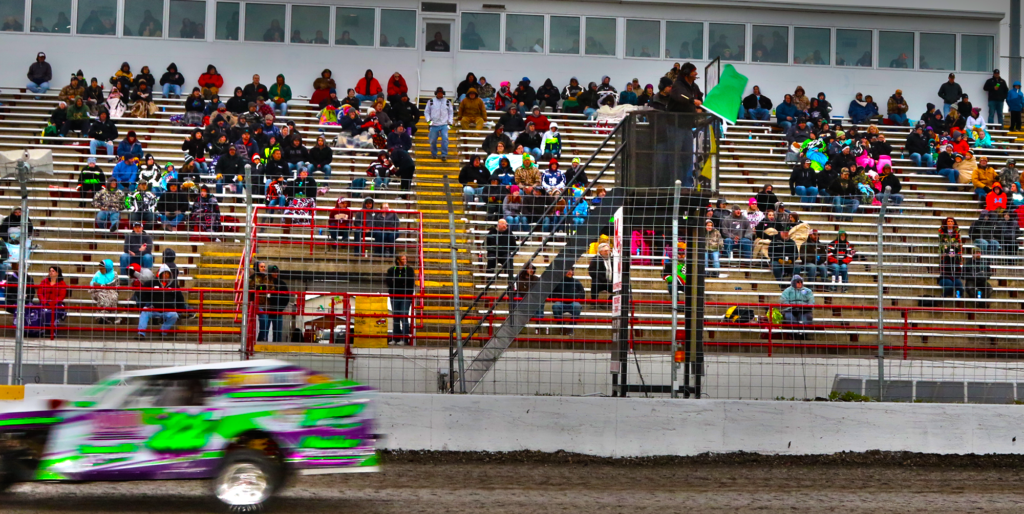 By Mike Spieker
WEST FARGO, ND (May 12) – It has been 1,357 days since Red River Valley Speedway has last seen its dirt fly, grandstands filled, and checkered flag wave. Since then – August 25th, 2012 – the "fastest track in the upper Midwest" has sat dormant, exposed to the cold of winter, the scorching August heat, and brutal north winds.
But thanks to the diligence and persistence of Nick Skalicky and Jake and Sharnel Bitker, the 3/8th mile dirt oval now has a pulse again and is set to come to life this Friday night, May 13th.
A fresh layer of dirt, a new scoreboard/lap counter, a little re-configuring of the racing surface, and some new paint here and there has the already state of the art facility glistening and ready for its debut to kick off a new era of racing in the Red River Valley.
All the news stations have covered the track's progress, the radio ads have been running for months; all that's left to do is race!
What You Need To Know:
Pit Gates Open: 4:30pm
Grandstands Open: 5:30pm
Racing Starts: 7:00pm
Grandstand Admission:
Adults – $13
Ages 6-12 $5
5 & Under – Free
Buy Your Tickets Online: http://ow.ly/1TAp3002Ns8
Racing Divisions:
IMCA Modifieds
IMCA Sport Mods
INEX Legends
Pure Stocks/IMCA Hobby Stocks