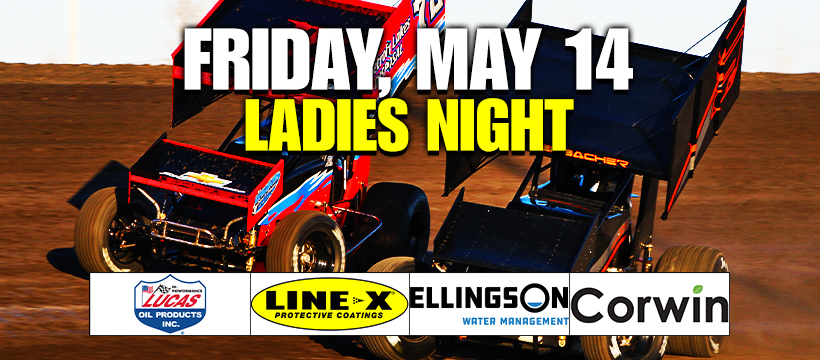 ---
***LADIES: $5 entrance plus drink specials!***
Full Race Schedule: http://redrivervalleyspeedway.com/schedule
Racing divisions this week:
Brandon Schmidt Trucking IMCA Sprint Cars
All Finish Concrete IMCA Modifieds
Premier Service Center IMCA Stock Cars
FM Drain Cleaning & Services IMCA SportMods
A Transmission City IMCA Hobby Stocks
JBC Commercial Real Estate (Tony Paul) INEX Legends
Times:
Pit Gates Open: 4:30 pm
Grandstands Open: 5:30 pm
Racing Starts: 7:00 pm
Grandstand Admission:
LADIES: $5
Adults: $13
Ages 6 – 12: $5
5 & Under: FREE
Military ticket – $10 – For Military members who have served past or present (Military ID must be shown at the ticket window)
College ticket – $10 (College ID must be shown at the ticket window)
Online Tickets:
https://market.myracepass.com/store/tickets/?store=12143
Advanced discounted ticket location:
Dakota Cat Motorsports – 600 Main Ave W West Fargo, ND
Adults: $10
Ages 6 – 12: $5
Driver Registration:
https://www.myracepass.com/tracks/1834/registrations
Nightly Activities:
– The Nugget Vending Candy Toss (ON HOLD)
– Norman County Raceway T-shirt Cannon
– Bike Giveaway – Kids enter weekly to win a bike at the end of each month (May Sponsors: V & T Trucking, Al's Auto Parts & Taves Turkey Farms)
– 50/50 Tickets (1st place wins half the pot in cash! 2nd – 5th place receives vouchers from the Twisted Spork, Thunder Road, The Bowler,  Buffalo Wild Wings, Dairy Queen, & Taco Shop
– Intermission games for a chance to win prizes (ON HOLD)
– Kids enter to win the chance to give the winning trophy to the driver and be in all the victory lane pictures! (ON HOLD)
Don't Forget:
– To purchase Red River Valley Speedway apparel behind the Grandstands
– We have delicious concession food & ice-cold beverages at the Twisted Spork (Watch for our weekly specials)
Listen LIVE:
Can't make it to the race? Tune in to 106.5 KRJB for LIVE racing coverage. You can also listen online at: http://www.rjbroadcasting.com Pre-race coverage begins at 6:45 pm.
Social Media:
Website – http://redrivervalleyspeedway.com
Facebook – https://www.facebook.com/redrivervalleyspeedway
Twitter – https://twitter.com/rrvspeedway
Instagram – https://www.instagram.com/redrivervalleyspeedway
Snapchat – https://www.snapchat.com/add/rrvspeedway
Youtube – http://tiny.cc/RRVS
MyRacePass – https://www.myracepass.com/profile/?r=1834&rt=track
Speedway Shots Picture Gallery – https://www.speedway-shots.com/RedRiverValleySpeedway/2020
Perks:
– Bring in a 2021 Red River Valley Speedway race ticket or pit wristband to BorderTown Bar and Grill and receive one drink FREE with the purchase of another drink! (Per person. Per visit.)
Push Notifications:
Receive the latest news or schedule changes via the MyRacePass App: http://redrivervalleyspeedway.com/push-notifications
Red River Valley Speedway:
Address: 1805 Main Avenue West – West Fargo, ND
Email: info@redrivervalleyspeedway.com
Phone: 701-388-6637
Track Surface: 3/8 mile dirt oval
Camping:
Call: 1-701-282-2200
Lodging:
La Quinta Inn & Suites
2355 46th St South
Fargo, ND 58104
Call: 1-701-499-2000
---
General Information:
– Practice social distancing.
– Seating will be every other row to allow for social distancing.
– When seating yourself, go ahead and sit with the people you came with, but distance your group from other groups.
– We are expanding the alcohol-free section to accommodate for only using every other row. That area will extend to the east.
– While waiting in lines, remember to stay six feet away from people.
– Remember to go up or down on the right side of the stairs.
– We are adults and in charge of our own health and safety and you are in charge of your minor children. If you are sick, stay home. If you have a fever, stay home.
– The CDC recommends the wearing of face masks.
– Signs will be up to help explain and remind you of the things you need to do.
Drivers/Pit Crew:
– You must register to race online by 6:00 pm day of the event. To register go to: https://www.myracepass.com/tracks/1834/registrations. Make sure you finish your registration. No drivers can register at the track. If you have not registered online, you will start at the back.
– If you haven't already, fill out your W-9 and bring it to the track filled out – we only need page 1. (https://www.irs.gov/pub/irs-pdf/fw9.pdf) We cannot pay you without it.
– Pit Passes – EXACT CHANGE or check only at the gate will be accepted.
– One vehicle at a time at the pit gate. Please wait until the people in front of you have finished before approaching the sign-in.
– EVERYONE must still sign a waiver at the pit gate.
– All race lineups will be posted on MyRacePass.
– No pit meeting – Pit meeting notes will be posted on the east end of the red container.