Drivers: Please fill out the forms below and bring to the track on Friday.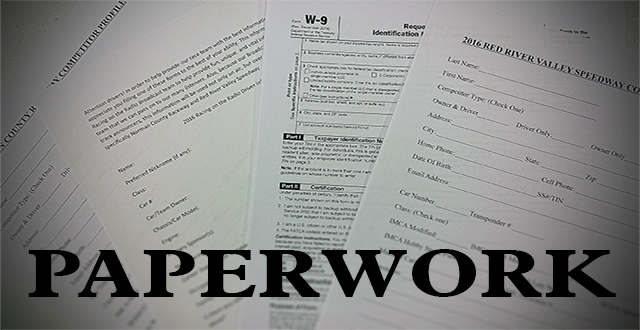 Red River Valley Speedway tickets are ON SALE NOW! Don't want to stand in line waiting to pay? Use your phone or your computer to purchase a ticket to the next race. You'll have the choice of printing out the ticket at home or sending the ticket to your phone. Then just walk right up to the door and in the blink of an eye, your ticket will be scanned and you'll be sitting in your favorite seat in the stands! You can also purchase tickets for any race during the summer including Norman County Raceway in Ada.
*Reminder: Everyone needs to have a ticket to get through the door.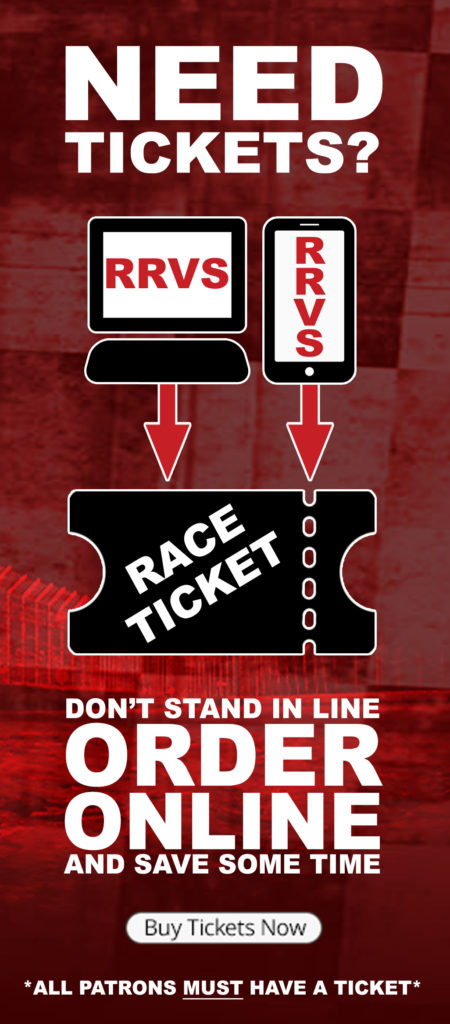 The Car Show that was scheduled for Saturday, April 30th has been cancelled. (FYI – The Test & Tune for that day had already been cancelled.) The facilities still need some attention and final tweaking before we can hold an event. Looking ahead, we'll schedule a car show for next season. So make plans for that.
Coming up: We're still on pace to hold a Test & Tune on Friday, May 6th at 7:00pm. All classes are welcome and the event is open to the public. And then, the Season Opener on Friday, May 13th at 7:00pm!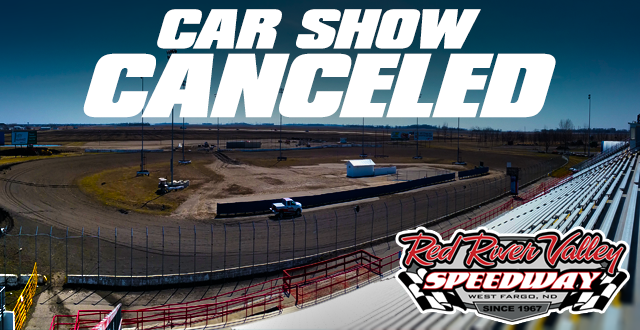 To make sure everyone's first experience at Red River Valley Speedway in 2016 is a memorable one, the official season opening race will be held on Friday, May 13th at 7pm.
Here are some dates to look forward to before then:
SATURDAY, APRIL 30 – Car Show (11:00am – 2:00pm) Test & Tune (2:00pm – 5:00pm) All classes welcome | Open to the public
FRIDAY, MAY 6 – Test & Tune (7:00pm) All classes welcome | Open to the public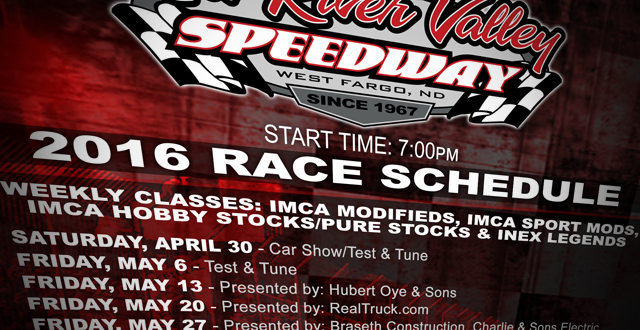 In Red River Valley Speedway's first installment of the "Get To Know The Staff" series, we talk with our 2016 Track Announcer, Corey Litton: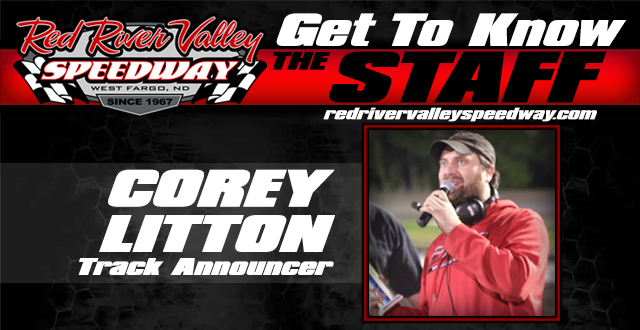 Where do you live?
Right here, in Fargo
Tell us about your family: (Married, children…etc.)
I have been happily in a relationship with my girlfriend Leagha Reynolds for almost 6 years. Without her support I couldn't go to all of the races I get to go to. I also have three awesome boys, Casey who is 11, Cole who is 8, and Chase who is 1. I love having them at the track and seeing the same joy and excitement I had when I was their age.
What do you do for a living?
Pretty much just track announcing now. I've been the Red River Kart Club announcer for a couple of seasons. I host Racing on the Radio from the Norman County Raceway on 106.5 KRJB. I have been lucky to work with the great Ron Krog at the Buffalo River Race Park for the last 4 years, and I also announce online pay per views for X.celerated which takes me all over the country. I had Fargo's number 1 racing show, Checkers and Wreckers for 4 years. I ran a DJ service for 10 years. And my family owns Duffy's Tavern where I mainly help out and clean every night.
How and when did you get involved with racing?
My Grandfather sponsored Dave Storck, the first Red River Valley Speedway modified champion when I was a young kid. So my early summers were spent following him around at RRVS, Viking Speedway, and the WeeTown Outlaw Speedway.
What sacrifices had you made for racing?
Spending as much time as I have at race tracks, I've missed a lot of weddings and various other get-togethers. But every race is like one big family reunion so it all evens out.
What has changed about racing since you first started?
The involvement of women. I think the presence and the success of female drivers is a breath of fresh air.
Do you have any superstitions about racing? Or good luck rituals?
I always change out my microphone batteries before the race starts.
What was you most memorable racing story?
A moment I will never forget was seeing a 5 year old Ashton Spieker passed out in his car seat while holding his trophy that he won earlier at the Red River Kart Club.
What do you enjoy most about racing?
People. I've made a lot of really great friends at the races. People that really make you feel like you are lucky.
What is your favorite movie?
Eddie and the Cruisers
What is your favorite food?
Deep Fried Mac n Cheese bites. Greatest track food ever.
What is your favorite beverage?
Coors Light
What is your favorite TV show?
It's a tie between Eastbound and Down and WWE Monday Night Raw
What is your favorite music/band?
The Replacements
What website do you visit most often?
I'm on Facebook way too much.
Do you have a favorite Youtube video?
youtu.be/nhWWY8lUQPA – The NDSCS talent show video. We won most talented. I'm the one singing.
Final thoughts:
I am absolutely honored to take the position of RRVS track announcer. To occupy the same spot as Rod Miller and Ron Krog really is a dream come true and I hope to do them proud. I have a really good feeling about the upcoming racing season. The FM area has some of the most talented and toughest competition around. And with the Red River Kart Club numbers blowing up every year, giving loads of seat time to drivers of all ages, I can see a huge comeback for local racing happening. And we get to watch every lap. We're the lucky ones.
The 2016 transition rules have been released. Theses rules will apply to both Red River Valley Speedway and Norman County Raceway.
(Click HERE to download/print)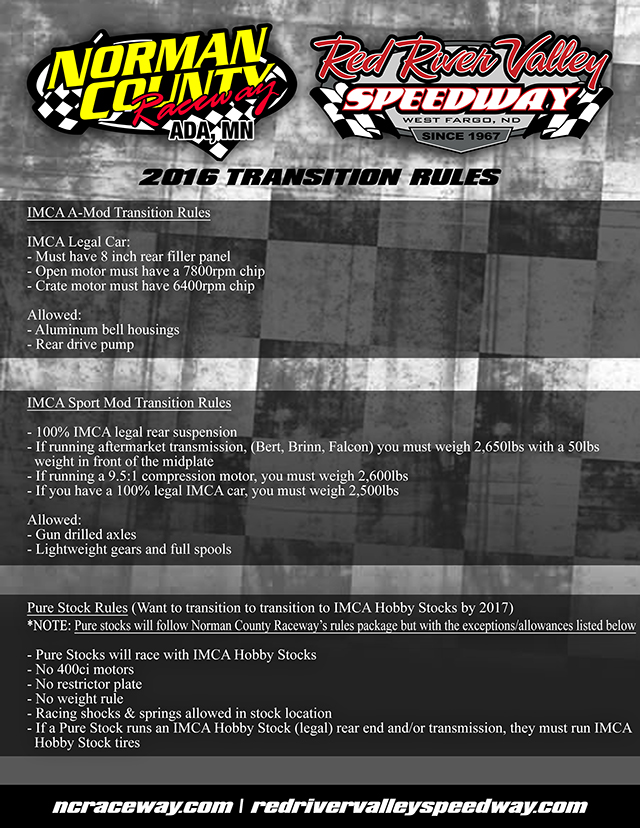 Northern Late Model Racing Association Coming To Red River Valley Speedway Twice In 2016
WEST FARGO, ND – (January 31, 2016) The schedule for Red River Valley Speedway in 2016 will now include 2 nights of the Northern Late Model Racing Association (NLRA) Late Models. The first race date will be on Friday, June 24th. The second race date will be Sunday, July 17th alongside the Northern Outlaw Sprint Association (NOSA) Sprint Cars during the Red River Valley Fair presented by the Red River Valley Fair Association and Buffalo Wild Wings.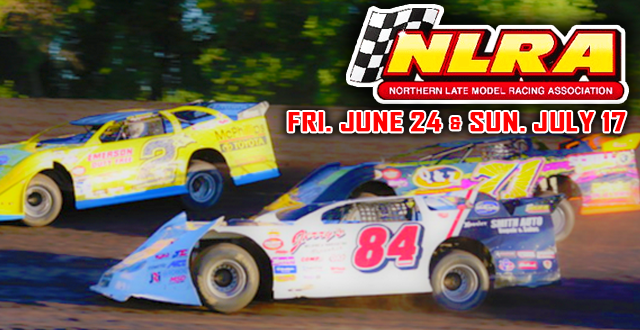 With a new year comes a new look for the Red River Valley Speedway. We have updated the logo for the 2016 season!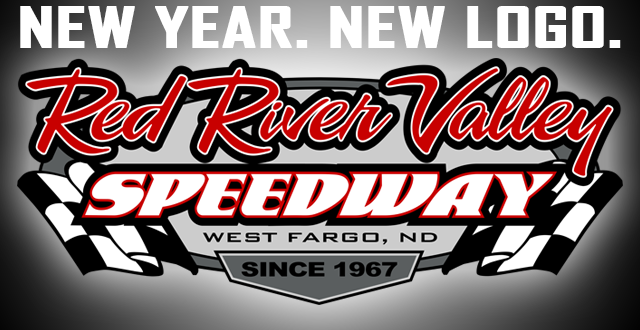 Do you have a question concerning the race track? Direct ALL CALLS AND QUESTIONS to the Red River Valley Speedway phone number. Add it to your contact list today.
Call or Text: 701-388-6637
or 701-388-(MODS)
Email: info@redrivervalleyspeedway.com