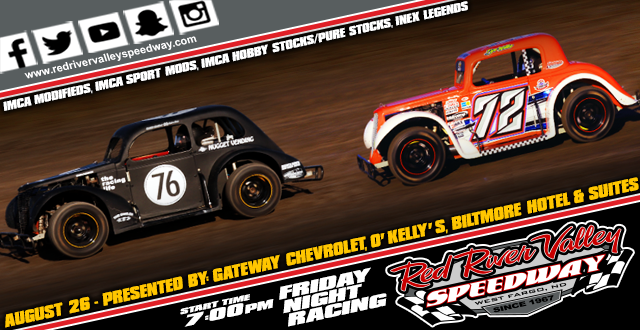 SEASON CHAMPIONSHIP
Presented by: Gateway Chevrolet, O'Kelly's, Biltmore Hotel & Suites
It's College Night!
– $5 gate admission by showing us your CURRENT college ID.
Double Legend Features
– No heats, just 2 Feature races that will count for Track & National points.
– Drivers will draw to set the lineups for the first feature.
– The second feature lineup will be an invert of the draw.
– The total purse will be split between the 2 features.
– Fuel samples will be taken.
Location:
Red River Valley Fairgrounds – West Fargo, ND
Fans:
– Use the Main Avenue entrance into the races. The entrance from 13th Avenue is under construction.
Drivers:
– Use Gate 4 only for entrance and exit from the races
We'll have:
– The Nugget Vending Candy Toss
– 50/50 tickets
– T-shirt Cannon
– Red River Valley Speedway Apparel
– Delicious Concession Food & Ice Cold Beverages
Times:
Pit Gates Open: 4:30pm
Grandstands Open: 5:30pm
Draw Cutoff: 6:30pm
Racing Starts: 7:00pm
Tickets:
College Students with CURRENT ID – $5
Adults – $13
Ages 6-12 – $5
5 & Under – Free
Buy Your Tickets Online: redrivervalleyspeedway.com/buy-tickets
Listen On The Radio:
Can't make it to the race? Tune in to 106.5 KRJB for LIVE racing coverage. You can also listen online at: www.rjbroadcasting.com
Pre-race coverage begins at 6:45pm
Racing Divisions This Week:
Fredrikson & Byron, P.A. IMCA Modifieds
Eide Bailly IMCA Sport Mods
A Transmission City IMCA Hobby Stocks/Pure Stocks
North Dakota State College of Science INEX Legends
Social Media:
Website – redrivervalleyspeedway.com
Facebook – facebook.com/redrivervalleyspeedway
Twitter – twitter.com/rrvspeedway
Instagram – instagram.com/redrivervalleyspeedway
Snapchat – rrvspeedway