By Mike Spieker
WEST FARGO, ND (July 19th) – It was the night we have all been waiting for. It was the night we've had circled on our calendars since the 2016 Red River Valley Speedway (RRVS) schedule came in out February. It was the night where the upper Midwest's two biggest touring series would come together for the first time in RRVS history.
And it was everything we'd hoped it would be; and more!
An estimated 4,500 race fans came out to RRVS Sunday evening for the NOSA Sprint Car/NLRA Late Model special, presented by Buffalo Wild Wings and the Red River Valley Fair. A RRVS record 33 NOSA Sprints and 29 NLRA Late Models packed the pit area, along with 17 IMCA Hobby Stocks/Pure Stocks. Dusty Zomer, Dustin Strand, and Kasey Ussatis all visited KRJB 106.5FM Victory Lane.
The event brought in the area's biggest names in racing, including seven-time and defending World of Outlaws Craftsman Sprint Car champion, Donny Schatz, who had won the $50,000 Kings Royal at Eldora Speedway less than 18 hours prior.
The field of 33 Sprint Cars was trimmed to the fastest 24 for the 25-lap A-main. Minot's Greg Nikitenko grabbed the early lead over 20-year-old pilot Jordan Adams as Thomas Kennedy and Wade Nygaard raced for third. Three laps in, Kennedy and Nygaard made contact in turn four, which sent Nygaard spinning to a stop bringing out the yellow. Nygaard was sent to the tail of the field, but still rallied to finish in fifth.
Nikitenko led the first half of the race as Adams, Kennedy and Lee Grosz raced for second through fourth, but with 11 to go Sioux Falls, SD driver Dusty Zomer came on strong to challenge Nikitenko. Zomer drove his Buffalo Wild Wings #82 to the low side of turn one and completed a slide job on Nikitenko to take the lead.
Once out front, Zomer built up a lead he would not relinquish as he went on to claim his first-ever RRVS win and sixth career NOSA victory, putting him 15th on the all-time wins list.
Prior the 2016 season at RRVS, Dustin Strand had claimed the last checkered flag ever waved at the 3/8th mile oval when the track saw its last race to date on August 25, 2012. Since then a lot has changed at RRVS, but Strand still knows how to find victory lane.
Strand started outside of the front row and took off as soon as the green flag waved. Within four laps, the two-time and defending NLRA champion had amassed a full straightaway lead over current series point leader, Brad Seng. Seng closed in slightly in lapped traffic, but was never able to mount a serious threat on Strand. Strand went on to take the victory; his second in a Late Model and third overall on the RRVS 3/8th mile configuration.
The A Transmission City IMCA Hobby Stocks/Pure Stocks had a wild main event. It all started with a four car pileup on lap two, which brought the race to its first caution. The destruction continued on the restart when Dan Dowling and Billy Carou were fighting hard for the lead. Dowling's #5X snapped around on him in turn four and he was met head on by Austin Veralrud, who then was collected by Brad Orvedal. Veralrud's #6 burst into flames, but the West Fargo Fire Crew was quick to the scene to extinguish the flames.
Kasey Ussatis and Carou then put on a great show as the battled for the lead. Ussatis cleared the #7C of Carou with three laps to go to take the win.
Racing continues this Friday night, presented by M&J Auto Parts and All Finish Concrete. Green flag flies at 7pm!
RESULTS:
NOSA Sprint Cars:
1. Dusty Zomer
2. Greg Nikitenko
3. Lee Grosz
4. Austin Pierce
5. Wade Nygaard
6. Chris Ranten
7. Jordan Adams
8. Dave Glennon
9. Bob Martin
10. Thomas Kennedy
11. Shane Roemling
12. Jade Hastings
13. Ty Hanten
14. Trent Stengl
15. Nick Omdal
16. Jordan Graham
17. Zach Wilde
18. Jackson Moffett
19. Brenden Wilde
20. Tee Young
21. Tom Egeland
22. Casey Mack
23. Alex Larson
24. Cory Mack – DQ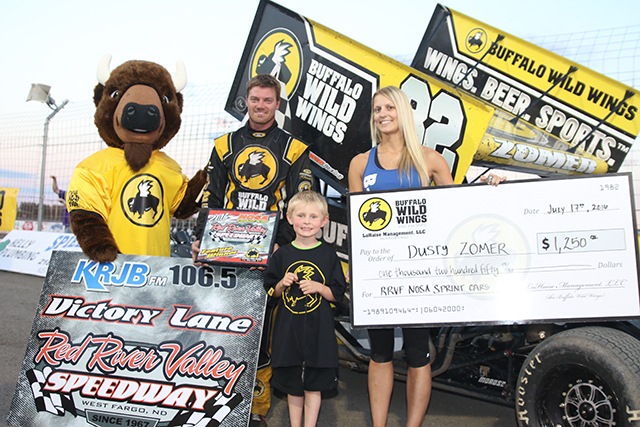 ---
NLRA Late Models:
1. Dustin Strand
2. Brad Seng
3. Mike Balcaen
4. Cole Schill
5. Jeff Massingill
6. Donny Schatz
7. Shane Edginton
8. Cody Skytland
9. Bill Mooney
10. Steve Anderson
11. Greg Meyer
12. Shawn Meyer
13. Steffen Snare
14. Kevin Robertson
15. Jeremy Keller
16. Casey Meyer
17. Rob Odegard
18. Ryan Corbett
19. Jeff Hapala
20. Dave Zimmerman
21. Adam Fischer
22. Tom Corcoran
23. Josh Johnson
24. Tommy Thompson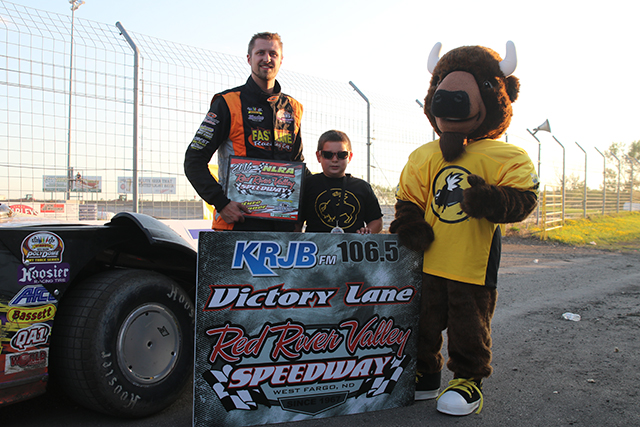 ---
IMCA Hobby Stocks/Pure Stocks:
1. Kasey Ussatis
2. Billy Carou
3. Brandon Schmidt
4. Tim Shiek
5. Kodee Ussatis
6. Brennan Urbach
7. Clare Miller
8. Tim Church
9. Paul Colvin
10. Wade Moerke
11. Kristen Nelson
12. Taylor Saari
13. Dylan Heger
14. Austin Veralrud
15. Brad Orvedal
16. Dan Dowling