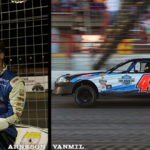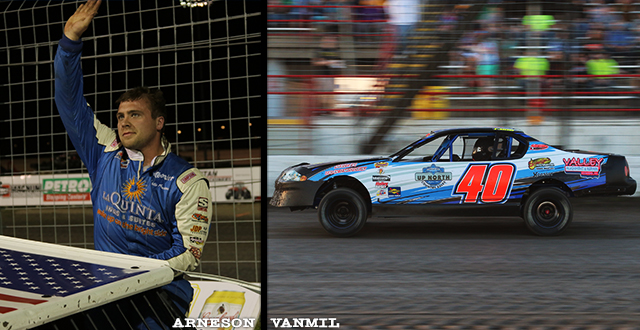 By Mike Spieker
WEST FARGO, N.D. (May 5, 2017) – Racing returned to Red River Valley Speedway last Friday night with 99 cars checked in among five different divisions. Warm temperatures and sunny skies helped bring in a huge crowd, who saw fantastic racing all night long on the semi-banked three-eighths mile dirt oval.
Just as he did during last year's season opener, Austin Arneson took the early lead of the All Finish Concrete IMCA Modified main event and never looked back. The Fargo driver pulled away from the 29-car field at the drop of the green flag before running off to an advantage of over a straightaway. Behind him, Billy Kendall and Mike Greseth were engaged in a fierce battle for the runner-up spot that intensified when they encountered lapped traffic.
Kendall held off Greseth to take second position at the checkers, but that all took place nearly seven seconds behind the race winner Arneson.
Dave Shipley and Austin brother, Cale Arneson, rounded out the top five.
Veteran auto racing driver Corry VanMil scored Red River Valley Speedway's (RRVS) first-ever Audio Garage IMCA Stock Car feature win.
"This feels great," said VanMil, who had to sit out the 2016 season due to health concerns.
The Lake Park, Minn. driver started fourth on the starting grid but charged into the lead on the opening lap. From there VanMil drove away from the field as the pack fought for the runner-up position.
"I didn't know if I was going to finish the race," continued VanMil. "The car was overheating and spitting water like crazy. I thought I was going to run out of cover-ups on my helmet."
VanMil went on to lead every lap in the main event, adding another historic win to his legendary RRVS résumé.
Fargo's Jesse Skalicky found victory lane in the Eide Bailly IMCA Sport Mods. The defending RRVS track champion drove by Luke
Tim Church edged out Dana Brandt in a wild A Transmission City IMCA Hobby Stock finish. Church, the 2016 IMCA Hobby Stock national rookie of the year, led all 12 circuits and took the checkers 0.352 seconds ahead of Brandt.
A pair of Shakopee, Minn. drivers led the field to the checkers during the Petermann Seeds INEX legends main event as Tim Brockhouse topped Baiden Heskett.
RESULTS
IMCA ModifiedS:
FEATURE – 1. Austin Arneson, 2. Billy Kendall, 3. Mike Greseth, 4. Dave Shipley, 5. Cale Arneson, 6. Dev Malmlov, 7. Darren Pfau, 8. Michael Griffin, 9. Tyler Peterson, 10. Dale Kraling, 11. Rob VanMil, 12. Jarrett Carter, 13. Rich Pavlicek, 14. Cody Peterson, 15. Billy Vogel, 16. Tyler Hall, 17. Michael Johnson, 18. Ryan Restad, 19. Tailin Tommerdahl, 20. Brennan Bord, 21. Adam Fischer, 22. Karmith Christensen, 23. Tim Thomas, 24. Tom Cummings, 25. Terry Sahr, 26. Ed Conlin, 27. Jamie Schulz, 28. Trent Grager, 29. Nick Curtis.
IMCA Stock Cars:
Feature – 1. Corry VanMil, 2. Tim Compson,3. Eric Harpole, 4. Duffy Froemke, 5. Taylor Stenvold, 6. Rick Schulz, 7. Kelly Jacobson, 8. John Sandvig, 9. Rob Stevnold
SportMods:
Feature – 1. Jesse Skalicky, 2. Luke Johnson, 3. Luke Krogh, 4. Kelly Jacobson, 5. Phillip Keller, 6. Kelly Henderson, 7. Erik Laudenschlager, 8. Matt Talley, 9. Kyle Keller, 10. Chris VanMil, 11. Andy Wagner, 12. Vince Jegtvig, 13. Chaz Mosby, 14. Taylor Grove, 15. Austin Veralrud, 16. Charles Jensen, 17. Brandon Tendeland, 18. Paul Colvin, 19. Tom Elliot, 20. Dustin Hartwig, 21. Matt Clark, 22. Dan Dowling, 23. Kenneth Bye, 24. Billy Michaelsohn, 25. Greg Larson
Hobby Stocks:
Feature – 1. Tim Church, 2. Dana Brandt, 3. Andrew Bertsch, 4. Tim Shiek, 5. Brandon Schmidt, 6. Torey Fischer, 7. Kasey Ussatis, 8. Maranda Borg, 9. Troy Bertsch, 10. Alyssa White, 11. Nick Nelson, 12. Eric Novacek
Legends:
Feature – 1. Tim Brockhouse, 2. Baiden Heskett, 3. Andrew Jochim, 4. Casey Hendriksen, 5. Tim Estenson, 6. Dean Julsrud, 7. Tony Brockhouse, 8. Brian Hanson, 9. Josh Julsrud, 10. Kaitlyn Skalicky, 11. Brandon Erickson, 12. Tye Wilke, 13. Cade Sogge, 14. Alex Braseth, 15. Shaun Erickson, 16. Jerret Julsrud, 17. Mariah Henriksen, 18. Ryan Braseth, 19. Brody Carlsrud, 20. Scott Richarson, 21. Sean Johnson, 22. Dylan Johnson