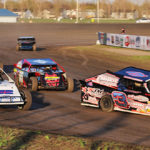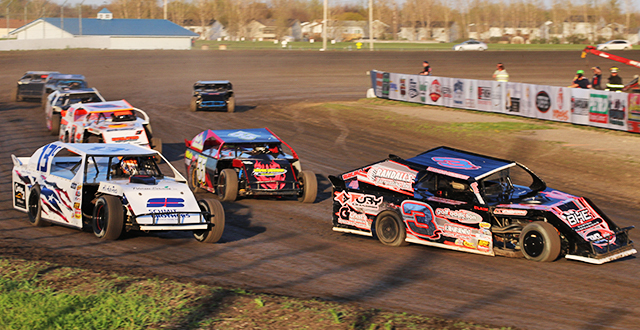 By Mike Spieker
WEST FARGO, N.D. (May 12, 2017) – Just as he did on opening night, Jesse Skalicky parked his IMCA Sportmod in KRJB 106.5FM Victory Lane for his second consecutive win at Red River Valley Speedway on Friday. The Fargo driver started back in the 18th position for the 18-lap Eide Bailly feature, but quickly found his way into the top ten by lap three.
The defending RRVS Sportmod track champion cracked the top five on lap five before taking the lead with eight circuits remaining.
"That was a blast, I'm out of breath," said Skalicky in victory lane. "This Fury Chassis was amazing. We were fast in the heat but hit the wall. I can't tell you how much was wrong with the car. We didn't quit working on it until the minute we went out and I didn't know how the car was going to handle. This crew definitely won this one tonight."
Austin Arneson also went back-to-back at RRVS on Buffalo River Sales, Drainage Solutions & AM970 WDAY night, winning the All Finish Concrete Modified feature. Arneson wheeled his way to the front after starting back in the 11th position.
"It took a lot of patients," said Arneson in victory lane. "The track one kind of one-laned right away, but things slowed down and it came down to finesse."
Tyler Peterson came home second, followed by defending track champion, Rob VanMil, Michael Greseth, and Dave Shipley.
Thursday night's winner at Norman County Raceway, Luke Johnson, came from 11th to finish in the runner-up position as Chris VanMil rounded out the podium.
Fifteen-year-old Fargo native, Tim Estenson, picked up the Petermann Seeds INEX legends feature win. Estenson held off defending track champion, Josh Julsrud, and Andrew Jochim for his first career win at RRVS.
Duffy Froemke picked up the Audio Garage IMCA stock car win, while Cory Tammen found victory in the Fargo Force super stock feature.
RESULTS:
All Finish Concrete IMCA Modifieds:
A Feature: 1. 10-Austin Arneson[11]; 2. 1TPO-Tyler Peterson[7]; 3. 4D-Rob VanMil[6]; 4. 17G-Michael Greseth[10]; 5. 72-Dave Shipley[9]; 6. 91-Jarrett Carter[5]; 7. 21M-Dev Malmlov[16]; 8. 99-Cale Arneson[21]; 9. 17-Rich Pavlicek[4]; 10. 4500-Cody Peterson[14]; 11. 52-Brennan Borg[1]; 12. 51T-Tim Thomas[2]; 13. 4*-Cameron Bintz[20]; 14. 25-Karmith Christensen[23]; 15. K9-Tom Cummings[24]; 16. (DNF) 38-Tailin Tommerdahl[15]; 17. (DNF) 34C-Michael Griffin[8]; 18. (DNF) 21-Jamie Schulz[19]; 19. (DNF) 16M-ANDREW MICHEL[17]; 20. (DNF) 12C-Nickolis Curtis[18]; 21. (DNF) 33-Allen Kent[12]; 22. (DNF) 84-Michael Johnson[3]; 23. (DNF) 30-Adam Fischer[13]; (DNS) 11M-OWEN SIEBERT
Heat 1: 1. 4D-Rob VanMil[4]; 2. 84-Michael Johnson[3]; 3. 33-Allen Kent[7]; 4. 30-Adam Fischer[2]; 5. 16M-ANDREW MICHEL[6]; 6. 99-Cale Arneson[5]; 7. K9-Tom Cummings[1]
Heat 2: 1. 1TPO-Tyler Peterson[4]; 2. 72-Dave Shipley[5]; 3. 52-Brennan Borg[2]; 4. 4500-Cody Peterson[3]; 5. 12C-Nickolis Curtis[1]
Heat 3: 1. 17-Rich Pavlicek[3]; 2. 17G-Michael Greseth[5]; 3. 34C-Michael Griffin[4]; 4. 38-Tailin Tommerdahl[2]; 5. 21-Jamie Schulz[1]; 6. (DNF) 11M-OWEN SIEBERT[6]
Heat 4: 1. 10-Austin Arneson[5]; 2. 91-Jarrett Carter[3]; 3. 51T-Tim Thomas[2]; 4. 21M-Dev Malmlov[4]; 5. 4*-Cameron Bintz[6]; 6. (DNF) 25-Karmith Christensen[1]
Eide Bailly IMCA Sport Mods:
A Feature 1: 1. 3S-Jesse Skalicky[18]; 2. 8J-Luke Johnson[11]; 3. 44D-Chris VanMil[9]; 4. 69T-NIck Thoreson[12]; 5. 3X-Andy Wagner[8]; 6. 44-Greg Larson[1]; 7. 51-Kelly Jacobson[10]; 8. 5T-Matt Talley[21]; 9. 77-Charles Jensen[6]; 10. 6-Austin Veralrud[22]; 11. 22J-Vince Jegtvig[7]; 12. 12T-Brandon Tendeland[5]; 13. 47-Kreig Kasin[14]; 14. E-6-Ryan Veralrud[19]; 15. (DNF) 1RM-Taylor Grove[23]; 16. (DNF) 33-Ryan Dahl[15]; 17. (DNF) 2D-Dan Dowling[13]; 18. (DNF) 19C-Dustin Hartwig[3]; 19. (DNF) 22-Brian Schaffer[16]; 20. (DNF) 55-Kenneth Bye[2]; 21. (DNF) 15-Matthew Clark[17]; 22. (DNF) 76-Riele Sailer[20]; 23. (DNF) 13C-Paul Colvin[4]
Heat 1: 1. 13C-Paul Colvin[3]; 2. 3X-Andy Wagner[5]; 3. 69T-NIck Thoreson[7]; 4. 51-Kelly Jacobson[6]; 5. 2D-Dan Dowling[2]; 6. 22-Brian Schaffer[8]; 7. E-6-Ryan Veralrud[1]; 8. 6-Austin Veralrud[4]
Heat 2: 1. 44-Greg Larson[1]; 2. 8J-Luke Johnson[5]; 3. 44D-Chris VanMil[4]; 4. 12T-Brandon Tendeland[8]; 5. 47-Kreig Kasin[7]; 6. 15-Matthew Clark[2]; 7. 76-Riele Sailer[6]; 8. (DNF) 1RM-Taylor Grove[3]
Heat 3: 1. 22J-Vince Jegtvig[4]; 2. 77-Charles Jensen[3]; 3. 19C-Dustin Hartwig[2]; 4. 55-Kenneth Bye[1]; 5. 33-Ryan Dahl[7]; 6. (DNF) 3S-Jesse Skalicky[6]; 7. (DNF) 5T-Matt Talley[5]
Petermann Seeds INEX Legends:
A Feature: 1. 14T-Tim Estenson[10]; 2. 18-Joshua Julsrud[8]; 3. 21-Andrew Jochim[11]; 4. 8JR-Kaitlyn Skalicky[7]; 5. 15-Mariah Henriksen[3]; 6. 5-Dean Julsrud[9]; 7. 72-Tye Wilke[6]; 8. 79-Scott Richardson[2]; 9. D1RT-Tony Brockhouse[17]; 10. 7-Cade Sogge[5]; 11. 29-Brandon Erickson[16]; 12. 29B-Ryan Braseth[12]; 13. 20-Alex Braseth[13]; 14. 9-Jerret Julsrud[4]; 15. 24-Shaun Erickson[15]; 16. B1-Brody Carlsrud[14]; 17. (DNF) 58-Sean Johnson[1]
Heat 1: 1. 14T-Tim Estenson[6]; 2. 18-Joshua Julsrud[5]; 3. 58-Sean Johnson[1]; 4. 72-Tye Wilke[4]; 5. 29B-Ryan Braseth[2]; 6. 24-Shaun Erickson[3]
Heat 2: 1. 21-Andrew Jochim[6]; 2. D1RT-Tony Brockhouse[5]; 3. 15-Mariah Henriksen[2]; 4. 79-Scott Richardson[1]; 5. 20-Alex Braseth[3]; 6. 29-Brandon Erickson[4]
Heat 3: 1. 5-Dean Julsrud[4]; 2. 9-Jerret Julsrud[1]; 3. 8JR-Kaitlyn Skalicky[3]; 4. 7-Cade Sogge[2]; 5. B1-Brody Carlsrud[5]
Audio Garage IMCA Stock Cars:
A Feature: 1. 21-Duffy Froemke[3]; 2. 1-Kelly Jacobson[2]; 3. 49-Tim Compson[4]; 4. 76Z-John Sandvig[1]; 5. 04-Cody Dignan[5]
Heat 1: 1. 21-Duffy Froemke[3]; 2. 04-Cody Dignan[5]; 3. 1-Kelly Jacobson[2]; 4. 49-Tim Compson[4]; 5. 76Z-John Sandvig[1]
Fargo Force Super Stocks:
A Feature: 1. 71-Cory Tammen[3]; 2. 43-Brian Bernotas[5]; 3. 10W-Blake Whitlock[6]; 4. 29*-Jeff Crouse[4]; 5. 76-Jonathon Miller[7]; 6. 11-William Wadeson[8]; 7. 40-Shawn Schnabel[2]; 8. 4A-Allison Cleveland[10]; 9. (DNF) 49-Tim Compson[1]; 10. (DNF) 75-Brandon Langer[9]
Heat 1: 1. 43-Brian Bernotas[2]; 2. 71-Cory Tammen[5]; 3. 49-Tim Compson[1]; 4. 10W-Blake Whitlock[4]; 5. 75-Brandon Langer[3]
Heat 2: 1. 29*-Jeff Crouse[2]; 2. 76-Jonathon Miller[3]; 3. 11-William Wadeson[4]; 4. 40-Shawn Schnabel[1]; 5. 4A-Allison Cleveland[5]