Please enter banners and links.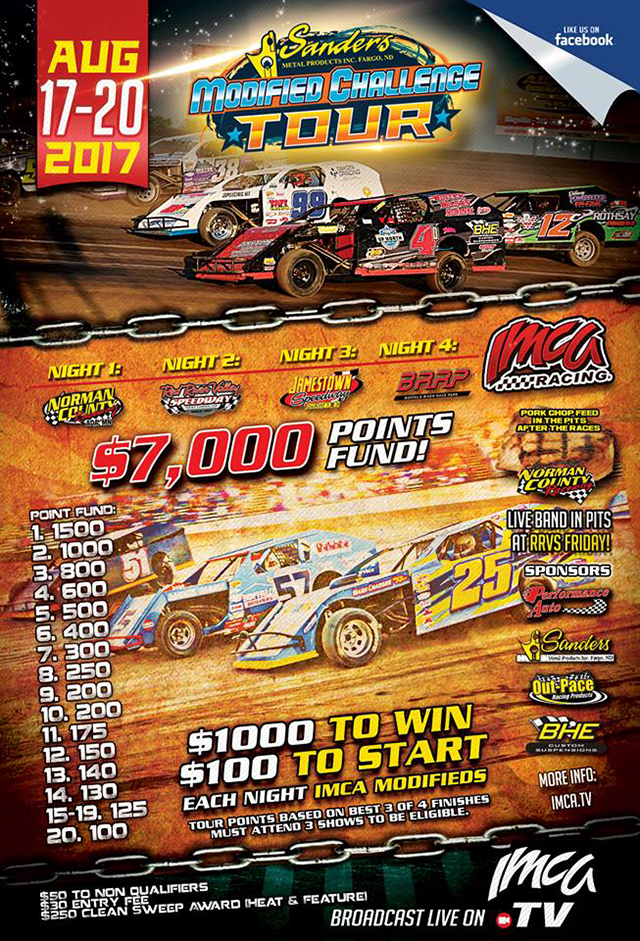 Friday, August 18th Sponsors: Sanders Metal Products, Cass Clay
***The band "Kissing Company" will play LIVE in the pits after the races!***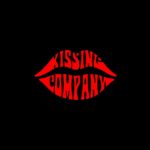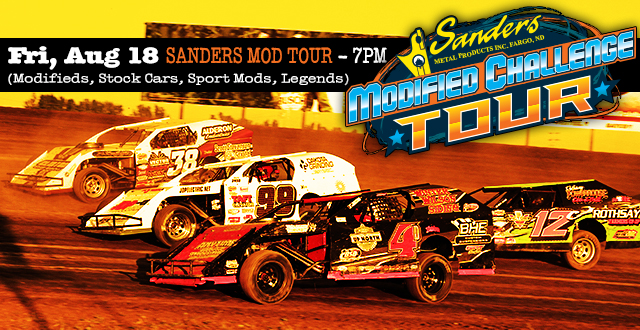 ---
Racing divisions this week:
All Finish Concrete IMCA Modifieds
The Audio Garage IMCA Stock Cars
Eide Bailly IMCA Sport Mods
Petermann Seeds INEX Legends
*NO HOBBY STOCKS*
Times:
Pit Gates Open: 4:30pm
Grandstands Open: 5:30pm
Draw Cutoff: 6:30pm
Racing Starts: 7:00pm
Grandstand Admission:
Adults: $13
Ages 6 – 12: $5
5 & Under: FREE
Buy discounted tickets online:


Advanced discounted ticket location:
Performance Auto – 3401 1/2 Interstate Blvd – Fargo, ND
Buy World of Outlaws Craftsman Sprint Car Series "Duel in the Dakotas" tickets:


We'll have:
– The HotSpring Spas & Pool Tables Duck Toss
– The Nugget Vending Candy Toss
– The Fast Lane Car Wash T-shirt cannon
– 50/50 Tickets
– Red River Valley Speedway apparel
– Delicious concession food & ice-cold beverages
Listen LIVE:
Can't make it to the race? Tune-in to 106.5 KRJB for LIVE racing coverage. You can also listen online at: www.rjbroadcasting.com
Pre-race coverage begins at 6:45pm.
Social Media:
Website – redrivervalleyspeedway.com
Facebook – facebook.com/redrivervalleyspeedway
Twitter – twitter.com/rrvspeedway
Instagram – instagram.com/redrivervalleyspeedway
Snapchat – snapchat.com/add/rrvspeedway
Youtube – http://tiny.cc/RRVS
Text Alerts:
Text the keyword "Stagger" to 84483
Red River Valley Speedway:
1805 Main Avenue West – West Fargo, ND
Lodging:
La Quinta Inn & Suites
2355 46th St South
Fargo, ND 58104
Call: 1-701-499-2000
---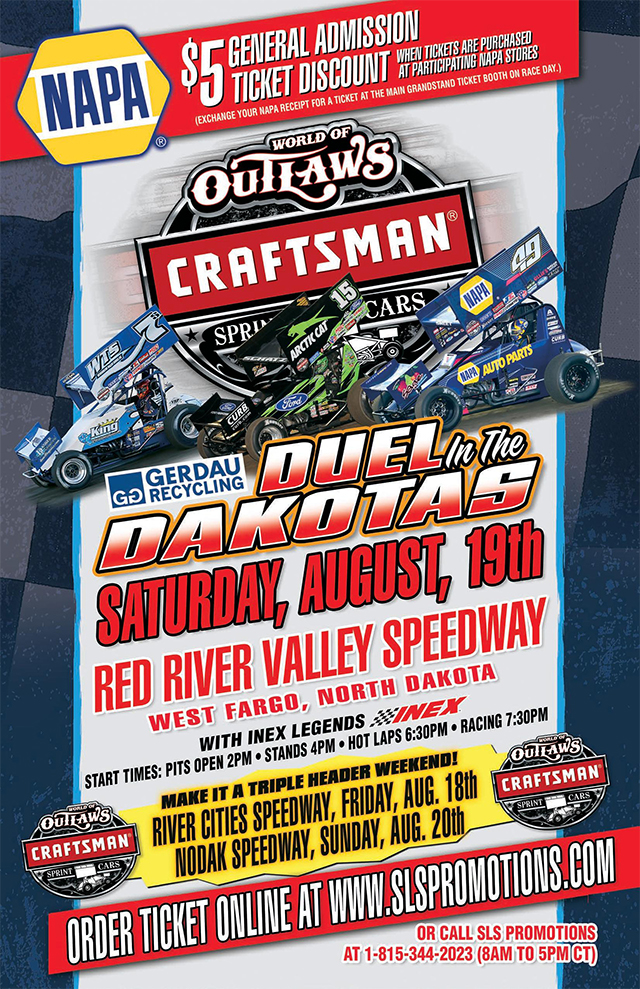 Buy World of Outlaws Craftsman Sprint Car Series "Duel in the Dakotas" tickets:


Racing divisions this week:
World Of Outlaws Sprint Cars
Petermann Seeds INEX Legends
Times:
Pit Gates Open: 2:00pm
Grandstands Open: 4:00pm
Hot Laps: 6:30pm
Racing Starts: 7:30pm
Social Media:
Website – redrivervalleyspeedway.com
Facebook – facebook.com/redrivervalleyspeedway
Twitter – twitter.com/rrvspeedway
Instagram – instagram.com/redrivervalleyspeedway
Snapchat – snapchat.com/add/rrvspeedway
Youtube – http://tiny.cc/RRVS
Text Alerts:
Text the keyword "Stagger" to 84483
Red River Valley Speedway:
1805 Main Avenue West – West Fargo, ND
Lodging:
La Quinta Inn & Suites
2355 46th St South
Fargo, ND 58104
Call: 1-701-499-2000
Camping:
Call Bryan at the Red River Valley Fair Office: 701-282-2200