By Mike Spieker
WEST FARGO – Round three of weekly racing at Red River Valley Speedway continued Friday night. The evening was highlighted by the Dakota Cat Modified Shootout, which brought in 21 IMCA Modifieds.
Michael Greseth led wire to wire Thursday night at Norman County Raceway to win night one of the Dakota Cat Modified Shootout. Friday's edition saw much of the same.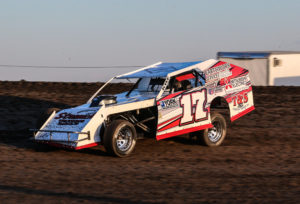 Greseth started third on the grid but raced past Jesse Skalicky and Brady Petermann on lap two to take the lead. Once out front, the Harwood driver set sail. Greseth cruised out to nearly a four-second lead.
Greseth dominated the 25-lap event to collect his third consecutive win as Tyler Peterson, Austin Arneson, Cale Arneson, and Dave Shipley rounded out the top five.
Dan Dowling claimed his first IMCA Sport Mod win of 2018. Dowling grabbed the early lead, but he quickly had his hands full with Scott Jacobson. Jacobson grabbed the lead on lap three, but the caution was soon to follow. On the ensuing restart, Dowling regained the lead.
In the closing laps, the race for the lead became a four car battle. Dowling, Jacobson, his son, Kelly Jacobson, along with Luke Johnson were all in contention for the win as the white flag flew, but Dowling was able to hold on for the win.
Johnson, who started 12th, edged out Kelly Jacobson, Scott Jacobson, and 16th place starter, Austin Veralrud.
After a successful season in the IMCA hobby stocks last year, Hillsboro driver Brandon Schmidt moved up to the IMCA stock cars for the 2018 season. Poised to claim his first stock car win, Schmidt started on the outside of the front row and grabbed the lead on the opening circuit.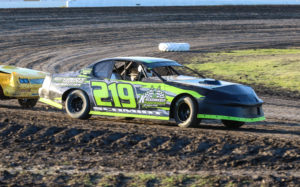 Schmidt wasted no time distancing himself from the rest of the pack. Schmidt went on to score the win by a second and a half over Tim Compson and Rick Schulz.
Coming off a 20-plus win season last year, INEX legends driver Tim Estenson returned to his winning ways. Estenson, who was coming off a feature win at Buffalo River Race Park, started fifth on the field and took the lead on lap one. Estenson withstood a challenge from Sean Johnson to pick up his second win of the season at Red River Valley Speedway and third overall.
Tim Shiek of Fargo raced his way to the IMCA hobby stock feature win. Shiek outraced Brad Orvedahl in the first handful of laps around the high-banked three-eighths-mile clay oval to take the point. Maranda Borg challenged Shiek in the final stages, but Shiek was able to hold on for the victory.
Racing continues next Friday night with the green flag dropping at 7 pm.
---
RESULTS:
IMCA Modifieds:
Feature: 1. 17G-Michael Greseth, Harwood, N.D.; 2. 1TPO-Tyler Peterson, Hickson, N.D.; 3. 10-Austin Arneson, Fargo, N.D.; 4. 99-Cale Arneson, Fargo, N.D.; 5. 72-Dave Shipley, Fargo, N.D.
IMCA Sport Mods:
Feature: 1. 2D-Dan Dowling, Davenport, N.D.; 2. 8J-Luke Johnson, Moorhead, Minn.; 3. 51-Kelly Jacobson, Fargo, N.D.; 4. 5-Scott Jacobson, Fargo, N.D.; 5. 6-Austin Veralrud, Fargo, N.D.
IMCA Stock Cars:
Feature: 1. 219-Brandon Schmidt, Hillsboro, N.D.; 2. 49-Tim Compson, Valley City, N.D.; 3. 4-Rick Schulz, Horace, N.D.; 4. 40-Rob VanMil, Barnesville, Minn.; 5. 18-MIke Anderson, West Fargo, N.D.
INEX Legends:
Feature: 1. 14T-Tim Estenson, Fargo, N.D.; 2. 58-Sean Johnson, Kindred, N.D.; 3. B1-Brody Carlsrud, Moorhead, Minn.; 4. 79-Scott Richardson, Pelican Rapids, Minn.; 5. 72-Tye Wilke, Detroit Lakes, Minn.
IMCA Hobby Stocks:
Feature: 1. 31X-Tim Shiek, Fargo, N.D.; 2. 73-Maranda Borg, Harwood, N.D.; 3. 3XL-Brad Orvedal, Fargo, N.D.; 4. 106-Eric Novacek, West Fargo, N.D.; 5. 701-Kyle Hallgren, Hankinson, N.D.