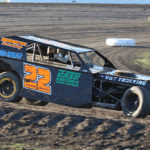 By Mike Spieker
WEST FARGO – Vince Jegtvig scored his first career IMCA Sport Mod feature win at Red River Valley Speedway Friday night. The Dilworth, Minn. driver started on the outside of the front row and quickly checked out from the rest of the field. Jegtvig's margin of victory at the checkers was just under a second and a half over 12th place starter Luke Johnson. Austin Veralrud rounded out the podium a distant six seconds behind Jegtvig.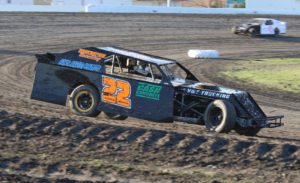 Rick Schulz had a wild moment in the IMCA stock car feature, which brought out the red flag. Schulz, who won Thursday at Norman County Raceway in Ada, Minn., was racing with Tim Compson on lap two when they got together on the front stretch. The contact forced Schulz to climb the concrete wall, which sent him barrel rolling three times before coming to rest on all four wheels. Schulz climbed out of his car uninjured.
On the restart, Mike Anderson led Rob VanMil. VanMil searched all over the three-eighths-mile clay oval before finding a way around Anderson with three laps to go. VanMil went on to win his third stock car feature at Red River Valley Speedway.
Tim Estenson rolled to his third consecutive INEX legends feature win. The Fargo driver started eighth on the field before grabbing the lead from Alex Braseth at the halfway point. Braseth hung on for second as Dylan Johnson rounded out the podium.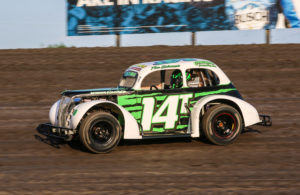 Tim Shiek also claimed his third consecutive Red River Valley Speedway win. Shiek took the lead on lap three and opened up a comfortable five-second lead over Brad Orvedahl en route to the win.
Just as the green flag flew on the IMCA modified feature, the skies opened up. Red River Valley Speedway officials were forced to call the races for the night. The IMCA modified feature will be made up next Friday night.
Red River Valley Speedway's 48th season of weekly racing continues Friday, June 8th, featuring a meet-n-greet with the INEX legend drivers during intermission. Green flag drops at 7 pm.
---
RESULTS:
IMCA Modifieds:
Feature: Postponed due to rain. Will be made up June 8th.
IMCA SportMods:
Feature: 1. 22-Vince Jegtvig, Dilworth, Minn.; 2. 8J-Luke Johnson, Moorhead, Minn.; 3. 6-Austin Veralrud, Fargo, N.D.; 4. 40-Chris VanMil, Barnesville, Minn.; 5. 2D-Dan Dowling, Davenport, N.D.;
IMCA Stock Cars:
Feature: 1. 40-Rob VanMil, Barnesville, Minn.; 2. 18-Mike Anderson, Walcott, N.D.; 3. 21-Tim Church, Barnesville, Minn.; 4. 49-Tim Compson, Valley City, N.D.; 5. 96-Erv Grossman, Fargo, N.D.
INEX Legends:
Feature: 1. 14T-Tim Estenson, Fargo, N.D.; 2. 20-Alex Braseth, Ulen, Minn.; 3. 5D8-Dylan Johnson, Durbin, N.D.; 4. 72-Tye Wilke, Detroit Lakes, Minn.; 5. 5-Dean Julsrud, Barnesville, Minn.
IMCA Hobby Stocks:
Feature: 1. 31X-Tim Shiek, Fargo, N.D.; 2. 3XL-Brad Orvedal, Fargo, N.D.; 3. 00-Arnie Lovdokken, Hankinson, N.D.; 4. 14-Alyssa White, West Fargo, N.D.; 5. 106-Eric Novacek, West Fargo, N.D.