By Jackson Braun
WEST FARGO-The Red River Valley Speedway got their season underway Friday night as 83 race teams filled the pits and kicked off the 2019 racing season for the Red River Valley region.
21 IMCA Modifieds graced the dirt of the three-eighths-mile oval for the main event of the night. West Fargo racers Darren Pfau and Allen Kent started shotgun on the field, with Kent claiming the lead after one lap.
A caution reset the field and Fargo's Austin Arneson was able to make his way around Kent and put a few car lengths between his machine and the 33 machine of Kent.
After another restart, Grand Forks's Dustin Strand and Fargo's Dylan Goplen settled into 2nd and 3rd behind Arneson. Arneson started to pull away once again as the field tried to put together a green flag run. Once they did, Arneson checked out on the field until 3 laps remained, when Fargo's Joe Dietrich looped his machine.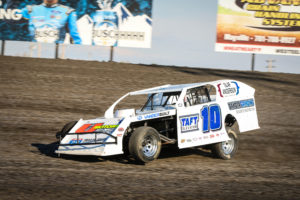 Arneson continued his domination and picked up the win on opening night for the third year in a row. Goplen and Casey Arneson were able to pass Strand, with Rob VanMil rounding out the top 5 finishers.
The IMCA Sportmod feature started with Ada, MN's Andy Wagner, and Dilworth, MN's Vince Jegtvig leading the field to the green flag. After an early caution, Jegtvig got the advantage by putting his machine on the high line early in the going.
Fargo's Scott Jacobson started in the 7th spot and moved up into 2nd place early on. Jacobson inched by Jegtvig to grab the lead with 6 laps in the books.
Jegtvig and company did not back down, however, as Glyndon, MN racer Doug Gardner got around Jegtvig and challenged for the lead.
Gardner finally cleared Jacobson coming to the white flag but drove in the corner a bit too deep, looping his 41 machine.
A two-lap shootout commenced when the green flag came back out. 2018 Sportmod track champion Luke Johnson of Moorhead capitalized by getting around Jacobson and made his way into victory lane to open up the season.
Valley City, ND's Tim Compson grabbed the lead early on in the 15-lap IMCA Stock Car feature. 2018 track champion Rob VanMil of Barnesville, MN took the lead from Compson a few laps into the contest.
VanMil fended off an early challenge from Moorhead's Travis Robertson, who was making his debut in an IMCA Stock Car and drove away from the field to claim his second straight opening night checkers in the Stock Cars at the three-eighths-mile dirt oval.
Jaden Christ and Brian Hanson, both out of Jamestown, ND, started at the point of the field in the INEX Legend class. Christ claimed the lead in the opening laps as the front group of cars jockeyed for position.
Fargo's Kaitlyn Skalicky got around Christ and, after a caution that put Christ to the back of the field, Sean Johnson of Kindred, ND pulled up alongside Skalicky to challenge.
After a bobble by Skalicky, Johnson's younger brother Dylan pulled alongside with 5 laps remaining. Sean ended up holding off Dylan after the two raced side-by-side for the remainder of the contest and grabbed the victory.
It was well worth the trip to the West Fargo speedplant for Matt Olson, who came all the way from Franklin, MN and absolutely dominated the IMCA Hobby Stock feature.
RESULTS
IMCA Modifieds
FEATURE: 1. 10-Austin Arneson, Fargo, ND; 2. 6D-Dylan Goplen, Fargo, ND; 3. 2-Casey Arneson, Fargo, ND; 4. 71-Dustin Strand, Grand Forks, ND; 5. 40-Rob VanMil, Barnesville, MN
IMCA Sportmods
FEATURE: 1. 8J-Luke Johnson, Moorhead, MN; 2. 5-Scott Jacobson, Fargo, ND; 3. 3X-Andy Wagner, Ada, MN; 4. 7R-Ryan Restad, West Fargo, ND; 5. 22 Vince Jegtvig, Dilworth, MN
IMCA Stock Cars
FEATURE: 1. 40-Rob VanMil, Barnesville, MN; 2. 10-Travis Robertson, Moorhead, MN; 3. 52-Brennan Borg, Harwood, ND; 4. 18-Mike Anderson, Walcott, ND; 5. 38-Todd Heinrich, Fargo, ND
INEX Legends
FEATURE: 1. 58-Sean Johnson, Kindred, ND; 2. 5D8-Dylan Johnson, Durbin, ND; 3. 8JR-Kaitlyn Skalicky, Fargo, ND; 4. B1-Brody Carlsrud, Moorhead, MN; 5. 20-Alex Braseth, Ulen, MN
IMCA Hobby Stocks
FEATURE: 1. 56M-Matt Olson, Franklin, MN; 2. 11S-William Smith, Glyndon, MN; 3. 44T-Tanner Engen, Detroit Lakes, MN; 4. 31X-Tim Shiek, Fargo, ND; 5. 3XL-Brad Orvedal, Fargo, ND.