By Mike Spieker
WEST FARGO – The hard-packed clay oval that sits on the south end of the Red River Valley Fairgrounds became a playground for power on Friday and Saturday as it came back to life after a winter's dormancy. Red River Valley Speedway kicked off its unofficial start to its 50th season of weekly racing with three separate practice sessions this past weekend for area racers.
Over 75 race teams took to the high-banks of the three-eighths-mile oval to get a feel of the race track, shakedown their new cars, and work on setups for the upcoming season opener.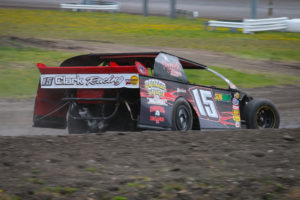 "Everything went phenomenal. From getting all the drivers signed in, to keeping everybody socially distant, to the racing surface we provided for the drivers," said Nick Skalicky, chief operating officer for the speedway. "The track stayed together really well for it being the first time we've had cars on it since late August. All the drivers seemed really happy with it."
Extensive measures went into place to comply with state regulations and for the safety of the participants. Some of which included there only being one person allowed in line when signing in at the pit window. Only the driver and one crew member were allowed in the pit area. On a typical race night, a pit crew for a single driver can include but isn't limited to, around five crew members. Teams were to park at least 20 feet away from each other and crew members were highly encouraged to not leave their pit stall, but if they did, it was highly encouraged to wear a mask. Several other measures were also in place.
As far as when racers and fans can expect a season opener, Skalicky said he his hopeful it will be sooner, rather than later.
"There are a few scenarios that can play out. I really want to host our season opener with fans in attendance. It's just not viable to do it without them," he said.
The State of North Dakota's current guideline for large gatherings allows for up to 50% certificate of occupancy for that room but no more than 250 persons.
"That just won't work either," said Skalicky. The speedway averages between 1,000 to 1,500 fans for a weekly Friday night program.
Skalicky said a decision will be made by Monday night or early Tuesday on whether or not the speedway's season opener will be held this Friday, May 22nd. The season was originally scheduled to begin on Friday, May 1st, but has been on hold due to the COVID-19 pandemic.
Back behind the wheel:
Two-time and defending IMCA Sport Mod track champion, Luke Johnson of Moorhead, was excited to be back at the speedway on Friday night, even if it was only for practice.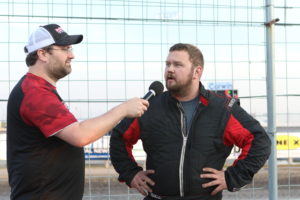 "The first two sessions we were just out there to turn some laps and shake the car down. After that, we tried some different setups to get the car dialed," he said. "The track was awesome. It was nice and smooth and perfect for practice."
Since the track reopened in 2016, Johnson has tallied nine wins in the Sport Mod division, which is tied for the most with current IMCA modified driver, Jesse Skalicky of Fargo. Consistency was key in Johnson's championship run last year as he collected eight top-five finishes in 12 events in the very competitive Sport Mod class. Johnson's pair of wins in 2019 were tied for the most in the class, which had eight different winners throughout the course of the season.
"My two track championships are definitely towards the top of my career highlights," said Johnson. "To get the first one in 2018 was awesome and to be able to back that up last year was even better."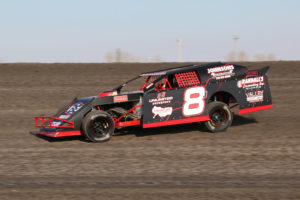 Johnson will be going for the three-peat in 2020.