By Mike Spieker
WEST FARGO – For the 50th time since 1968, Red River Valley Speedway hosted its season opener on Friday night at the Red River Valley Fairgrounds. A large, yet socially distant crowd enjoyed a stacked field of competitors that included 104 race teams – the most the speedway has hosted in nearly 10 years.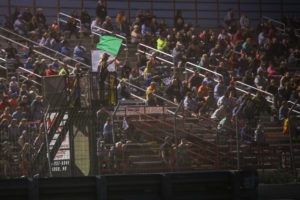 In recent years, Austin Arenson of Fargo has dominated Red River Valley Speedway's season openers in the IMCA modified division. Arneson has won each of the last three openers. The only opener he hasn't won since the speedway reopened in 2016, he didn't attend – he was racing a national event out of state.
Arneson, fresh off his third career Norman County Raceway season opener win the night before in Ada, Minn., looked to complete the four-peat against a stout field of modifieds from across the upper Midwest. After winning his heat, Arneson drew the 10th starting position for the main event but quickly moved his way forward. A late-race caution set up a green-white-checkered finish. Running second behind Billy Kendall of Baxter, Minn., Arneson lined up in second ahead of his younger brother, Casey Arneson.
Arneson gave Kendall a challenge in the final circuits but came up short at the checkers. The win was Kendall's first win at the West Fargo dirt track. Kendall has upped his game in recent years. He debuted his homebuilt chassis earlier this season and recently picked up a top 10 finish in Boone, Iowa – arguably one of the most competitive weekly IMCA-sanctioned tracks in the country – before picking up the win on Friday.
Fourteen-year-old Grand Forks driver Brodee Eckerdt stole the show with his IMCA hobby stock feature win. Eckerdt started the race by spinning out on the opening lap, but rebounded to take the lead and cruise to the win. Friday was only Eckerdt's second time in a hobby stock.
A big field of 20 Northern Renegade non-wing sprints took to the speedway as the nightcap. Ken Hron of Grand Rapids, Minn. led every lap but the last one. As the white flag flew, Hron and Jori Hughes of Tower, Minn. tangled in turn two, giving the lead and the win to 13th-place starter, Jack Berger. Zach Hultstrand of Bismarck, N.D. brought out the red flag after a violent end-over-end flip in turn one. Hultstrand walked away from the incident uninjured.
In what was one of the best battles of the night, Rick Schulz of Horace outdueled defending stock car track champion, Rob VanMil of Barnesville, Minn., in a fight to the finish. Trading the lead lap after lap in the closing stages, Schulz held the advantage in the final laps and held on for the win.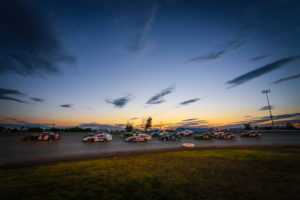 Luke Johnson's title defense in the IMCA SportMods has gotten off to a great start. The two-time and defending track champion picked up the feature win in convincing fashion. Tye Wilke of Detroit Lakes, Minn. charged from the fifth starting position to lead 11 of the 12 laps in the INEX legends feature and take the win.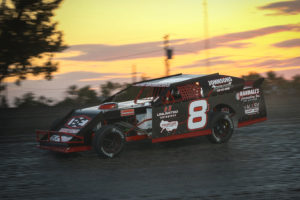 Racing continues at Red River Valley Speedway next Friday night with the green flag dropping at 7pm.
---
RESULTS:
IMCA Modifieds:
Feature – 1. 9-Billy Kendall III, Baxter, Minn.; 2. 10-Austin Arneson, Fargo, N.D.; 3. 2A-Casey Arneson, Fargo, N.D.; 4. 442-Aaron Johnson, Brainerd, Minn.; 5. 40-Rob VanMil, Barnesville, Minn.
IMCA Stock Cars:
Feature – 1. 4-Rick Schulz, Horace, N.D.; 2. 40-Rob VanMil, Barnesville, Minn.; 3. 10-Travis Robertson, Moorhead, Minn.; 4. 38-Todd Heinrich, Fargo, N.D.; 5. 30A-Adam Goff, Minot, N.D.
IMCA SportMods:
Feature – 1. 8J-Luke Johnson, Moorhead, Minn.; 2. 41-Doug Gardner, Glyndon, Minn.; 3. 6-Austin Veralrud, Barnesville, Minn.; 4. 24-Kelly Henderson, Minot, N.D.; 5. 22-Vince Jegtvig, Dilworth, Minn
IMCA Hobby Stocks:
Feature – 1. B2-Brodee Eckerdt, Grand Forks, N.D.; 2. 14-Alyssa White, West Fargo, N.D.; 3. 31X-Tim Shiek, Fargo, N.D.; 4. 3XL-Brad Orvedal, Fargo, N.D.; 5. 5G-Tim Gonska, Brainerd, Minn.
INEX Legends:
Feature – 1. 72-Tye Wilke, Detroit Lakes, Minn.; 2. B1-Brody Carlsrud, Moorhead, Minn.; 3. 29B-Ryan Braseth, Ulen, Minn.; 4. 20-Alex Braseth, Ulen, Minn.; 5. 58-Sean Johnson, Kindred, N.D.
Non-Wing Sprints:
Feature – 19B-Jack Berger, Lake Elmo, Minn.; 2. 15E-Caley Emerson, Grand Rapids, Minn.; 3. 56-Josh Braford, Grand Rapids, Minn.; 4. 101-Paul Schultz, Grand Rapids, Minn.; 5. 4N-Nolan Olmstead, Lakota, N.D.