By Mike Spieker
WEST FARGO – A trio of first-time winners highlighted the second week of racing action on Friday night at Red River Valley Speedway. Brennan Borg in the IMCA stock cars, Kelsi Pederson in the lightning sprints, and Tanner Engen in the IMCA hobby stocks all visited KRJB 106.5FM Victory Lane for the first time in their career.
Second-year IMCA stock car driver Brennan Borg of Harwood dominated the 16-lap feature. Borg charged from the sixth starting position to take the lead on lap three. Borg withstood challenges from Todd Heinrich of Fargo and opening night winner at Norman County Raceway in Ada, Minn., Mike Anderson of Walcott, N.D., on a late-race restart.
Detroit Lakes, Minn. driver Tanner Engen, who is also in his second year in the IMCA hobby stocks, claimed his first career win in convincing fashion.
"We didn't have the luck last week, but we weren't going to let that get the best of us," said Engen after the race. "(That race tonight) was a blast. This is my second year in this class, with a new car. I love it and it's running great."
Kelsi Pederson of East Grand Forks, Minn. parked her No. 93 Minn-Kota lighting sprint in Red River Valley Speedway's victory lane for the first time. Pederson, who is the daughter of veteran late model driver Joey Pederson, bested Alex Truscinski of Greenbush, Minn. after a great battle for the lead.
Pederson ran relatively unchallenged the remainder of the race. After the checkers, the red flag flew when Jason Berg's machine burst into flames. Red River Valley Speedway officials and the West Fargo Rural Fire Department were quickly on the scene to get Berg out and extinguish the flames.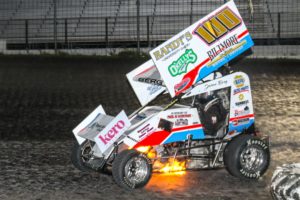 In the race of the night, Austin Arneson of Fargo stole the IMCA modified win away from Tyler Hall of Fertile, Minn. in the closing laps. Hall, who was in search of his first Red River Valley Speedway win since June 7th of last year, led 18 and a half of the 20 laps before Arneson found his groove in the middle lane of the speedway. Arneson powered his way around the outside of Hall coming to the white flag to claim his 14th career modified win at his home track.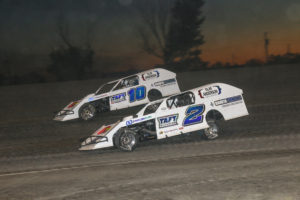 "Later in the race, the top side of the track cleaned off and we got some momentum going," said Arneson, who now builds his own race cars. "This is still a new car so we are still tweaking on some things and getting a list of notes to get it a little better. The track was awesome tonight."
After blowing up the motor last week, Ryan Restad of West Fargo grabbed the checkered in the IMCA SportMod feature. Restad started on the pole and led every trip around the three-eighths-mile oval.
Tye Wilke's strong start to the 2020 season continues. Wilke of Detroit Lakes, Minn., raced to his fourth win in seven events entered thus far in 2020.
RESULTS:
IMCA Modifieds:
Feature: 1. 10-Austin Arneson, Fargo, N.D.; 2. 60-Tyler Hall, Fertile, Minn.; 3. 3S-Jesse Skalicky, Fargo, N.D.; 4. 9-Billy Kendall III, Baxter, Minn.; 5. 2A-Casey Arneson, Fargo, N.D.
IMCA Stock Cars:
Feature: 1. 52-Brennan Borg, Harwood, N.D.; 2. 38-Todd Heinrich, Fargo, N.D.; 3. 18-Mike Anderson, Walcott, N.D.; 4. 10-Travis Robertson, Moorhead, Minn.; 5. 40-Rob VanMil, Barnesville, Minn.
IMCA SportMods:
Feature: 1. 7R-Ryan Restad, West Fargo, N.D.; 2. 41-Doug Gardner, Glyndon, Minn.; 3. 17-Rich Pavlicek, Moorhead, Minn.; 4. 5-Scott Jacobson, Fargo, N.D.; 5. 40-Chris VanMil, Barnesville, N.D.
Minn-Kota Lightning Sprints
Feature: 1. 93-Kelsi Pederson, East Grand Forks, Minn. 2. 13-Alan Truscinski, Greenbush, Minn.; 3. 22-Bryce Haugeberg, West Fargo, N.D.; 4. 100-Jason Berg, Fargo, N.D.; 5. 11-Dexter Dvergsten, Greenbush, Minn.
IMCA Hobby Stocks:
Feature: 1. 44T-Tanner Engen, Detroit Lakes, Minn.; 2. B2-Brodee Eckerdt, Grand Forks, N.D.; 3. 31X-Tim Shiek, Fargo, N.D.; 4. 14-Alyssa White, West Fargo, N.D.; 5. 3XL-Brad Orvedal, Fargo, N.D.
INEX Legends:
Feature: 1. 72-Tye Wilke, Detroit Lakes, Minn.; 2. B1-Brody Carlsrud, Moorhead, Minn.; 3. 29-Ryan Braseth, Ulen, Minn.; 4. 20-Alex Braseth, Ulen, Minn.; 5. 34-Alex Kukowski, Edgelely, N.D.