By Mike Spieker
WEST FARGO – Red River Valley Speedway roared back to life on Friday night as weekly racing continued at the three-eighths-mile oval. The large crowd on hand was treated to big car counts in all racing divisions and a multi-groove racing surface.
Any one of a handful of drivers could have won the IMCA modified feature. The 25-lap main event began with Greg Friestad of Valley City showing the way. On lap three, West Fargo's Darren Pfau took command of the lead, while a pack of cars battled for position behind him.
In the closing laps, Pfau found himself mired in lapped traffic, which allowed Tyler Hall of Fertile, Minn. to close in. Hall got close enough to put some pressure on Pfau, but couldn't mount a serious challenge for the lead. Pfau went on to claim his first win of the season and the third of his career at Red River Valley Speedway.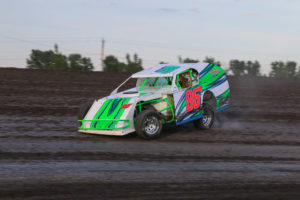 "That was very nerve-wracking," said Pfau in victory lane. "It's not very often I lead that many laps. We've had some tough luck here the last few weeks so it feels good to get things turned around."
Hall finished second, followed by Fargo drivers Jesse Skalicky and Casey Arneson. Matt Aukland of Glyndon, Minn. rounded out the top five.
In the featured event of the evening, the IMCA stock cars boasted a 22-car field for the King Pin Klash, presented by The Bowler. Stock car rookie, Keaton Froemke of Glyndon, Minn., led the opening laps before veteran driver Rick Schulz of Horace took the lead on lap five of 25. Once in the lead, Schulz powered out to a big lead with his home-built engine under the hood.
Schulz withstood a restart with eight to go to pick up the win.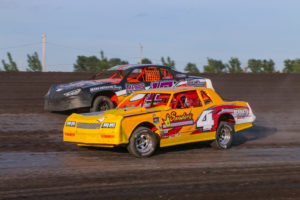 "This is an awesome class," said Schulz of the IMCA stock cars, which, in their third year, are a relatively new class of cars to the speedway. "We've got a lot of good drivers in this class and it's a lot of fun."
After a rough outing on Thursday night at Norman County Raceway in Ada, Minn., Rich Pavlicek of Casselton rebounded to score the IMCA SportMod win on Friday.
"The motor pretty much blew up at the start of Thursday night's feature. We stayed up until 3:30 in the morning getting it fixed. My dad pretty much rebuilt the motor and we got everything back together at about 4 o'clock today," said Pavlicek in victory lane.
Pavlicek made the haul down to Hancock County Speedway in Britt, Iowa for the IMCA SportMod Nationals on Wednesday night. After charging from 21st to finish eighth in the main event, Pavlicek drove through the night to make it back in time for Ada's races on Thursday.
"We got back from Iowa at about 4:30 in the morning and changed the gears on the car right away so we could be ready for Ada. We are tired," said Pavlicek with a laugh.
Tye Wilke of Detroit Lakes, Minn. continued his dominance in the INEX legends. The race began with a three-wide battle between Ashton Spieker of Sabin, Minn., Brody Carlsrud of Moorhead, and Joshua Wiest of Jamestown.
Wilke, who started eighth, quickly worked his way forward to take over the point with 10 laps to go. Once out front, he cruised to the win to remain undefeated at Red River Valley Speedway.
For the second week in a row, Tanner Engen of Detroit Lakes claimed the IMCA hobby stock feature win. Engen had to earn it, however. The second-year hobby stock driver worked his way to the lead from the seventh starting position and went on to win by a convincing 4.1 seconds.
---
RESULTS:
IMCA Stock Cars:
Feature: 1. 4-Rick Schulz, Horace, N.D.; 2. 40-Rob VanMil, Barnesville, Minn.; 3. 38-Todd Heinrich, Fargo, N.D.; 4. 10R-Travis Robertson, Moorhead, Minn.; 5. 52-Brennan Borg, Harwood, N.D.
IMCA Modifieds:
Feature: 1. 86C-Darren Pfau, West Fargo, N.D.; 2. 60-Tyler Hall, Fertile, Minn.; 3. 3S-Jesse Skalicky, Fargo, N.D.; 4. 2A-Casey Arneson, Fargo, N.D.; 5. 12-Matt Aukland, Glyndon, Minn.
IMCA SportMods:
Feature: 1. 17-Rich Pavlicek, Casselton, N.D.; 2. 5-Scott Jacobson, Fargo, N.D.; 3. 8J-Luke Johnson, Moorhead, Minn.; 4. 40-Chris VanMil, Barnesville, Minn.; 5. 7R-Ryan Restad, West Fargo, N.D.
IMCA Hobby Stocks:
Feature: 1. 44T-Tanner Engen, Detroit Lakes, Minn.; 2. 3XL-Brad Orvedal, Fargo, N.D.; 3. B2-Brodee Eckerdt, Grand Forks, N.D.; 4. 31X-Tim Shiek, Fargo, N.D.; 5. 39-Caleb Gardner, Glyndon, Minn.
INEX Legends:
Feature: 1. 72-Tye Wilke, Detroit Lakes, Minn.; 2. B1-Brody Carlsrud, Moorhead, Minn.; 3. 14-Kody King, Clear Lake, IA; 4. 5D8-Dylan Johnson, Durbin, N.D.; 5. 58-Sean Johnson, Kindred, N.D.