By Mike Spieker
WEST FARGO – The World of Outlaws NOS Energy Drink Sprint Car Series will return to Red River Valley Speedway in 2021 for the Red River Rumble. The event scheduled for Saturday, August 21st will mark the fifth consecutive year and the 35th-time overall dirt track racing's premier touring series will visit the West Fargo high-banked three-eighths-mile clay oval.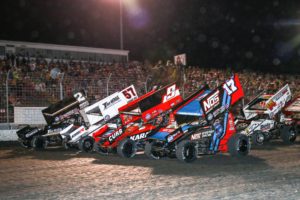 NASCAR star Kyle Larson picked up the World of Outlaws win at the speedway last summer. Larson out-dueled eventual series champion Brad Sweet for the $10,000 victory.
The win for Larson was one of 43 total victories across seven different dirt car divisions for the Elk Grove, California native this season. Larson also won at River Cities Speedway in Grand Forks with a last-lap pass for the win.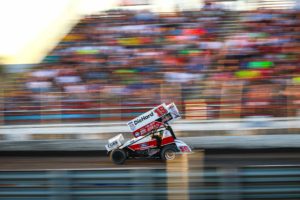 Tickets are available at slspromotions.com.
2020 was the 50th season of racing at the speedway and fifth-year track promoters Nick Skalicky and Jake and Sharnel Bitker kept the track in the national spotlight all year long. The speedway hosted four national touring events throughout the abbreviated season, including the World of Outlaws Sprint Cars, World of Outlaws Late Models, the return of the IMCA Dakota Classic Modified Tour for the first time since 1991, and the IMCA Red River Modified Tour.
Previous World of Outlaws A-Feature Winners:
2020 – Kyle Larson on August 22
2019 – Rained out on August 17
2018 – Donny Schatz on August 18
2017 – Jason Johnson on August 19
2012 – Sammy Swindell on June 16
2009 – Jason Meyers on June 20
2008 – Daryn Pittman on August 12
2007 – Jac Haudenschild on June 30
2006 – Donny Schatz on June 17
2005 – Jason Meyers on July 2, Steve Kinser on Aug. 16
2004 – Joey Saldana on July 10
2003 – Danny Lasoski on June 14
2002 – Donny Schatz on July 6
2001 – Craig Dollansky on July 7
2000 – Sammy Swindell on July 8
1999 – Steve Kinser on July 10
1998 – Sammy Swindell on July 11
1997 – Stevie Smith on July 12
1996 – Sammy Swindell on July 7
1995 – Sammy Swindell on July 8
1994 – Steve Kinser on July 10
1993 – Johnny Herrera on July 10
1992 – Steve Kinser on July 12
1991 – Doug Wolfgang on July 6
1990 – Doug Wolfgang on July 7
1989 – Jeff Swindell on July 8
1988 – Doug Wolfgang on July 9
1987 – Steve Kinser on July 11
1986 – Steve Kinser on July 12
1985 – Steve Kinser on July 13
1984 – Steve Kinser on July 14
1983 – Sammy Swindell on July 9
1982 – Steve Kinser on July 14
1981 – Sammy Swindell on July 13