RED RIVER VALLEY RACING HALL OF FAME NOMINATION FORM
The annual selection of honorees for induction as Red River Valley Racing Hall of Fame Members begins with the submission of the Nomination Application Form. Anyone is welcome to complete the application below for consideration.
Nominee applications will proceed through the following process:
1. Open Nomination Period (closes June 1, 2023) – Applications will be accepted during the calendar year from the general public. All applications must be submitted prior to June 1st for consideration during 2023.
2. Applications will be reviewed by Red River Valley Racing Hall of Fame Committee.
3. Committee will select honorees
4. A maximum of five individuals will be recognized annually.
5. Honorees will be recognized during designated Hall of Fame night at both Red River Valley Speedway and Buffalo River Race Park and honorees name will be placed on the Wall of Fame located at both speedways. ​
Nomination Application Tips (if printing application & submitting via mail or email):
– Print or type ALL information clearly and completely
– Provide as much information as appropriate and as possible
– If a nominee's information and achievements do not fit neatly in the area provided, please include additional pages as necessary.
– Please verify the accuracy and completeness of your nomination before submission.
– You may submit a Nomination Application at any time during the calendar year. If the application arrives after the deadline, it will be eligible for the next year's selection process.
Please submit your application by mail, or use the online submission form below:
Mike Spieker
1921 4th Ave NW
Suite 5
West Fargo, ND 58078
Email: spiekerpromotions@gmail.com
​Click the file below to download and print a hard copy of the Nomination Form, or complete the online nomination form.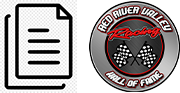 ---