By Mike Spieker
WEST FARGO – Racing returned to the high banks of Red River Valley Speedway on an oppressively hot and humid Friday night.
The All Finish Concrete IMCA Modifieds had extra money on the line Friday night with the fourth running of the Dakota Cat Modified Shootout.
2017 track champion, Dave Shipley of Argusville, N.D., and Greg Friestad of Valley City, N.D. led the 18-car field to the green. Shipley took the point at the start as Matt Aukland of Glyndon, Minn. moved into second.
Shipley went on to lead all 25-laps, but he could never shake free of Aukland. Aukland remained within striking distance all race long and closed to within a car length of Shipley in lapped traffic.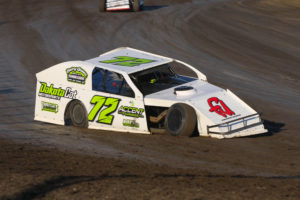 However, Shipley extended his advantage in the closing laps to park his No. 72 Modified in KRJB 106.5FM Victory Lane.
"This feels great. This is the first Dakota Cat Shootout that I've won and it feels good to get that for my sponsor," said Shipley, who has been sponsored by Dakota Cat for the better part of a decade. "Tonight was a track where it helped to start upfront and it came down to not making any mistakes."
Kevin Veralrud of Horace, N.D. began his career at Red River Valley Speedway in the late 1980s. On Friday night, he notched his first career win at the speedway in the Eide Bailly IMCA SportMods.
Veralrud led all 14 circuits of the feature race. His son, Austin Verlarud, ran second in the early going, but two-time and defending track champion Luke Johnson of Moorhead, Minn., as well as Rich Pavlicek of Casselton, N.D. gave Veralrud a run for his money in the closing laps.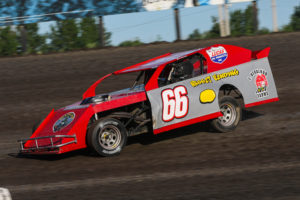 Pavlicek moved into second and put heavy pressure on Veralrud on the final lap, but Veralrud hung on for the win.
It was an emotional victory lane celebration as Austin drove into victory lane to congratulate his father on the win.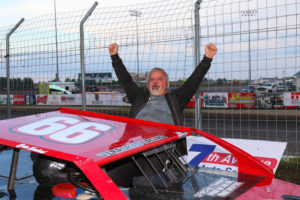 "This is just so cool. You just have to have faith. I never thought I would win in the SportMod class," said Veralrud after the race. "I've always been a contender throughout my career, but never a winner. But now we've got that."
It appeared as though another first-time winner would emerge in the Brandon Schmidt Trucking IMCA Stock Cars. John Sandvig of West Fargo, N.D. drove out to a big lead at the start of the feature after dominating his heat race earlier in the night. Sandvig ran smooth and steady until his car hit a slick spot in turn two, which turned his car sideways. Sandvig was able to regain control of his car, however, Travis Robertson of Moorhead, and Rob VanMil of Barnesville, Minn. both made contact trying to avoid Sandvig and spun out.
The caution was called on Sandvig, which forced him to the back of the pack, while Robertson and VanMil returned to their spots at the front of the field with Robertson, who was running second before the caution, inheriting the lead.
Robertson went on to edge out VanMil in a great battle to the finish to claim his second consecutive win at Red River Valley Speedway and his 51st career win.
The Petermann Seeds INEX Legends feature came down to a photo finish behind Ryan Braseth of Ulen, Minn. and Alex Kukowski of Edgeley, N.D. Braseth took the win by a mere 0.022 seconds at the checkers, equating to about two feet. The biggest wreck of the night occurred during the Legends feature when Shaun Erickson of Glyndon, Minn. rolled violently on the front stretch after contact with another car. Erickson was uninjured.
The win for Braseth broke Tye Wilke's undefeated streak of four consecutive wins.
Tanner Engen's dominance in the A Transmission City IMCA Hobby Stocks continued. The Detroit Lakes, Minn. driver took the lead from Marv Priem of Glyndon in the closing laps to score his fourth win of the season.
Red River Valley Speedway will host two nights of racing next week, beginning on Friday night with racing at 7:00 PM. On Saturday, the track will again be in action with all of its regular classes on hand, but the Modifieds will have two complete shows. The Modifieds will be racing for $1,000-to-win for all three shows this weekend as a part of the IMCA Red River Modified Tour.
RESULTS:
IMCA Modifieds:
A Feature: 1. 72-Dave Shipley, Argusville, N.D.; 2. 12-Matt Aukland, Glyndon, Minn.; 3. 12F-Greg Friestad, Valley City, N.D.; 4. 2A-Casey Arneson, Fargo, N.D.; 5. 60-Tyler Hall, Fertile, Minn.
IMCA Stock Cars:
A Feature: 1. 10R-Travis Robertson, Moorhead, Minn.; 2. 40-Rob VanMil, Barnesville, Minn.; 3. 38-Todd Heinrich, Fargo, N.D.; 4. 88K-Keaten Froemke, Glyndon, Minn.; 5. 52-Brennan Borg, Harwood, N.D.
IMCA SportMods:
A Feature: 1. 66-Kevin Veralrud, Horace, N.D.; 2. 17-Rich Pavlicek, Casselton, N.D.; 3. 8J-Luke Johnson, Fargo, N.D.; 4. 6-Austin Veralrud, Barnesville, N.D.; 5. 7R-Ryan Restad, West Fargo, N.D.
IMCA Hobby Stocks:
A Feature: 1. 44T-Tanner Engen, Detroit Lakes, Minn.; 2. B1-Marvin Priem, Glyndon, Minn.; 3. 39-Caleb Gardner, Glyndon, Minn.; 4. 31X-Tim Shiek, Fargo, N.D.; 5. B2-Brodee Eckerdt, Grand Forks, N.D.
INEX Legends:
A Feature: 1. 29-Ryan Braseth, Ulen, Minn.; 2. 34-Alex Kukowski, Edgeley, N.D.; 3. 58-Sean Johnson, Kindred, N.D.; 4. 20-Alex Braseth, Ulen, Minn.; 5. 72-Tye Wilke, Detroit Lakes, Minn.