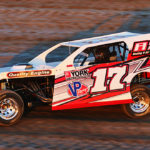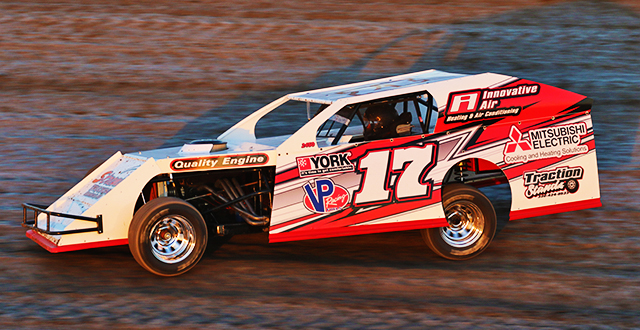 By Mike Spieker
WEST FARGO – Red River Valley Speedway was back in action Friday night with a strong field of 85 race cars in attendance among the five racing division. Michael Greseth, Jesse Skalicky, Baiden Heskett, Aaron Olson, and Brandon Schmidt all visited KRJB 106.5FM Victory Lane.
Harwood's Michael Greseth picked up his first IMCA modified win of the season, despite starting outside of the fifth row. Greseth began moving forward at the drop of the green flag, picking off 10 cars in the first 10 laps.
With 12 circuits remaining in the 20-lap feature, Greseth stole the lead away from pole sitter, Michael Johnson, at the flagstand.
From there, Greseth built up a comfortable lead to take the victory over Dave Shipley and Tyler Peterson, who both started outside of the top 10. Johnson and Tyler Hall rounded out the top five.
Jesse Skalicky's phenomenal start to the 2017 season continued during the IMCA Sport Mod feature. The Fargo driver started mid-pack in the 11th position but quickly made his way through the field. Skalicky topped the top three on lap five, but Moorhead's Luke Johnson held a comfortable lead up front.
A caution with 10 to go gave Skalicky the break he needed as he started right on Johnson's rear bumper for the restart. Skalicky was able to get by Johnson's No. 8J machine, before checking out from the pack. Skalicky went on to record his third win of the season at RRVS to remain undefeated at the West Fargo dirt oval.
Fargo's Kelly Jacobson charged from 17th to finish second.
Aaron Olson topped the field of IMCA stock cars with a late race pass on Duffy Froemke for the lead. After Froemke led the majority of the feature, a restart with six to go was the deciding factor. Olson stormed by Froemke with four laps to go to claim his third victory of the young 2017 season.
Baiden Heskett picked up his first win in the INEX legends, while Brandon Schimdt found victory in the IMCA hobby stocks.
Racing continues next Thursday and Friday night at Red River Valley Speedway with the running of the inaugural two-night Dakota Cat 100.
---
RESULTS
IMCA Modifieds:
Feature – 1. Michael Greseth, Harwood, N.D.; 2. Dave Shipley, Argusville, N.D.; 3. Tyler Peterson, Hickson, N.D.; 4. Michael Johnson, Moorhead, Minn.; 5. Tyler Hall, Fertile, Minn.
IMCA Sport Mod:
Feature – 1. Jesse Skalicky, Fargo, N.D.; 2. Kelly Jacobson, Fargo, N.D.; 3. Taylor Grover, Shelly, Minn.; 4. Greg Larson, Kindred, N.D.; 5. Chriss VanMil, Barnesville, Minn.
IMCA Stock Cars:
Feature – 1. Aaron Olson, Mekinock, N.D.; 2. Duffy Froemke, Lisbon, N.D.; 3. Rick Schulz, Horace, N.D.; 4. Eric Harpole, Bismarck, N.D.; 5. Kelly Jacobson, Fargo, N.D.
IMCA Hobby Stocks:
Feature – 1.Brandon Schmidt, Hillsboro, Minn.; 2. Tim Church,; 3. Kasey Ussatis, Nome, N.D.; 4. Maranda Borg, Harwood, N.D.; 5. Torey Fischer, West Fargo, N.D.
INEX Legends:
Feature – 1. Baiden Heskett, Shakopee, Minn.; 2. Josh Julsrud, Barnesville, Minn.; 3. Andrew Jochim, Glyndon, Minn.; 4. Kaitlyn Skalicky, Fargo, N.D.; 5. Brian Hanson, Jamestown, N.D.