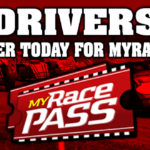 All drivers must complete MyRacePass registration before competing at Red River Valley Speedway and each track that they race at. After completing MyRacePass registration, then you can claim your MyRacepass profile. (Use the links below)
All drivers must also have sent in their competitor's license application to their sanctioning body before their first race.
And drivers need to fill out a W9 and bring to the track for their first race.
---
---

---
 STEP 1
Click on the "REGISTER" button to register for the 2017 race season at Red River Valley Speedway
(There cannot be duplicate car numbers in each class and so you'll have to enter your 1st, 2nd, 3rd & 4th choices. It's a first-come, first-served situation.)

(If you need to view an example of Driver registration, click HERE)
---
STEP 2
Click on the "CLAIM PROFILE" button to claim your MyRacePass profile

(If you need more detailed instructions on how to claim your MyRacePass profile, click HERE)
---