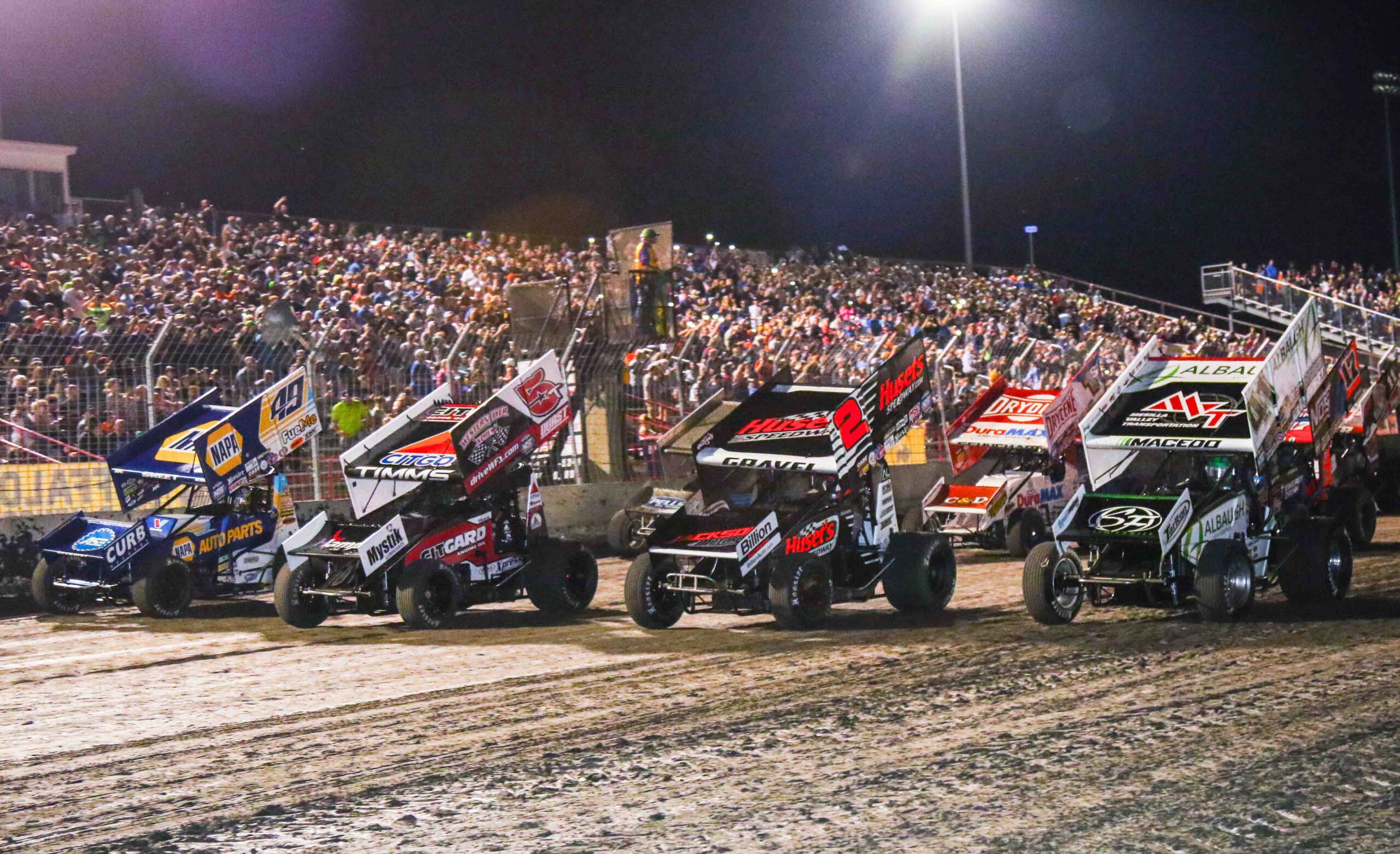 WEST FARGO, N.D. (December 5, 2022) – The World of Outlaws NOS Energy Drink Sprint Car Series released their 87-race schedule for 2023, which includes an August 26th visit to Red River Valley Speedway. 
This year's event will mark the 68th time the World of Outlaws have visited Red River Valley Speedway in the 45-year history of the series. 
Carson Macedo drove to his first career Red River Valley Speedway win during last year's event, giving Jason Johnson Racing their second overall win at the track. Jason Johnson drove his No. 41 machine to the win when the Outlaws' made their highly anticipated return to Red River Valley in 2017 after a five-year absence. 
North Dakota native and 10-time series champion, Donny Schatz, ranks tied for third in all-time World of Outlaws wins at his home track with former champion Doug Wolfgang. He trails only all-time greats Steve Kinser and Sammy Swindell, who have 16 and 14 wins to their credit respectively. 
Schatz's most recent win at Red River Valley Speedway came in 2021. 
The World of Outlaws CASE Construction Late Models will also be returning to West Fargo next year on June 28th. 
Stay tuned to RedRiverValleySpeedway.com for ticket information and the full 2023 schedule.
Previous World of Outlaws winners at Red River Valley Speedway:
2022 – Carson Macedo on Aug. 27
2021 – Donny Schatz on Aug. 21
2020 – Kyle Larson on Aug. 22
2018 – Donny Schatz on Aug. 18
2017 – Jason Johnson on Aug. 19
2012 – Sammy Swindell on June 16
2009 – Jason Meyers on June 20
2008 – Daryn Pittman on Aug. 12
2007 – Jac Haudenschild on June 30
2006 – Donny Schatz on June 16, Donny Schatz on June 17
2005 – Brian Paulus on July 1, Jason Meyers on July 2, Steve Kinser on Aug. 16
2004 – Joey Saldana on July 8, Jason Meyers on July 9, Joey Saldana on July 10
2003 – Steve Kinser on June 12, Donny Schatz on June 13, Danny Lasoski on June 14
2002 – Joey Saldana on July 4, P.J. Chesson on July 5, Donny Schatz on July 6
2001 – Steve Kinser on July 5, Sammy Swindell on July 6, Craig Dollansky on July 7
2000 – Sammy Swindell on July 6, Danny Lasoski on July 7, Sammy Swindell on July 8
1999 – Andy Hillenburg on July 8, Stevie Smith on July 9, Steve Kinser on July 10
1998 – Steve Kinser on July 9, Steve Kinser on July 10, Sammy Swindell on July 11
1997 – Steve Kinser on July 11, Stevie Smith on July 12
1996 – Mark Kinser on July 6, Sammy Swindell on July 7
1995 – Sammy Swindell on July 7, Sammy Swindell on July 8
1994 – Dave Blaney on July 9, Steve Kinser on July 10
1993 – Steve Kinser on July 9, Johnny Herrera on July 10
1992 – Steve Kinser on July 10, Steve Kinser on July 12
1991 – Doug Wolfgang on July 5, Doug Wolfgang on July 6
1990 – Doug Wolfgang on July 6, Doug Wolfgang on July 7
1989 – Doug Wolfgang on July 7, Jeff Swindell on July 8
1988 – Sammy Swindell on July 8, Doug Wolfgang on July 9
1987 – Steve Kinser on July 11
1986 – Sammy Swindell on July 11, Steve Kinser on July 12
1985 – Mark Kinser on July 12, Steve Kinser on July 13
1984 – Jeff Swindell on July 13, Steve Kinser on July 14
1983 – Sammy Swindell on July 8, Sammy Swindell on July 9
1982 – Sammy Swindell on July 12, Steve Kinser on July 13
1981 – Sammy Swindell on July 13