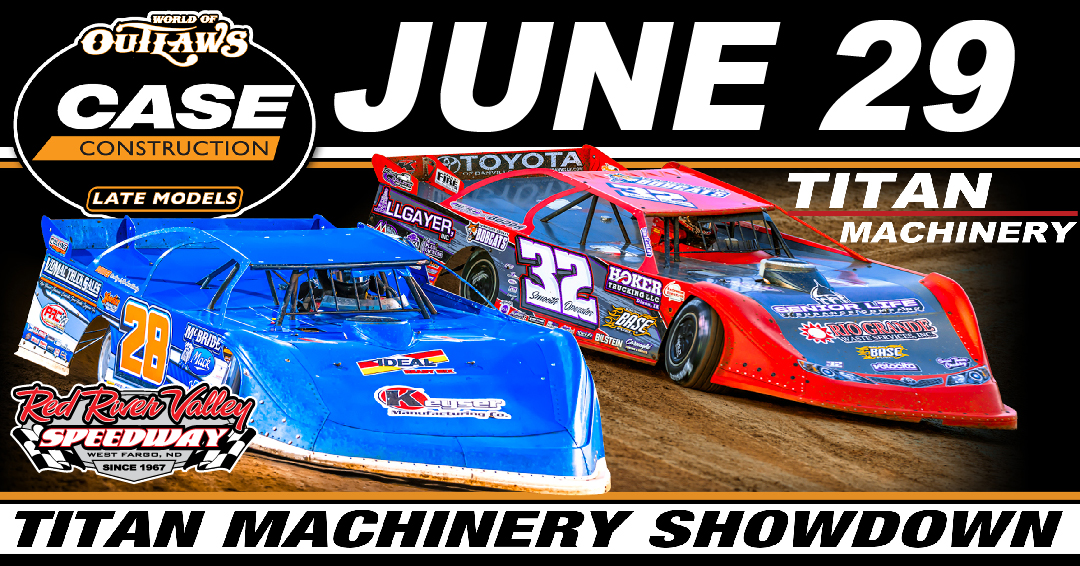 BUY TICKETS: https://ow.ly/Qrle50OOFjY
TITAN MACHINERY SHOWDOWN
June 29, 2023
Red River Valley Speedway
1805 Main Ave W
West Fargo, ND
EVENT DESCRIPTION
The World of Outlaws CASE Late Models make their return to Red River Valley Speedway for the first time since 2020, as the first of 2 stops in North Dakota.
SERIES RACING
World of Outlaws Late Model Series, DIRTcar Late Models
SUPPORT CLASS:
FM Drain Cleaning & Services IMCA SportMods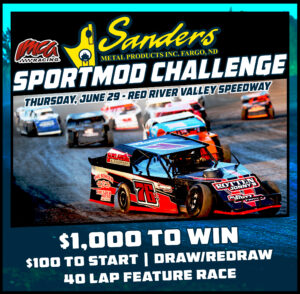 EVENT SCHEDULE
2 PM Pit Gate opens
4 PM Registration opens
5:30 PM Grandstand opens
6:30 PM Driver's Meeting
7 PM Hot Laps & Qualifying
*All times Central
*All times Central
---
TICKET OPTIONS
BUY TICKETS: https://ow.ly/Qrle50OOFjY
TICKET PHONE
(701) 388-6637
OPTIONS AND PRICES
$30 Advance Purchase Ticket (limited time)
$35 General Admission
$15 12-and-under
$40 Pit Pass
---
🚧ROAD CONSTRUCTION🚧
Until the middle of summer, the I-94 Westbound Main Avenue exit will be CLOSED. Please seek alternative routes on your way to the race track.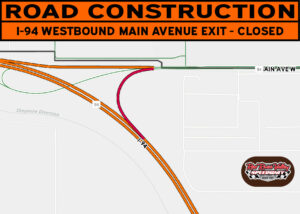 ---
FREQUENTLY ASKED QUESTIONS
TO WIN AMOUNT
$10,000.00
TYPE OF GRANDSTAND
Bleacher
STADIUM SEATING
seats are allowed
HANDICAPPED SEATING
In front of Section B and in front of Sections H & I
PIT AGE LIMIT
There is not an age limit for the pit area at this event. Minors aged 17 and younger must submit a fully-executed minor "Parental Consent, Release and Waiver of Liability, Assumption of Risk, and Indemnity Agreement/Minor's Assumption of Risk and Release and Waiver of Liability by." These will be available at the Pit Ticket Windows.
PERSONAL COOLERS
No coolers allowed
CREDIT CARD USE
Ticket Window
ALCOHOL SALES
alcohol is available for purchase
SMOKING POLICY
Is there a Smoking Policy?
No smoking in the grandstand. Smoking is permitted in designated areas.
FAMILY SECTION
Section E – no alcohol
PARKING COST
$0.00
CAMPING AVAILABILITY
onsite
CAMPING COST
Call 1-701-282-2200 for camping
TRACK INFO
Red River Valley Speedway
1805 Main Ave W
West Fargo, ND
TRACK PHONE
(701) 388-6637
TICKET PHONE
(701) 388-6637
TRACK EMAIL
[email protected]
TRACK SIZE & TYPE
0.375; Semi-banked
SPRINT CAR TRACK RECORD
11.460 seconds by Kasey Kahne on 8/21/21
CLOSEST AIRPORT
Fargo, ND (FAR / KFAR) Hector International Airport
OTHER AIRPORT
Grand Forks, ND (GFK / KGFK) Grand Forks International Airport
---
COMPETITOR INFO
COMPETITOR DOWNLOADS
https://www.dirtcarmembers.com/downloads.php
TIRE RULES
Left Front Tire: Hoosier (Open)
Left Rear & Right Front Tire: Hoosier (90) LM30, (90) W30, (90) NLMT3 Right Rear Tire: Hoosier (92) LM30, (92) W30, (92) NLMT3, (92) LM40, (92) NLMT4 **Grooving & Siping will be allowed**
Weekly Race Sponsors:
Caution Flags: Earthwork Services
Starting Line: Century 21
Driver Registration:
– You must register to race online by 6:00 pm day of the event. To register go to: https://www.myracepass.com/tracks/1834/registrations. Make sure you finish your registration. No drivers can register at the track. If you have not registered online, you will start at the back.
Nightly Activities:
– The Skalicky's Auto Repair Candy Toss
– Norman County Raceway T-shirt Cannon
– Bike Giveaway – Kids enter to win a bike EVERY WEEK during June! (June Sponsor: Top Notch Motorsports)
– 50/50 Tickets (1st place wins half the pot in cash! 2nd – 5th place receives vouchers from the Twisted Spork, Thunder Road, The Bowler,  Buffalo Wild Wings, NAPA, and the Red River Valley Fair.
– Kids enter to win the chance to give the winning trophy to the driver and be in all the victory lane pictures!
Don't Forget:
– To purchase Red River Valley Speedway apparel behind the Grandstands
– We have delicious concession food & ice-cold beverages at the Twisted Spork (Watch for our weekly specials)
Perks:
– Bring in a 2023 Red River Valley Speedway race ticket or pit wristband to BorderTown Bar and Grill or M & J Saloon and receive one drink FREE with the purchase of another drink! (Per person. Per visit.)
Push Notifications:
Receive the latest news or schedule changes via the MyRacePass App: https://redrivervalleyspeedway.com/push-notifications
Social Media:
Website – https://redrivervalleyspeedway.com
Facebook – https://www.facebook.com/redrivervalleyspeedway
Twitter – https://twitter.com/rrvspeedway
Instagram – https://www.instagram.com/redrivervalleyspeedway
Snapchat – https://www.snapchat.com/add/rrvspeedway
Youtube – http://tiny.cc/RRVS
MyRacePass – https://www.myracepass.com/profile/?r=1834&rt=track
Speedway Shots Picture Gallery – https://speedwayshots.smugmug.com/RedRiverValleySpeedway
Lodging:
La Quinta Inn & Suites
2355 46th St South
Fargo, ND 58104
Call: 1-701-499-2000