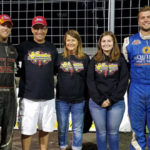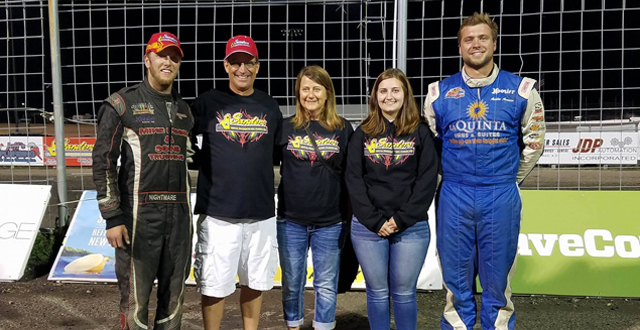 By Mike Spieker
WEST FARGO, N.D. (August 18, 2017) – A stout field of 40 IMCA Modifeds were checked in Friday for night two of the Sanders Modified Challenge Tour at Red River Valley Speedway. In a dominating performance, Lucas Rodin captured the checkered flag for his first career Modified win at the semi-banked three-eighths mile dirt oval.
"I just had to hold it to the floor pretty much the whole way around just to get the car to turn," said Rodin in KRJB/KRJM Victory Lane. "I tried to stay around the bottom and avoid as many holes as I could and it worked out for us."
Rodin grabbed the lead on lap one from the third starting position as Dale Kraling, Dave Shipley and Trent Grager battled for second.
Rodin steadily distanced himself from the field as the race advanced and was able to efficiently slice his way through heavy lapped traffic.
The only thing that could slow Rodin was the caution flag, which flew with five laps remaining. Kraling and Shipley, both of which have feature wins at RRVS in 2017, lined up on the rear bumper of Rodin for the ensuing restart.
As the race resumed, 13th place starter, Austin Arneson was the man on the move as he worked his way from fifth to second. Arneson had five car lengths between himself and Rodin with two to go, but he was never able to reel him in.
Rodin drove two flawless circuits as he cruised to the win over Arneson, Kraling, Shipley, and Troy Heupel.
"I just threw it in on the bottom and it seemed like it would hit a hole and help the car turn. It'll be nice to go back to Jamestown tomorrow," said Rodin, referring to the third stop on the Sanders Mod Tour, which is his hometrack. "There's a lot of competition on this tour. We'll just check the car over and get it ready for Saturday."
Arneson took over the Sanders Mod Tour point lead with his second place finish.
Jesse Skalicky collected his second IMCA SportMod win of the weekend after taking the checkers Thursday night at Norman County Raceway. The Fargo, N.D. driver started fifth on the grid before taking the lead and the win.
Fifteen-year-old Tim Estenson recorded his 17th INEX Legends win of the season. Estenson started way back in 11th, but methodically charged his way through the field. In the closing laps, Estenson had to hold off 12th place starter, Troy Hoff, en route to the victory.
Bismarck's Eric Harpole started on the pole and picked up the IMCA Stock Car feature win. Harpole beat Rick Schulz, Tim Compson, Rob VanMil, and Aaron Olson to the M&J Auto Parts checkered flag.
---
RESULTS:
All Finish Concrete IMCA Modifieds
Sander's Metal Products A Feature 1: 1. 19-Lucas Rodin, [3]; 2. 10-Austin Arneson, [13]; 3. 7-Dale Kraling, [1]; 4. 72-Dave Shipley, [7]; 5. 4T-Troy Heupel, [4]; 6. 4D-Rob VanMil, [9]; 7. 84-Michael Johnson, [11]; 8. 4500-Cody Peterson, [17]; 9. 1TPO-Tyler Peterson, [19]; 10. 5T-Marcus Tomlinson, [20]; 11. 2-Josh Eberhardt, [18]; 12. 71-Trent Grager, [2]; 13. 43-Lance Schilling, [16]; 14. 22B-Josh Beaulieu, [21]; 15. 69-Justin Jones, [24]; 16. 43L-Luke Schilling, [23]; 17. 17-Rich Pavlicek, [6]; 18. (DNF) 99-Cale Arneson, [8]; 19. (DNF) 38-Tailin Tommerdahl, [22]; 20. (DNF) 12-Greg Friestad, [14]; 21. (DNF) 7B-Bryce Bjerken, [15]; 22. (DNF) 86C-Darren Pfau, [12]; 23. (DNF) 21M-Dev Malmlov, [10]; 24. (DNF) 17G-Michael Greseth, [5]
Sander's Metal Products B Feature 1: 1. 84-Michael Johnson, [2]; 2. 10-Austin Arneson, [3]; 3. 7B-Bryce Bjerken, [1]; 4. 4500-Cody Peterson, [7]; 5. 1TPO-Tyler Peterson, [8]; 6. 43L-Luke Schilling, [13]; 7. 22B-Josh Beaulieu, [10]; 8. 87H-Brad Hartigan, [5]; 9. 43C-Craig Larson, [15]; 10. 18-Randy Gordon, [12]; 11. (DNF) 21S-Terry Sahr, [14]; 12. (DNF) 60-Tyler Hall, [4]; 13. (DNF) 119-Chad Bush, [11]; 14. (DNF) 442-Aaron Johnson, [9]; (DQ) 191-Bryce Bjerke, [6]
Sander's Metal Products B Feature 2: 1. 86C-Darren Pfau, [11]; 2. 12-Greg Friestad, [7]; 3. 43-Lance Schilling, [2]; 4. 2-Josh Eberhardt, [10]; 5. 5T-Marcus Tomlinson, [6]; 6. 38-Tailin Tommerdahl, [1]; 7. 69-Justin Jones, [8]; 8. 17X-Tommy Lee, [4]; 9. 52-Brennan Borg, [3]; 10. 15T-Myles Tomlinson, [5]; 11. 27-Jerry Lamb, [12]; 12. 24X-Tom Silver, [9]; 13. 179-Andrew Mack, [15]; 14. (DNF) 12C-Nickolis Curtis, [13]; 15. (DNF) 4V-Billy Vogel, [14]
Sander's Metal Products Heat 1: 1. 4T-Troy Heupel, [2]; 2. 4D-Rob VanMil, [4]; 3. 7B-Bryce Bjerken, [3]; 4. 52-Brennan Borg, [8]; 5. 191-Bryce Bjerke, [5]; 6. 69-Justin Jones, [6]; 7. 119-Chad Bush, [7]; 8. (DNF) 12C-Nickolis Curtis, [1]
Sander's Metal Products Heat 2: 1. 19-Lucas Rodin, [1]; 2. 17G-Michael Greseth, [5]; 3. 38-Tailin Tommerdahl, [3]; 4. 60-Tyler Hall, [7]; 5. 5T-Marcus Tomlinson, [6]; 6. 442-Aaron Johnson, [8]; 7. 86C-Darren Pfau, [4]; 8. 21S-Terry Sahr, [2]
Sander's Metal Products Heat 3: 1. 71-Trent Grager, [4]; 2. 21M-Dev Malmlov, [5]; 3. 84-Michael Johnson, [6]; 4. 17X-Tommy Lee, [1]; 5. 4500-Cody Peterson, [2]; 6. 24X-Tom Silver, [3]; 7. 18-Randy Gordon, [8]; 8. (DNF) 4V-Billy Vogel, [7]
Sander's Metal Products Heat 4: 1. 99-Cale Arneson, [3]; 2. 72-Dave Shipley, [1]; 3. 43-Lance Schilling, [2]; 4. 87H-Brad Hartigan, [6]; 5. 12-Greg Friestad, [8]; 6. 22B-Josh Beaulieu, [7]; 7. 27-Jerry Lamb, [4]; 8. (DNF) 43C-Craig Larson, [5]
Sander's Metal Products Heat 5: 1. 17-Rich Pavlicek, [2]; 2. 7-Dale Kraling, [3]; 3. 10-Austin Arneson, [4]; 4. 15T-Myles Tomlinson, [1]; 5. 1TPO-Tyler Peterson, [8]; 6. 2-Josh Eberhardt, [5]; 7. 43L-Luke Schilling, [6]; 8. 179-Andrew Mack, [7]
Eide Bailly Sport Mod
A Feature 1: 1. 3S-Jesse Skalicky, [5]; 2. 44D-Chris VanMil, [3]; 3. 3W-Aaron Wetterlin, [11]; 4. 76-Reile Sailer, [10]; 5. 68-Dan Evert, [13]; 6. 12T-Brandon Tendeland, [14]; 7. 51-Kelly Jacobson, [2]; 8. 6-Austin Veralrud, [8]; 9. 55-Kenneth Bye, [9]; 10. 47-Kreig Kasin, [17]; 11. 22-Vince Jegtvig, [12]; 12. 15-Matthew Clark, [16]; 13. (DNF) E-6-Kevin Veraldrud, [1]; 14. (DNF) 3X-Andy Wagner, [7]; 15. (DNF) 13C-Paul Colvin, [15]; (DQ) 8-Billy Michaelsohn, [6]; (DQ) 5T-Matt Talley, [4]
Heat 1: 1. 8-Billy Michaelsohn, [1]; 2. 3X-Andy Wagner, [5]; 3. 6-Austin Veralrud, [2]; 4. E-6-Kevin Veraldrud, [6]; 5. 68-Dan Evert, [3]; 6. 15-Matthew Clark, [4]
Heat 2: 1. 3S-Jesse Skalicky, [2]; 2. 76-Reile Sailer, [1]; 3. 44D-Chris VanMil, [5]; 4. 5T-Matt Talley, [3]; 5. 12T-Brandon Tendeland, [6]; 6. 47-Kreig Kasin, [4]
Heat 3: 1. 3W-Aaron Wetterlin, [3]; 2. 51-Kelly Jacobson, [1]; 3. 22-Vince Jegtvig, [5]; 4. 55-Kenneth Bye, [2]; 5. 13C-Paul Colvin, [4]
Petermann Seeds INEX Legends
A Feature 1: 1. 14T-Tim Estenson, [11]; 2. 86-Troy Hoff, [12]; 3. 18-Joshua Julsrud, [4]; 4. 21-Andrew Jochim, [5]; 5. 6-Chad Sogge, [1]; 6. 5D8-Dylan Johnson, [10]; 7. 79-Scott Richardson, [6]; 8. 5-Dean Julsrud, [2]; 9. 69-Brian Hanson, [9]; 10. 15-Mariah Henriksen, [20]; 11. 20-Alex Braseth, [13]; 12. D1RT-Tony Brockhouse, [14]; 13. 7-Cade Sogge, [15]; 14. 29-Brandon Erickson, [17]; 15. 24-Shaun Erickson, [21]; 16. H20-Darrell Buckingham, [19]; 17. (DNF) B1-Brody Carlsrud, [16]; 18. (DNF) 72-Tye Wilke, [7]; 19. (DNF) 28-Casey Henriksen, [8]; 20. (DNF) 29B-Ryan Braseth, [18]; 21. (DNF) 8JR-Kaitlyn Skalicky, [3]
Heat 1: 1. 86-Troy Hoff, [4]; 2. 5D8-Dylan Johnson, [2]; 3. 79-Scott Richardson, [1]; 4. 8JR-Kaitlyn Skalicky, [3]; 5. 20-Alex Braseth, [5]; 6. B1-Brody Carlsrud, [7]; 7. (DNF) H20-Darrell Buckingham, [6]
Heat 2: 1. 6-Chad Sogge, [1]; 2. 21-Andrew Jochim, [6]; 3. 28-Casey Henriksen, [2]; 4. 72-Tye Wilke, [3]; 5. D1RT-Tony Brockhouse, [7]; 6. 29-Brandon Erickson, [4]; 7. 15-Mariah Henriksen, [5]
Heat 3: 1. 14T-Tim Estenson, [6]; 2. 18-Joshua Julsrud, [7]; 3. 5-Dean Julsrud, [4]; 4. 69-Brian Hanson, [3]; 5. 7-Cade Sogge, [2]; 6. 29B-Ryan Braseth, [1]; 7. 24-Shaun Erickson, [5]
The Audio Garage Stock Cars
A Feature 1: 1. 87-Eric Harpole, [1]; 2. 4-Rick Schulz, [7]; 3. 49-Tim Compson, [4]; 4. 40-Rob VanMil, [3]; 5. 14-Aaron Olson, [8]; 6. 76Z-John Sandvig, [2]; 7. 21-Duffy Froemke, [9]; 8. 72-Adam Geist, [5]; 9. 85-Ernest Geist, [10]; 10. (DNF) 82-MIke Anderson, [6]
Heat 1: 1. 49-Tim Compson, [3]; 2. 87-Eric Harpole, [5]; 3. 14-Aaron Olson, [2]; 4. 76Z-John Sandvig, [4]; 5. (DNF) 85-Ernest Geist, [1]
Heat 2: 1. 4-Rick Schulz, [2]; 2. 40-Rob VanMil, [1]; 3. 21-Duffy Froemke, [4]; 4. 82-MIke Anderson, [3]; 5. 72-Adam Geist, [5]