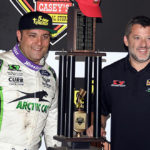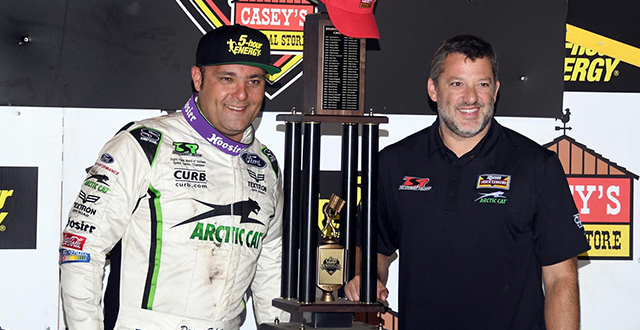 KNOXVILLE, IA — August 13, 2017 — On the heels of winning his 10th Knoxville Nationals in the last 12 years on Saturday, August 12, Donny Schatz will return to his home state of North Dakota this week for a three-race weekend with the World of Outlaws Craftsman Sprint Car Series in Grand Forks, West Fargo and Minot. Schatz pocketed $150,000 for winning sprint car racing's biggest event at the famed half-mile Knoxville Raceway in Iowa.
In the 57th Annual 5-Hour Energy Knoxville Nationals, Schatz took the lead on the 22nd lap of the 50-lap contest, when pole sitter and early leader David Gravel had engine trouble. Schatz then held off a furious charge by Kerry Madsen on the ensuing restart and NASCAR star Kyle Larson in the late-going to pick up the win. Larson tried a slide job in turns three and four on the final lap, but came up just short.
Schatz has now finished first or second in 16 of the last 18 editions of the Knoxville Nationals. The 10 wins in the Knoxville Nationals are second only to 20-time World of Outlaws Craftsman Sprint Car Series champion Steve Kinser, who won the event a record-12 times.
"It's been a hell of a streak," said Schatz. "All the second places I had before I finally won changed the whole dynamic and view of this place for me. I'm fortunate enough to be able to work with the same people for such a long amount of time. I knew I needed to push the issue. It got pretty hairy a couple of times. The race track had a pretty tricky lip."
Schatz is the current World of Outlaws Craftsman Sprint Car Series point leader as he chases his ninth title. He leads the series with 16 wins this season and also tops the leaderboard in top-five finishes. He is multi-time winner at all three tracks the series is heading to in his home state this coming weekend.
The triple-header weekend for Schatz begins on Friday, August 18 at River Cities Speedway in Grand Forks as American Tire Service Inc. Presents the 2nd Leg of the Northern Tour. The Outlaws then head south to Red River Valley Speedway in West Fargo on Saturday, August 19 for the Gerdau Recycling Duel in the Dakotas. The weekend wraps up on Sunday, August 20 at Nodak Speedway in Minot with the Gerdau Recycling Magic City Showdown Presented by Schatz Crossroads Truck Stop and Fastlane Carwash.
Tickets for all three events can be purchased online at https://slspromotions.ticketforce.com or by phone at 815-344-2023 and at the respective tracks on race day.
For the events at Red River Valley Speedway and Nodak Speedway, discount general admission are available for purchase at participating NAPA Auto Parts stores. Each General Admission ticket purchased at a NAPA Auto Parts location will feature a special $5 discount. Tickets buyers will exchange their NAPA receipt for tickets at the Main Grandstand ticket booth on race day.
Twitter: @SLS_Promotions
Facebook: SLS Promotions LLC