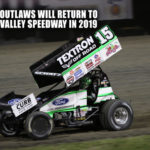 By Mike Spieker
WEST FARGO – The World of Outlaws Craftsman Sprint Car Series will return to Red River Valley Speedway in 2019 for the Gerdau Recycling Duel in the Dakotas. The event scheduled for Saturday, August 17th will mark the third consecutive year and 33rd-time overall dirt track racing's premier touring series will visit the West Fargo high-banked three-eighths-mile clay oval.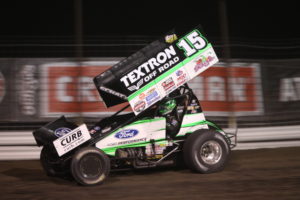 Fargo's own Donny Schatz scored his first World of Outlaws win at the speedway since 2006 when he won this past August. Schatz, who started third on the grid, made a late-race pass on young Outlaws star, David Gravel of Watertown, Conn., to take the lead and eventually the win in front of an estimated 6,500 race fans.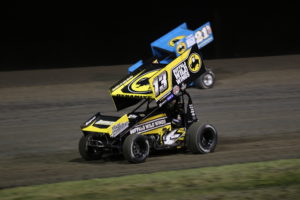 Along with his win at Red River Valley, Schatz also swept the June and August events at River Cities Speedway in Grand Forks. Those three wins in his home state were a part of a 22-win season for Schatz – his sixth consecutive season of winning at least 20 events.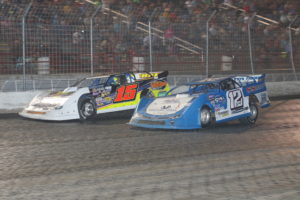 The Northern Late Model Racing Association (NLRA) will co-headline the event with the Outlaws again in 2019. As he's done in the past, Schatz is expected to compete in both the sprint car and late model divisions. In last year's late model feature, the Fargo driver led nine of the 25 laps but eventually fell to veteran Grand Forks driver, Brad Seng, and finished third.
Tickets will be available this spring at slspromotions.com.
Red River Valley Speedway has already released their tentative 2019 schedule for Friday night IMCA-sanctioned racing. This upcoming season will be the seventh year of competition on the three-eighths-mile configuration and the fourth year operated by Nick Skalicky and Jake and Sharnel Bitker.
Highlights on the schedule include the season opener on May 3rd, the Red River Valley Fair special on Sunday, July 14th featuring the Buffalo Wild Wings Northern Outlaw Sprint Cars and season championship night on August 30th. More special events are expected to be added as the season gets closers. A total of 17 race nights are on the schedule thus far.
Previous World of Outlaws A-Feature Winners:
2018 – Donny Schatz on August 18
2017 – Jason Johnson on August 19
2012 – Sammy Swindell on June 16
2008 – Daryn Pittman on August 12
2007 – Jac Haudenschild on June 30
2006 – Donny Schatz on June 17
2005 – Jason Meyers on July 2, Steve Kinser on Aug. 16
2004 – Joey Saldana on July 10
2003 – Danny Lasoski on June 14
2002 – Donny Schatz on July 6
2001 – Craig Dollansky on July 7
2000 – Sammy Swindell on July 8
1999 – Steve Kinser on July 10
1998 – Sammy Swindell on July 11
1997 – Stevie Smith on July 12
1996 – Sammy Swindell on July 7
1995 – Sammy Swindell on July 8
1994 – Steve Kinser on July 10
1993 – Johnny Herrera on July 10
1992 – Steve Kinser on July 12
1991 – Doug Wolfgang on July 6
1990 – Doug Wolfgang on July 7
1989 – Jeff Swindell on July 8
1988 – Doug Wolfgang on July 9
1987 – Steve Kinser on July 11
1986 – Steve Kinser on July 12
1985 – Steve Kinser on July 13
1984 – Steve Kinser on July 14
1983 – Sammy Swindell on July 9
1982 – Steve Kinser on July 14
1981 – Sammy Swindell on July 13