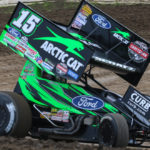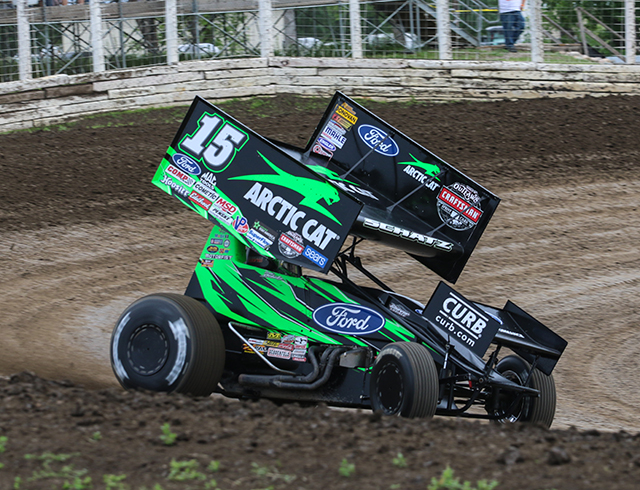 By Mike Spieker
WEST FARGO – Another chapter will be written in the Red River Valley Speedway (RRVS) history books Saturday night as the World of Outlaws Craftsman Sprint Cars make their highly anticipated return to West Fargo. The event, which was originally scheduled for June 17th, but was postponed due to rain, will mark the 31st appearance by the 900+ horsepower winged sprint cars at RRVS.
Leading the way is eight-time and defending World of Outlaws champion and Fargo's own, Donny Schatz.
Schatz is riding a wave of momentum this weekend after capturing his 10th Knoxville Nationals title at the famed Knoxville (IA) Raceway last Saturday night.
"The Knoxville Nationals are something you look forward to at the beginning of the year. You're excited about it whether you have or haven't won it before. It's what makes or breaks your year. We were able to put ourselves in a position to win it again this year and it means the world to everybody on the team," said Schatz, who had to fend off NASCAR star Kyle Larson on the final lap to claim the $150,000 victory.
"We're still enjoying (the win), but we are also looking forward to this weekend. With the Outlaws running in Grand Forks, Fargo, and Minot, it's going to kind of be a dream weekend for me," he said.
Despite living in Minot in his younger days, Schatz still competed weekly at RRVS in the early 1990s and considered the West Fargo clay oval a home track. Schatz quickly saw success in the WISSOTA 360 sprint car division and became a fan favorite in Fargo before he moved up to World of Outlaws ranks in 1997.
"It's always special to come back and race at Red River Valley Speedway. You know a majority of the people you're going to see," Schatz said. "The track is just minutes away from where I live and most of my family is from around here. There is just something about being able to sleep in your own bed the same night you race at your home track."
The World of Outlaws have made just one visit to RRVS since the track was reconfigured from a half-mile to a three-eighths mile track in 2010. Since then, Schatz has gotten laps on the smaller racing surface with the All Star Circuit of Champion sprint cars and the NLRA Late Models. Despite all of that on-track experience over the last handful of years, Schatz says the key to being fast is relying on setups that have been working as of late, even if they are for different tracks.
"You have to stick with your basics and parameters you've set and know that work at all of the different places," he said. "The team changes little things from place to place to account for the different dirt and speeds that you go. For the most part, you start with a pretty basic setup and try to work from there."
This weekend's three-race trek through North Dakota is just a small drop in the bucket in comparison to the complete 94-race schedule the World of Outlaws are enduring this season. In his quest for his ninth series championship, Schatz is in good shape thus far with an 82 point lead atop the point standings with 27 races remaining.
"We're going to have to stay after it to get the championship this year. There's never too much of a buffer when you're leading the points," he said. "At the same point, we don't really race for points, we race to win each night. As the season winds down, everything becomes more important and you don't want to make any mistakes. There's more pressure on me and the race team and we are all up for it. Hopefully, we can be in a position a couple months from now we're looking at championship number nine. But if not, it's not going to go without a hard fought fight."
The Outlaws' latest threat:
Twenty-five year old Watertown, Conn. driver, David Gravel, has been the most impressive up-and-comer the World of Outlaws have seen in its youth movement over the last couple of years. Gravel is having a breakout season in 2017, compiling 13 victories to date, which is second-most on the Outlaw tour to Schatz.
Gravel also turned heads last weekend at the Knoxville Nationals by completing a "perfect night" on his qualifying night. Gravel was the fastest driver in time trials and won both his heat race and the feature to earn the pole for Saturday night's championship feature. In doing so, Gravel became the first driver since Steve Kinser in 1992 to accomplish that feat at Knoxville.
"We were the best car all week," said Gravel. "On our qualifying night, I was worried about getting a good pill draw for time trials and transferring through my heat race. Thankfully, we were able to do that all with flying colors."
After preliminary action was complete, Gravel was a favorite entering championship night on Saturday. In the first half of the race, Gravel lived up to the expectations as he led the first 22 circuits. However, a mechanical failure forced him to retire from the event early, dashing his hopes of taking the Knoxville title.
Gravel will look to rebound this weekend in North Dakota.
After winning at River Cities Speedway in June, Gravel will look to pick up the season sweep at the Grand Forks three-tenths mile clay oval in his CJB Motorsports No. 5.
"If we can win again at River Cities, that would be great," continued Gravel. "That's been Schatz's track over the years, but we still have a shot at (the championship) this season so we are going to try to kick him off his block and win a bunch more races."
In his three previous starts at Red River Valley Speedway, Gravel has a best finish of third, which came in 2011 with the All Star Circuit of Champions. Like many other drivers in the World of Outlaws field, Gravel hasn't seen RRVS for several years. He says he looks forward to Saturday because it will be a new track for almost all of the drivers and no one will have a distinct advantage.
"It's good to go to tracks that people haven't been to in awhile. It equals the playing field a bit," he said. "I'm looking forward to going somewhere new and fresh. We should have a good crowd just like we do in Grand Forks and hopefully, we can have a good night."
Tickets for Saturday's "Duel in the Dakotas" event, featuring World of Outlaws Sprint Car Series at RRVS can be purchased online at slspromotions.ticketforce.com or by phone at 815-344-2023.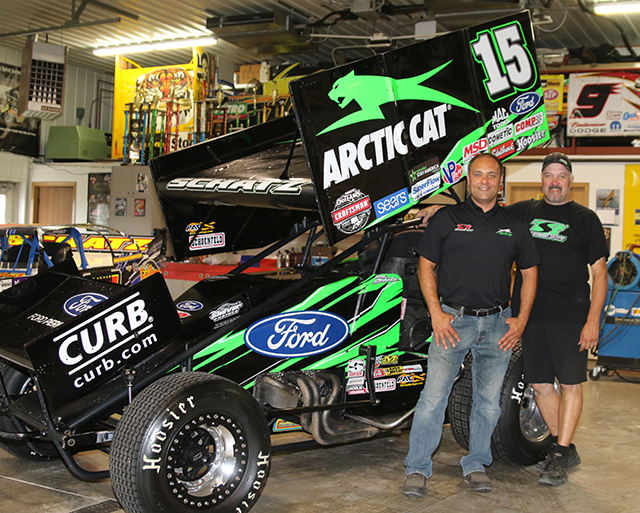 Fans can also save $5 on General Admission tickets when purchased at participating NAPA Auto Parts stores. Tickets buyers will exchange their NAPA receipt for a race ticket at the Main Grandstand ticket booth on race day.