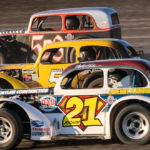 By Mike Spieker
WEST FARGO – For the first time ever, Red River Valley Speedway will play host to the INEX Dirt Nationals this Friday and Saturday night. The event for the INEX legends division is the first of a series of three national events, which also cover the Asphalt Nationals at Las Vegas Motor Speedway and the Road Course Nationals near Atlanta.
The country's top talent is expected to be on display both nights at the Red River Valley Fairgrounds. In turn, the track is gearing up for a record-breaking INEX legend car count.
"It's taken a lot of work to get to this point. Jake and Sharnel (Bitker) and I are really excited to host this event in just our second year operating the race track," said Red River Valley Speedway co-promoter Nick Skalicky.
Friday's program will consist of time trials and two sets of heat races for the INEX legends, with the consolation races and championship main events taking place on Saturday.
"For our weekly shows, all of our legends drivers race together. But for this national event, they are placed into their respective classes and complete against their same age group and talent level," Skalicky continued. "It'll be pretty neat to see how our guys stack up against other drivers from around the country."
While drivers from several states and even Australia will be in attendance this weekend, the drivers to watch out for may be Red River Valley Speedway's own weekly competitors.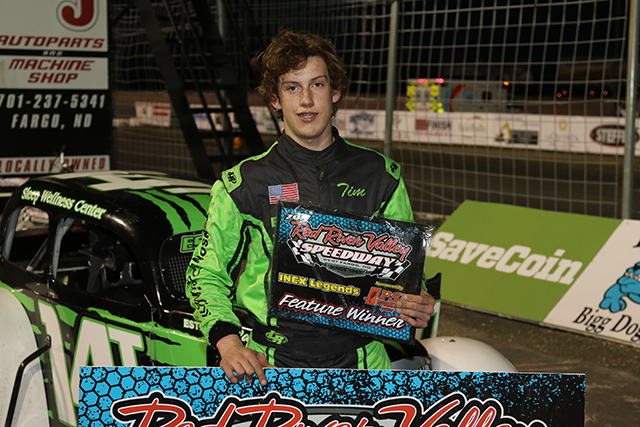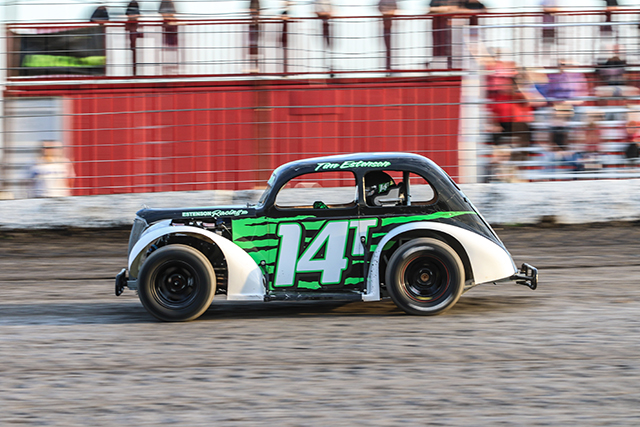 Fifteen-year-old Fargo driver, Tim Estenson, has been dominating the INEX legends division all season long at all three area weekly F-M dirt tracks. Estenson claimed track championships at Red River Valley Speedway, Buffalo River Race Park in Glyndon, Minn. and Norman County Raceway in Ada, Minn.
"It'll be interesting to see how fast everybody is and what I can learn from them during the practice session," said Estenson. "Even though we have the home track advantage, we just want to lay back and not let everybody see what we can do until we go racing on Friday."
The third-year legends driver has amassed 23 wins thus far in 2017. He enters the biggest event of the year this weekend riding a three-race win streak at two of the area's biggest races. Estenson swept the Corn Cob Nationals at Buffalo River Race Park two weeks ago, before becoming Jamestown Speedway's first-ever Stock Car Stampede champion in the INEX legends division.
"I'm not going into this weekend looking to extend that streak. I'm just like any other driver trying to be just as competitive as everybody else. I try to take things one race at a time and go for the win if I can."
Even though Estenson has been racing multiple times a week, every week, since early May, preparation for this event began back around late July-early August.
"We've been preparing for this race for a couple months now," he said. "Going over setups and using different weights on the car and different tire measurements. We've been working hard to make sure our car is just as good as everybody else's so we can get up to the front."
Estenson currently leads the Semi-Pro Dirt national points standings.
Tye Wilke of Detroit Lakes, Minn. will be another driver to watch out for. Wilke currently leads the Young Lion Dirt national point standings in just his second year behind the wheel of an INEX legend car.
While the INEX legends will be highlighted this weekend, Red River Valley Speedway will be putting on a full racing program each night. The IMCA sportmods, IMCA hobby stocks, and WISSOTA super stocks will be taking the high-banked, three-eighths mile clay oval as well on Friday.
On Saturday, the IMCA modifieds return for their final appearance of 2017, along with the IMCA sportmods and IMCA stock cars.
Racing will be starting an hour earlier than the weekly summer shows, with the green flag dropping at 6p.m.