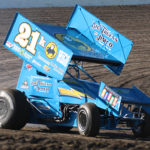 By Mike Spieker
WEST FARGO – The Buffalo Wild Wings NOSA Sprint Cars made their first and only appearance of the season to Red River Valley Speedway on Sunday evening during the Red River Valley Fair. A crowd of over 5,000 race fans packed the grandstand to watch twenty-two 900+ horsepower sprint cars take on the high-banked three-eighths mile clay oval.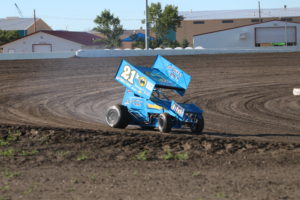 Thomas Kennedy of Winnipeg, Manitoba claimed his first career sprint car win at Red River Valley Speedway. Kennedy, who finished second on Saturday night at Devils Lake Speedway after leading every lap but the last one, started the night by winning his heat race in convincing fashion. Kennedy's fastest lap during his heat was just four-one-hundredths of a second off the Red River Valley Speedway track record, which was set by World of Outlaws driver Shane Stewart last August. Kennedy's lap time of 11.996 seconds put him at an average speed of 112mph and was just the fourth sub-12 second lap ever turned on Red River Valley Speedway's three-eighths mile configuration.
The 25-lap sprint car feature started with Jordan Graham taking the early lead over defending race winner, Wade Nygaard. Nygaard, a nine-time NOSA champion, took the lead on lap six as Kennedy followed him into second.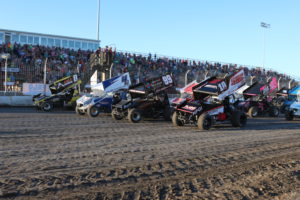 On lap nine, Kennedy made a bold move to the inside of Nygaard to take the lead out of turn four in lapped traffic. Lurking in the third spot was the all-time NOSA wins leader, Mark Dobmeier. Dobmeier went after Nygaard for second, which allowed Kennedy to pull away.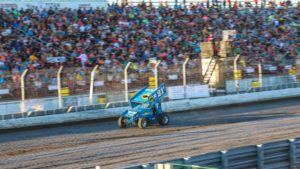 Dobmeier took the spot and began reeling in Kennedy in the closing laps. With two laps to go, Kennedy and Dobmeier found themselves in heavy lapped traffic. Dobmeier drove to the inside of turn four, where he clipped an infield tire barrier, which sent his Buffalo Wild Wings No. 13 upside down. A lapped car was also collected and got upside down with Dobmeier, but both drivers were ok.
On the ensuing restart, Kennedy got a great start and drove away from Nygaard. Kennedy drove the final laps unchallenged as he cruised to the $1,200 win.
"I was racing on seven cylinders the whole race so this win feels even better," said an elated Kennedy in victory lane.
Michael Johnson of Moorhead, Minn. picked up his first IMCA modified win of the season. Johnson led the majority of the 25-lap feature to pick up the win over Dylan Goplen, who ran a close second. The best racing on the track was back in the pack as several drivers came from deep in the field to move into the top five. Cale Arneson rounded out the podium, while Jason Strand, who started 15th, finished fourth. Casey Arneson started 13th to finish fifth, while Dale Kraling was the hard charger of the event coming from 19th to finish sixth.
Tim Estenson came from the 15th starting position to win the INEX Legends feature. Estenson held off pole sitter, Sean Johnson, for his 16th win of the season overall.
Next week at Red River Valley Speedway, Rusty Wallace will be in attendance as the grand marshall of the event.
---
RESULTS
NOSA Sprint Cars:
Feature: 1. 21K-Thomas Kennedy, Winnipeg, MB; 2. 9N-Wade Nygaard, Grand Forks, N.D.; 3. 8H-Jade Hastings, Grand Forks, N.D.; 4. 2A-Austin Pierce, Grand Forks, N.D.; 5. 4J-Lee Grosz, Harwood, N.D.
IMCA Modifieds:
Feature: 1. 84-Michael Johnson, Moorhead, Minn.; 2. 6D-Dylan Goplen, Fargo, N.D.; 3. 99-Cale Arneson, Fargo, N.D.; 4. E85-Jason Strand, Portland, N.D.; 5. 2-Casey Arneson, Fargo, N.D.
INEX Legends:
Feature: 1. 14T-Tim Estenson, Fargo, N.D.; 2. 58-Sean Johnson, Kindred, N.D.; 3. 5D8-Dylan Johnson, Durbin, N.D.; 4. 79-Scott Richardson, Pelican Rapids, Minn.; 5. 72-Tye Wilke, Detroit Lakes, Minn.