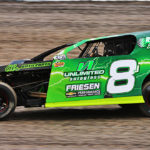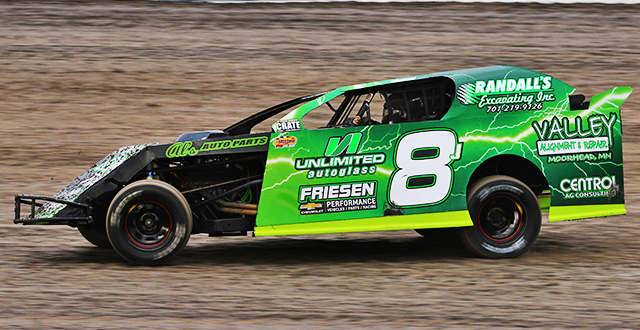 By Mike Spieker
WEST FARGO – With threatening skies off to the west, it was an accelerated night at Red River Valley Speedway Friday evening as the track hustled to beat the weather.
Luke Johnson picked up his first win of the season in the IMCA Sport Mods. The Moorhead driver was charged for a debris caution in the opening laps, which put him to the tail of the 17 car field. Within a matter of laps, Johnson had made his way back up to second, but he had defending track champion, Jesse Skalicky, in his way.
Johnson took advantage of a late-race caution as he used the low side of the speedway to reel in Skalicky. It came down to a drag race to the checkers, where Johnson edged out Skalicky by a half car length.
"There was a real small tack strip around the bottom, and if you entered the corner real slow and hit it, you could carry a lot of speed out of the corner," said Johnson in KRJB victory lane.
Fargo's Austin Arneson continued his winning ways after picking up his third win at the West Fargo three-eighths mile dirt oval.
After four and even five wide racing early on, Rob VanMil paced the field of 22 cars in the early going.
On lap seven, Arneson, who started in 11th, came up to challenge the Barnesville, Minn. wheelman for the race lead. Arneson successfully maneuvered by the No. 4D of VanMil before cruising out to a five and one-half second lead.
Arneson backed up his win Thursday night at Norman County Raceway in Ada, Minn. as he went on to score the victory over Jarrett Carter, who started 13th.
Rick Schulz picked up the IMCA Stock Car feature win. The Horace driver has scored countless victories in the WISSOTA street stock class over the years at the speedway but held off Lisbon's Duffy Froemke for his first win in the brand new stock car division.
Sean Johnson was victorious in the INEX Legends, while Tim Shiek won the IMCA hobby stock feature.
Racing continues next Friday night at Red River Valley Speedway with 'Meet N Greet' night, where all fans can get an up-close look at the cars and visit with their favorite drivers during intermission. On June 17th the World of Outlaws Sprint Cars make their highly anticipated return to West Fargo.
RESULTS
Modifieds:
Feature – 1. Austin Arneson, Fargo, N.D.; 2. Jarrett Carter, Lisbon, N.D.; 3. Dave Shipley, Argusville, N.D.; 4. Rich Pavlicek, Casselton, N.D.; 5. Rob VanMil, Barnesville, Minn.
Sport Mods:
Feature – 1. Luke Johnson, Moorhead, Minn.; 2. Jesse Skalicky, Fargo, N.D.; 3. Matt Talley, Sabin, Minn.; 4. Chris VanMil, Barnesville, Minn.; 5. Kelly Jacobson, Fargo, N.D.
Stock Cars:
Feature – 1. Rick Schulz, Horace, N.D.; 2. Duffy Froemke, Lisbon, N.D.; 3. Kelly Jacobson, Fargo, N.D.; 4. Randy Klein, Lisbon, N.D.; 5. Tim Compson, Valley City, N.D.
Hobby Stocks:
Feature – 1. Tim Schiek, Fargo, N.D.; 2. Torey Fischer, West Fargo, N.D.; 3. Nick Nelson, Georgetown, Minn.; 4. Kalvin Kesselberg, Ada, Minn.; 5. Eric Novacek, West Fargo, N.D.
Legends:
Feature – 1. Sean Johnson, Kindred, N.D.; 2. Dean Julsrud, Barnesville, Minn.; 3. Brandon Erickson; 4. Scott Richardson, Pelican Rapids, Minn.; 5. Mariah Henriksen, Glyndon, Minn.