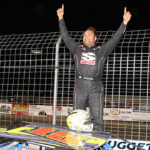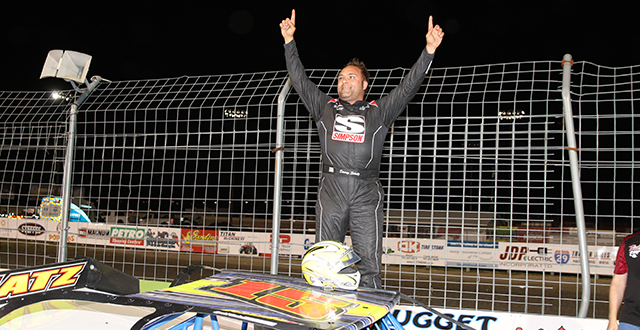 By Mike Spieker
WEST FARGO – Just four days after racing with the World of Outlaws Sprint Cars at Red River Valley Speedway, Donny Schatz was back at it Wednesday night behind the wheel of his No. 15 NLRA late model.
After finishing fifth with the Outlaws on Saturday, Schatz was hungry for a win at his hometrack.
And he got it.
The Fargo driver started on the outside of the front row for the feature after winning his heat race earlier in the night, but fell back into the second spot on the opening lap.
"[Ricky Weiss] is really good and I thought it would take getting into lapped traffic to get by him," said Schatz of the early race leader, Weiss, a four-time Wissota late model national champion. "We were able to get him in open track. It's always a good thing when you are able to make a guy move his line when he sees you, which allows you to move yours and do what you need to do."
Schatz took the lead from Weiss on lap four using the inside groove of turns one and two. Once out front, Schatz quickly encountered lapped traffic, but he was still able to extend his advantage over Weiss.
"Lapped traffic is what you look forward to if you're running second or third in hopes that the leader makes mistakes," he said. "But I get to race in lapped traffic everyday with the World of Outlaws, which might give me a little bit of an advantage over some of these guys. I just try not to slow down for lapped traffic, but these cars are just so much different than what I'm used to in a sprint car. It's fun to get in lapped traffic because those guys force you to do different things that you normally wouldn't do because you're in that position."
In what was a caution-free 25 lap feature, Schatz ran away with the show, boasting nearly a half lap lead over Weiss in the final stages. Schatz lapped up to seventh place in the 23-car field as he took the checkers.
The win marked Schatz's third NLRA late model win in less than a week's time. The eight-time and defending World of Outlaws champion also scored wins at Red River Co-op Speedway in Winnipeg on August 17th and at River Cities Speedway in Grand Forks on August 18th.
Michael Greseth backed up his IMCA modified win on Sunday at Buffalo River Race Park with another dominating performance at Red River Valley Speedway. The Harwood driver jumped into the lead in the early going of the 20 lap affair from the third starting position and held off Hickson's Tyler Peterson after a restart with four to go. The win was Greseth's fourth of the season overall.
Fargo's Jesse Skalicky recorded his eighth IMCA sportmod win of the season at Red River Valley Speedway and 14th win overall. Skalicky led all 16 laps and took the win over Scott Jacobson, Kelly Jacobson, Chris VanMil, who started 17th, and Charlie Jensen.
Tim Estenson started from the pole of the INEX legends feature and rolled to his 18th win of the season. Tim Church picked up the IMCA hobby stock victory.
The regular season at Red River Valley Speedway concludes on Friday with season championship night. IMCA modifieds, sportmods, hobby stocks, stock cars and INEX legends will all be in action. Green flag drops at 7pm.